Lambickx Private Domain - 2015 Hand Selected Lambic
ABV:

5.75%

Serving Temperature:

47–55° F

Suggested Glassware:

Tulip, Lambic Tumbler, Chardonnay or Champagne Glass

We're pretty darn thrilled with how this latest rendition of the Lambickx line turned out. It was originally brewed in 2013, then aged in 600-liter French oak barrels before being bottled in 2015. Our sampled batch was limited to 5,579 bottles, and these Lambickx releases see a very modest release in the U.S. overall: just over 100 cases in 2016, scattered in wee handfuls across about a dozen states. (The importer is expecting similar amounts this year.) We were grateful to be able to get enough of this for our Rare Beer Club members, as it truly is one of the most mouthwatering and finetuned lambic blends we've encountered in a long while.
We opted for our go-to and somehow-not-yet-broken Riedel Veritas glasses for this one, but really anything from tumbler to tulip to flutes seems reasonable. This is very much sparkling, Champagne-like in regards, and a smaller glass that lightly concentrates the aroma seemed to be best for us. Your mileage may vary. In terms of temperature range: this one's always tasty, but having a slight chill to it felt most refreshing while still allowing the oak's toastiness out.
Lambickx got poured gently into our glasses to avoiding rousing too much yeast, and these pours tended to have only a modest haze to them. This glows in the glass, though. With a bit of light behind them, our glasses were radiant—honey-golden and sparkling from the steady emergence of tiny bubbles from the bottom. A creamy, similarly fine-bubbled white head is inclined to stick around, leaving a beautiful lacing of bubbles along the side of the glass and being continually replenished from below. The foam from below looks a bit like the surface of the moon. It's up there with the most visually attractive lambics, sending out suggestions of honey notes and lemon and sparking bubbles waiting ahead—all of which are 100% true.
It would be hard to mistake this for something other than lambic, from the aroma forward. That familiar and so-wonderful salinity and lemon and funk. The aromatics on this version of Lambickx are especially focused around vibrant core citrus notes of sweet pomelos and lemons, that sense of full fruit: pith and zest and all sorts of accompanying tartness. This is mouthwatering, doing everything in its little lambic wizardry book to make you want a sip. Along with that focus on tart fruit is an enormous amount of secondary complexity via its non-fruity elements and oak-barrel aging: hints of vanilla and almond and toasted barrel. A subtle blue-cheese and funky edge do the perfect amount of work providing that authentic lambic feel. We kept on going back to the aroma on this one for the good part of an hour. As this warms up further, some elegant notes of fresh-cut apple and pear emerge as well.
And yeah...it tastes pretty delicious, too. (Our complaint card would be empty.) Everything promised by the aromatics plays out in perfect measure, with that just-fizzy-enough CO2 providing lift for all of the different elements here. While the aroma tends to land more on the sour citrus side, the impact here's a bit more balanced: juicy tart lemon and grapefruit, a toasty counterpoint of oak and white pepper, and the salinity and funk combine for what's ultimately bracing but undeniable refreshment sip after sip. This is gorgeous lambic: smooth, masterfully blended, sitting in our lucky glasses and being savored sip by sip. The blending of lambic is one of the world's tastiest and rarest skillsets—and it's on world-class display here.
We hope you dig this one as much as we do. Lambic is definitely one of those style's that, in those instances where we find exceptional examples, can push pretty much every single one of our happy buttons. There's bracing tartness to remind us we're alive and the world's weird right now. There's immense complexity and depth, nudging us against our worldly cynicism. There's the effervescence. The subtle tannins via occasional appearances of oak. Drink up.
This is drinking beautifully at the moment, but we wouldn't be surprised if this lambic blend developed beautifully with some time in the cellar. While some lambics could go decades, we aren't super familiar with aging the Lambickx line, which has less than a decade behind it. As for pairings: we're inclined to use that refreshing acidity and CO2 against fattier fare, such as creamier cheeses and turkey, duck, etc. We'll likely set aside some of this for Thanksgiving.
Lambics are the Champagnes of the beer world, and this month we're excited to bring our Rare Beer Club members a particularly delicious example through the mysterious Lambickx brand. The brand is owned by our importing peeps over at Total Beverage Solution, and the Pajottenland lambic barrels that go into each particular blend are selected and tasted by a team led by Roger Mussche, based upon the diversity, complexity, and wild nature of the lambics. (The approach to these blends came from renowned importer Don Feinberg and Mussche.)
The blending of lambics, in terms of how frequently one acquires such expertise, is probably up there with professional hang-gliding. Time and again we've been impressed with how the creators of this series take a diverse set of lambic barrels and make something that feels just effortlessly smooth and expansive—exactly what we're looking for from a well-blended and well-aged sour beer from Belgium. The golden and oak-aged sour beers that went into these bottles in particular are especially smooth, more malty than hoppy, and a touch softer on the sourness. We couldn't ask for a tastier lambic blend—and we think our members will agree.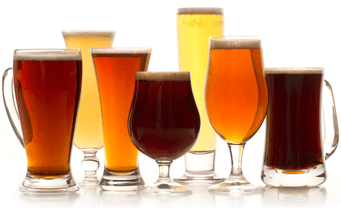 Unmatched Variety by style, brewery & country
Choose from Five different Beer Clubs offering unmatched variety by brewery,
country of origin, and beer style to suit your specific tastes.
DISCOVER OUR FIVE CLUBS