Les Trois Mousquetaires - Grande Cuvée Stout Impériale
ABV:

11.5%

Bottle Size:

750-ml

Serving Temperature:

50–57° F

Suggested Glassware:

Snifter, Small Nonic, or Tulip Glass
Les Trois Mousquetaires' Grande Cuvée Stout Impériale is a deliciously potent black ale with decadent roasted malts, chocolate, and bitterness throughout. This one strikes a nice balance between specialty malts and resinous hop additions. The malt profile on this imperial stout is 85% Québec malt, including pale, Munich, Carafa, and Carafa160 malts, as well as oats. And all of the hops used in this beer are grown in Québec—Nugget, Chinook, and Cascade—for a potent bitteress of 85 IBUs. LTM's Grande Cuvée Stout Impériale sees very limited distro, with less than 50 cases to be sold stateside, in the Virginia and Washington, D.C. markets.
This pours a super-dark, black color, basically impenetrable to light even at the far edges. A dense coating of dark-tan foam caps things, showing surprisingly good retention and lacing in spite of the 11%+ ABV here. The lacing's pretty exceptional on this imperial stout. Loads of cocoa, baker's chocolate, and roasted malts lead the initial aromatics, supported by licorice and bright anise character, along with hints of rye bread and caramelized sugars. We love just how detailed this imperial stout is, without any barrel aging or fancy special additions—those locally grown malts and hops shine exceptionally well as they're expressed here. There's this potent licorice vibe that we really enjoy in tandem with everything else going on in this beer.
Grande Cuvée Stout Impériale is a full-bodied imperial stout that leads with dense chocolates and anise, cocoa and baker's chocolate. Exceptional lush chocolate/cacao vibes to this beer, with little occasional glimmers of sweetness that land like biting into a chocolate bar. There's also a wealth of generous bitterness keeping this impy stout on course, with lots of mineral, herbal edges being provided here by Nugget, Chinook, and Cascade additions. Old-school hop varieties, sure, but they work great here in terms of balancing out that inky sweetness from the specialty malts. We were enamored by this beer: a lux, incredibly nuanced imperial stout that's basically a love letter to the beer ingredients of Québec. Spend some time with this one, allow it to warm up a bit—there's some super-neat stuff going on with this stout.
In terms of cellaring-time suggestions, the brewery recommends a max of three to five years. There's a lot of core bitterness to this imperial stout, plus a potent ABV, and pretty minimal caramelization at this point, so we wouldn't be too shy about aging bottles of this for some considerable time. Plenty of bitterness right now from those hops and roasted-malt/licorice notes. For pairing with food, the brewery suggests lamb, mac n' cheese, chocolate-raspberry mousse, or aged cheddar. The lamb suggestion feels particularly on point, as there's a subtle mint-like note to this stout that should work great in that context.
The Québécois good-beer scene was renowned early on for breweries like Unibroue and Dieu du Ciel!, both of which see significant distribution throughout the States, but it's small-scale operations like Les Trois Mousquetaires that remind us that it's frequently better to visit. Located directly southeast of Montreal, maybe an hour or so north of the Vermont border, the brewery exports only a handful of occasional offerings, particularly their hefty Porter Baltique. Les Trois Mousquetaires got its start back in 2004, shortly after its three founders lost their jobs after a production plant was moved to Ontario. Hence the Alexandre Dumas reference: "One for all, all for one!"
Using their experience as production engineers, they decided to purchase a small brewing operation along the north shore of Montreal. We're glad they did. In 2008, brewer Alex Ganivet-Boileau took over brewing responsibilities, and in the years since the company has expanded its lineup from a pair of lagers to its current expansive range of German-influenced creations and beyond. Like the Greater Montreal region, the Les Trois releases—Maibock, Rauchbier, Kellerbier, etc.—conjure an Old-World, European charm.
Some of our Rare Beer Club members will fondly recall their Sticke Alt. Of the brewery's German-style offerings, we were particularly thrilled with the brewery's take on that older style—which can be challenging to track down in the States, especially fresh. Or pretty much anywhere else in the world aside from Düsseldorf... We were able to secure the Les Trois Mousquetaires Sticke Alt as a Rare Beer Club selection some years back. Like many of their beers, it utilized 100% Québec-produced malted barley, and to this day it's still one of the finest examples of that elusive style that we've ever tracked down. We also recently featured (and loved!) their pale and zestily hopped Maibock—also brewed with Québec-grown malt.
This month, we're pleased to introduce our Rare Beer Club members to arguably the finest beer we've had from these folks thus far: a beautifully hopped imperial stout, brewed almost entirely with Québec-grown ingredients. The Grande Cuvée Stout Impériale is a generously built take on the style, packed with dark specialty malts and resinous hop character. This one is very limited stateside, with less than 50 cases to be available outside of the club, heading to a limited set of Virginia and DC markets. We hope you enjoy this one as much as we did. To many more exceptional beers from our friends at Les Trois Mousquetaires!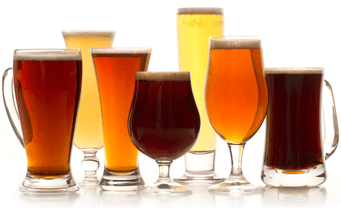 Unmatched Variety by style, brewery & country
Choose from Five different Beer Clubs offering unmatched variety by brewery,
country of origin, and beer style to suit your specific tastes.
DISCOVER OUR FIVE CLUBS