Les Trois Mousquetaires - Hors Série Saison Brett
ABV:

7%

Serving Temperature:

43–50° F

Suggested Glassware:

Tulip, Tapered Pilsner or Chardonnay Glass

One of our featured beers this month is a very special release from Les Trois Mousquetaires' Hors Séries. It's also our very favorite of the beers that we've ever tasted from these folks. This complex saison has been fermented entirely within oak barrels, for a period of approximately three months, first with a saison strain and then with its secondary fermentation via the brewery's house strain of Brettanomyces. This beer is actually bottled with Brett, and our Rare Beer Club members will notice that this one tends to shift from a saison focus to a much more tart, Brett-influenced profile within a year or so. It's going to be a very interesting beer to watch develop with a touch of cellaring time behind it.
This sees very limited U.S. distribution, with only about 60 cases brought into the entire U.S. in 2016. We're grateful to have gotten enough of this one for our Rare Beer Club members.
Saison Brett pours a hazy, bright straw-yellow with a modest amount of foam on top, like a bright sunrise in our tulip glasses. From that initial pour, even quite cold, it offers quite a bit of peppery elements and some lemony acidity—refreshing and spritzy. There are subtle grass and tree fruits from the dry-hopping: peaches, lime, even some melons and strawberry mixed in once this warms up. Those 100% Québec malts—this grain bill includes pilsner malt, oats and rye—appear softly beneath things, an underpinning of subtle spice from the rye and just a modest amount of chewy sweetness. The aroma offers great highlights for what's ahead.
The first sip totally hits the spot. There's effervesent bubbles here, adding plenty of palate-scrubbing elements that make this Saison Brett about as pairing friendly as a beer's going to get—those core pepper and lemon notes match with a whole lot of things. Early on, as we're tasting this, Saison Brett acts more like the first half of its name, keeping to a light acidity of lemony tartness that's present, but still ultimately yields to the saison half of its personality. As mentioned, this profile will definitely shift with time toward Brett land. The oak presence remains a secondary flourish: softer notes of almonds and vanilla, with just enough tannins.
And then, throughout, those enlivening elements of toasty hay and floral notes and fruit via the various malts and hop additions here. We found notes of cantaloupe, peach, apple, pear. This is hugely generous Brett saison from a world-class brewery, and we hope you dig it too.
The brewery suggests a potential aging window of around a year, with the bottled Brettanomyces yeast gradually taking over and adding acidity and further funky tartness. For pairings: they suggest farmhouse sausage and cheeses—and homemade bread.
The Québécois good-beer scene is perhaps most renowned for breweries like Unibroue and Dieu du Ciel!, both of which see significant distribution throughout the States, but it's small-scale operations like Les Trois Mousquetaires that remind us it's usually way better to visit. Located directly southeast of Montreal, maybe an hour or so north of the Vermont border, the brewery exports only a few occasional offerings, most often their hefty Porter Baltique.
Les Trois Mousquetaires got its start back in 2004, shortly after its three founders lost their jobs after a production plant was moved to Ontario. Hence the Alexandre Dumas reference. "One for all, all for one!"
Using their experience as production engineers, they decided to purchase a small brewing operation along the north shore of Montreal. (We're glad they did.) In 2008, brewer Alex Ganivet-Boileau took over brewing responsibilities, and in the years since the company has expanded its lineup from a pair of lagers to its current expansive range of German-influenced creations and beyond. Like the Greater Montreal region, the Les Trois releases—Maibock, Rauchbier, Kellerbier, etc.—conjure an Old-World, European charm.
Some of our Rare Beer Club members will fondly recall their Sticke Alt. Of the brewery's German-style offerings, we were particularly thrilled with Alex's take on that older style—which can be real challenging to track down (especially fresh) in the States. Or pretty much anywhere else in the world, aside from Düsseldorf... We were able to secure the Les Trois Mousquetaires Sticke Alt as a Rare Beer Club selection a few years back. Like most of their beers, it utilized 100% Québec-produced malted barley, and to this day it's still one of the finest examples of that elusive style that we've ever tracked down. We also recently featured (and loved!) their pale and zestily hopped Maibock—also brewed with Québec-grown malt.
This month, we're pleased to introduce to our members the best beer from the folks at Les Trois that we've ever sampled. (And we've had a bunch of them over the years...) This time around we're heading more towards the brewery's Belgian-influenced side of the spectrum to bring our Rare Beer Club members a particularly limited release from this Québec brewery.
Hors Série Saison Brett, in addition to (as above!) showcasing 100% Québec-grown malt, is a masterful combination of oak-barrel aging and deft multi-fermentation from both saison and house-cultured Brettanomyces yeast, plus a delicious surprise from additions of Hallertau Blanc and Huell Melon hops. This one's very limited stateside, and we hope you fall in love with it as much as we did. To many more stellar beers from our friends at Les Trois Mousquetaires!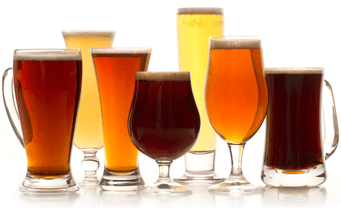 Unmatched Variety by style, brewery & country
Choose from Five different Beer Clubs offering unmatched variety by brewery,
country of origin, and beer style to suit your specific tastes.
DISCOVER OUR FIVE CLUBS