Libertine Brewing Company - Central Coast Saison (2016)
ABV:

6%

Bottle Size:

750-ml

Serving Temperature:

46–53° F

Suggested Glassware:

Tulip, Goblet, Chardonnay Glass
Libertine Brewing Co.'s wild ales are among the best we've ever experienced from the U.S., with layered tartness and precise blending, and we couldn't possibly pick a better beer from this brewery to start with than the expressive Central Coast Saison. This saison, like all of Libertine's wild ales, gets exposed to the local yeast and bacteria through an overnight stay within the brewery's coolship, which introduces a complex melange of microflora that ultimately helps contribute all sorts of nuances to the final product, and this exceptional saison is further fermented and barrel aged in French oak. Libertine beers are generally limited to a modest presence in California—and we're looking forward to getting this saison out into the wild.
The Central Coast Saison pours a bold golden-orange color, with flecks of amber and copper, which gets capped by a replenishing, fine-bubbled white foam. This beer essentially glows in the glass, with Champagne-like bubbles and a look that had us thinking of some of our favorite barrel-aged saisons and lambics. While this gets billed as both a wild ale and saison, the aromatics had us thinking of Belgian lambics, for sure—as this is a mouthwatering beer, packed with funk and sour lemons, and just immensely structured fermentation-wise for a quieter brewery in central California. The aroma is filled with vibrantly tart tree fruits, the rich funk of blue cheese, plus lots of herbs and toasty grain. The bright expression of being dry-hopped with Lemon Drop and Boadicea hops adds to the aromas and complements the funky yeast. After a swirl or two in the glass, dense earthy aromas arise with barnyard and horse blanket notes, dry herbs, and pebbly minerality.
So much good stuff going on in this beer... That fine-bubbled carbonation contributes just a ton to this saison, providing an effervescent lift that gives it a plush feel overall. It goes beautifully with the potent, multidimensional sourness, which provides a ton of dimension in terms of both subtle, yeast-y layers and full-on sour: there are potent tart limes, kaffir leaves, plus lemon and passion fruit, in terms of the core fruit components, and the barrel character provides some welcome supporting structure, adding in soft oak tannin and toasted almond.
As some of our longstanding members will know without us saying: we love saisons like this one. Libertine's Central Coast Saison combines a rustic touch of pale malt and toasty grains with complex tartness, careful barrel-aging, and all of those perfect details that make a barrel-fermented saison like this disappear.
Libertine's Central Coast Saison from 2016 should continue to develop quite pleasantly in the bottle over at least another a year or two, and it seems structured well enough (despite the 6% ABV) with that wild ale acidity to age with some of the same longevity of certain lambics. Just keep an eye on aging bottles, as this one's too tasty to lose to oxidation. For food pairings, this beer will be exceptionally versatile. While it's a little lean in body to stand up to a steak, the lemon, herbaceous and oaky components at the core of this saison seem primed for goat cheese, wood-baked seafood, or herb-roasted chicken.
Libertine Brewing Co. in California's Central Coast has been responsible for making some of the most exciting wild ales to cross our paths in recent years. The brewery started up back in 2012 and has built a growing name for itself through its use of local wild yeasts and carefully barrel-aged beers. All of their wild ales, including the featured Central Coast Saison, spend the night in the brewery's open-top coolship. As Libertine puts it, "This process allows the local wild yeasts of our area to naturally start the fermentation process. Relying on our environment gives our beers a true Central Coast terroir." We found Central Coast Saison to be a beautifully rendered expression of what the folks at Libertine are up to, with nuanced yeast character and very careful details.
Presuming you find yourself liking Central Coast Saison as well, Libertine's been slowly putting together an exceptional catalog of beers inspired by (and often sourcing ingredients from) the Central Coast. The ongoing line of Authentic SLO Wild Ales most recently incorporated a multi-day blending session of the brewery's various barrel-aging saisons and golden, wheat and blonde ales—which typically have resided in barrels for between one and three years. Their limited-release Gary, named after the father of Libertine founder Tyler Clark, combines their house saison with Central Coast oaked Chardonnay from The Fableist winery in Paso Robles. And their Pacific Ocean Blue Gose, as one other fun example, made use of local sea water for its salt addition. Libertine has also done a number of collaborations, including a well-received hazy pale ale with the folks at Alvarado Street Brewery called Yeast of Burden, made with Simcoe and Medusa hops and released locally in a limited run of 16-ounce cans.
For folks traveling to California's gorgeous Central Coast, Libertine has got some excellent visiting options. Their original brewpub in Morro Bay is called The Libertine Pub and offers views of the nearby bay and Morro Rock, as well as 37 taps and a full menu, with live music to enjoy the spectacular views. In downtown San Luis Obispo is The Libertine: a 9,000-square-foot production facility, as well as the company's flagship restaurant—offering up 77 taps, a full menu highlighting local farmers and creameries, and what is, appropriately, called "the rarest bottle list in the country." That sounds like it could be worth a stop. There is also a new Libertine tasting room in Avila Beach offering 12 Libertine beers on tap featuring their famous Wild Ales and new collaboration series beers. And if you're into barrel-aged cold brew (or think you might be), consider the quaint Libertine Coffee Bar in downtown SLO.
Though Libertine Brewing Co. has definitely been making its presence known in the Central Coast, their beers can still take a good bit of effort to track down, with distribution generally limited to parts of Central California and the Central Coast. Their Central Coast Saison can be a particularly difficult find, so we're excited to have had the opportunity to acquire a rare aged cache of this wild ale produced in 2016 to bring to you as a featured club offering—we think you're going to love it. Aside from just a sprinkling of cases in select retail shops in and around California's Central Coast, this beer will be very difficult to obtain outside of the Rare Beer Club. For the latest Libertine releases, openings and more, check out www.libertinebrewing.com.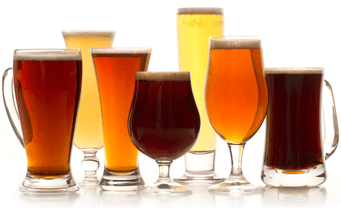 Unmatched Variety by style, brewery & country
Choose from Five different Beer Clubs offering unmatched variety by brewery,
country of origin, and beer style to suit your specific tastes.
DISCOVER OUR FIVE CLUBS