Liefmans Craft Blenders - Kriek Brut
ABV:

6.0%

Bottle Size:

750-ml

Serving Temperature:

48–55° F

Suggested Glassware:

Flute, Tulip, or Pinot Glass
Liefmans' Kriek Brut is one of the best cherry beers we've rated over the years. Only 250 cases of this were sold in the U.S. this past year, and we're taking pretty much all of their remaining inventory; the brewery is pulling this from the U.S. market going forward. This mixed-fermentation beer starts with a Flemish brown ale aged on fresh whole cherries, which then gets blended with aged Oud Bruin and Goudenband, before being matured for another 18 months. Kriek Brut is a masterclass in cherry beer—and an absolute pleasure to dig into.
The initial look and aromatics of this beer bring a showcase of cherries from the start. Kriek Brut pours deep burgundy red, almost like currants, capped by fluffy, medium-tan foam. The head is well formed and retained, leaving behind significant lacing when it finally departs.
Huge amounts of ripe cherries and cherry juice in the aromatics, accompanied by light spice and dark berries. Tons of fruitiness to dig into here: currants, blackberries, strawberries, figs, raspberries… The beer's mixed-fermentation character provides mouthwatering acidity with a touch of lemon. We noticed pie crust, accompanying baker's spices, some subtle guava.
That first sip provides all the cherry focus and fruit complexity offered by the aroma. Sweet-and-sour balance gets struck immediately, throughout keeping to the brighter, fresh-cherry side of things. There's some really nice core acidity present, and this certainly isn't lacking in balancing tartness. The rounded cherry keeps this lightly sweet and inviting, while that firm, layered acidity provides smooth, tart-lemon character underneath. Bold cherry throughout.
We really enjoy Liefmans' various blended releases across the board, but their Kriek Brut is on something else, providing a cherry-focused complexity that we'd be hard pressed to find elsewhere. The cherries are lightly sweet, gently bitter, or landing with pronounced acidity in turn, lifted up by Kriek Brut's effervescent bubbles. Lingering currant and lightly tart cherry in a smooth finish. A beautifully original, complex fruit beer that carries its aging perfectly.
Liefmans' Kriek Brut is suitable for a bit of additional aging, but we think it's currently in its prime. The brewery suggests pairing with arugula salad with balsamic vinaigrette; rich dessert fare like cherry pie, cherry cheesecake, or chocolate cake; or a creamy triple cream cheese.
Liefmans got its start way back in 1679, when Jacobus Liefmans opened a brewery along the banks of the River Schelde in Oudenaarde, Belgium. The brewery's building has now been standing for over 300 years. The world-renowned brewery has built its reputation on making beers through mixed fermentation in open vessels, as well as establishing deep experience in blending young and mature beers to create their final releases; these blended beers each get aged for an additional one to two years inside of Liefmans' historic cellars. The brewery has traditionally brewed during the winter, and the blending process and secondary fermentation was first introduced to help the beer supply stay in tip-top condition through the summer.
Two of Liefmans' beers in particular might be familiar to our Rare Beer Club members. The brewery's Goudenband is a classic dark beer from Belgium, brewed in open vats with mixed fermentation for four to 12 months, before getting blended with younger beer for secondary fermentation. Originally called Azenband (or 'Iron Band')—referring to the iron hoops on beer barrels—it got renamed Goudenband (or 'Gold Band') around 1957, and its champagne cork was added. Another standout Liefmans release, the brewery's Oud Bruin, dates back to 1679 and derives its complex flavor from its specialty malts and secondary fermentation.
Around 1900, Liefmans began to add black cherries to their maturation tanks on a very small scale. In exchange for beer, local farmers would bring in excess cherry crops to the brewery, beginning a long-standing tradition of cherry beer at Liefmans. A hugely crucial influence in Liefmans' history was Rosa Merckx, who (among many other things) played a major role in evolving the brewery's cherry beers. Rosa took over as Liefmans' brewmaster in 1972—after starting with the brewery in 1946 when they needed a trilingual secretary—in turn becoming the first official female brewmaster in Belgium. Honestly, you should read more about Rosa Merckx—she's been a hugely influential figure within Liefmans and beer culture as a whole. (As a brief related aside: Ommegang's kriek Rosetta was named after her.) Liefmans was the first brewery to hand-wrap every bottle in tissue paper, and Rosa's signature appears on each Liefmans label to this day. Now in her 90s, she still keeps an eye on Liefmans' quality.
This month, we're excited to feature Liefman's Kriek Brut—one of the tastiest krieks we've ever reviewed. This mixed-fermentation beer combines Flemish brown aged on fresh whole cherries, aged Goudenband, and aged Oud Bruin, before the blend gets aged for another 18 months. It's an incredible cherry beer, and we managed to scoop up most of the remaining U.S. allocation. This beer is no longer going to be imported, so when it's gone, it's gone.
The old Liefmans brewery has largely been restored, with much of its original equipment retained and now serving as part of a living museum. The brewery offers the promise of delicious blended beers overlooking the River Schelde, and tours from a professional guide can be booked online, explaining the history of Liefmans and Oudenaarde's dark beers. Learn more about the brewery and current visiting options at Liefmans.be.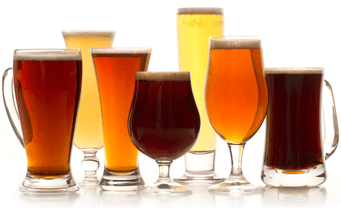 Unmatched Variety by style, brewery & country
Choose from Five different Beer Clubs offering unmatched variety by brewery,
country of origin, and beer style to suit your specific tastes.
DISCOVER OUR FIVE CLUBS