Logsdon Farmhouse Ales - Rakau Boy
ABV:

7%

Bottle Size:

750-ml

Serving Temperature:

47–55° F

Suggested Glassware:

Tulip, Teku, Nonic or Chardonnay Glass
We've been digging the beers from Logsdon Farmhouse Ales since the brewery got its start back in 2009—and we've been looking forward to debuting this Rare Beer Club exclusive.
Logsdon's Rakau Boy is being made exclusively for The Rare Beer Club, and the only places folks will have a chance to get this are through the club or at the brewery's tasting room, as they'll have a small amount available for their supportive locals. Rakau Boy is best described as a non-traditional, Belgian-style witbier—first fermented with Logsdon's blend of witbier yeasts, but dry-hopped with Rakau hops and refermented with the brewery's house strain of Brettanomyces.. The brewing process for the beer begins with a lengthy, low-temperature mash rest with Logsdon's soft Mt. Hood water, and a combination of pilsner malt, wheat and oats, which in turn helps to ensure that the final product has plenty of body, while still remaining quite dry courtesy of the Brettanomyces refermentation. A subtle addition of coriander gets met in the boil with generous additions of Rakau, Fuggle and Golding hops, and a touch of pear juice gets added during bottling to provide additional sugars for that house strain of Brettanomyces.
The net result is an exceptionally handled beer from Logsdon. This pours an endearing gold in the glass, capped by vibrant, finely bubbled foam courtesy of refermentation in the bottle. That subtle element of coriander presents itself in the aroma alongside more tropical notes, with lime and ripe melon coming through from the Rakau additions. The spice and hints of an orange fruitiness conjured up previous experiences with the brewery's delicious core Kili Wit—which is to say that they're in the rare position of making at least two world-class wits. There's a vibrant carbonation present in that first sip, adding lift into an herbaceous, tropical witbier that's an absolute pleasure to drink. Wheat and oats provide a welcome roundness to the mouthfeel despite the Brett's steamlining effects, plus the combo of traditional earthy and floral hops with the stone fruit and fig-like notes of the Rakau additions. Known for its fruit focus, this New Zealand hop's character is often referred to as "the whole orchard." For this magnificent witbier, with extra lime and spice via the Brett—it's a wealth of great fruits. This exclusive offering disappeared from our glasses, and we hope you dig it as much as we do.
Given the Rakau dry-hopping and easy-drinking nature of this, we're inclined to encourage folks to enjoy Rakau Boy fresh. But the bottle refermentation with Brettanomyces also means this will be pretty well protected from oxygen and will continue to develop over time. So... your mileage my vary on the cellaring front. The lighter body and herbal, citrusy angles of this wit have us inclined to pair it with summery salads and all sorts of grilled seafood.
Imagine, if you will, a mythic brewery tucked away in the folds of Oregon's Columbia River. The brewing equipment itself sits in an iconic big red barn, itself housed on the brewmaster's quiet ten-acre property. Schaerbeekse cherry trees, imported from a small Belgian orchard in East Flanders, dot the property and conjure up the world-class kriek lambics of that region. A small fold of Scottish Highland cattle can be seen salivating, a good sign there's brewing in progress. Once it's done, the spent grains will be brought out into the pasture to feed them.
At the operation's helm, let's say, is an artisan long-trained in the semi-invisible arts of yeast management. It all feels like a bit of sorcery. For good measure, the brewery also happens to be immersed in an area known for its windsurfing, orchards, historic landmarks, and beer.
Go ahead. Pinch yourself. Rub your eyes. Logsdon's Farmhouse Ales will still be there.
There's something special about breweries truly dedicated to the quality and sustainability of what they do, to the degree that it can feel a bit like an errant fairy tale (swap out the Hobbits for gigantic cattle in this case). Logsdon Farmhouse Ales was founded in 2009, headed up by Director and Brewmaster David Logsdon. David's been a force in the brewing industry for quite some time, previously serving as a founding partner and brewer at fellow Hood-River-based brewery Full Sail. He's also founder of Wyeast Laboratories, Inc., one of the country's main yeast companies, where he worked for 25 years before starting a brewery of his own.
To the idyllic setting and skilled brewing team, add a dedication to high-quality, thoughtfully sourced organic ingredients. Hops are used in their whole-cone form (no pellets, no extract) and purchased either directly from the farmers themselves or grown on site. Fruit additions are locally sourced. Multiple yeast strains are typically used, allowing for greater complexity in the final product. Also: Every beer is certified organic. In David's words: "We think these are all advantages and producing the best beer possible."
Logsdon has been in the news quite a bit recently, including the recent announcement that they'll be opening a new spot in a space that previously held Amnesia Brewing in Washougal, Washington, giving them even better access to their customers. David Logsdon also recently announced that he'll be retiring from full-time operations with the brewery, with the proven team of head brewer Shilpi Halemane and assistant brewer Mark Pearson heading brewing operations going forward. As one last news bit: Logsdon also recently took home a gold and two silver medals from the latest Oregon Beer Awards, as well as Small Brewery of the Year accolades. Member feedback from our earlier feature of Logsdon's Szech N' Brett was super positive—and we're thrilled to be able to offer an exclusive beer from Logsdon this month.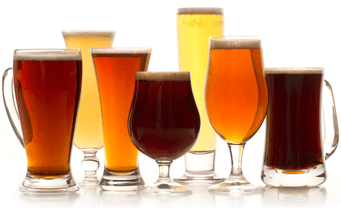 Unmatched Variety by style, brewery & country
Choose from Five different Beer Clubs offering unmatched variety by brewery,
country of origin, and beer style to suit your specific tastes.
DISCOVER OUR FIVE CLUBS