Mark Twain Brewing Company - A Wee Bit Foggy
ABV:

9.8%

Bottle Size:

750-ml

Serving Temperature:

52–59° F

Suggested Glassware:

Small Nonic, Tulip, or Snifter
As one of our two featured beers this month, we've been looking forward to introducing the work of Mark Twain Brewing Co. to our Rare Beer Club members. We have been following this brewery for a while, trying to figure out the best way to express what they're up to—but we've been impressed time and again by the brewery's A Wee Bit Foggy: a Scottish-style ale / wee heavy with a nicely tucked-away 9.8% ABV. It's bold, highly expressive for the style, and an incredible take on the fruity, malt-focused space of these types of beers.
Cat Golden from Mark Twain Brewing offered the following explanation for how A Wee Bit Foggy's name came about:
"In Northeast Missouri, the Mississippi River often gets foggy in the mornings, particularly in the fall. At times, so much so that the river is completely shrouded—you'd never even know it was there. Our brewery is situated right on the Mississippi. Early one morning, Dave and I walked down the hill to the brewery to test brew a new Scotch Ale recipe we had created. That morning, the river was covered in fog. I thought, 'How appropriate that we're brewing a traditionally Scottish beer today. The fog reminds me of the mist-covered Scottish Highlands.' I looked at Dave and said, in my cheesiest Scottish brogue, "Well, it's a wee bit foggy out, 'tisn't it?' And it struck both of us simultaneously: we're brewing a 'Wee Heavy,' it's a 'wee bit foggy' outside, and—if you drink too many glasses of this beer—you yourself, will become 'a wee bit foggy.' A couple of months later, we released the finished beer, and it was a hit. Our regulars demanded that it become a yearly tradition, and we began our barrel-aging program with Foggy and our Russian Imperial (Passport to Russia) shortly thereafter."
Mark Twain's A Wee Bit Foggy is currently distributed into parts of Missouri and Western Illinois, mostly in draft from, along with a very limited number of kegs heading to Chicago and a few key accounts in Alabama. The brewery typically keeps the bottles of their limited releases for taproom sales only.
A Wee Bit Foggy pours a medium cola-brown color with a reddish tint, landing firmly in the Scottish-style space, and its light tan head leaves behind solid lacing. Surprisingly good foam on this, given the potent ABV. Bright red-apple fruitiness leads in the aromatics, along with a malty impact of biscuit, toffee, and intricate caramel. This beer's focused on expansive malt expression and generous red fruits and berries—without ever coming across as, say, sticky or overtly sweet. There's a whole lot of malty depths, but without that accompanying weight.
Note: This is a very easy-drinking beer for 9.8% ABV. A Wee Bit Foggy leads with generous levels of red apple and berries at the forefront, and fruits serve as a foundation point for all of the darker malt expression rolling out here: brown sugar, caramel, toffee… The maltiness is worth focusing on: it's rich, crunchy, conjures the crack of fresh malt, and offers up loads of earthiness and accompanying caramelized, nutty character. Dried-fruit notes add further layers of complexity, while a small amount of smoked malt provides a welcome edge without making this feel like a full-on smoked beer. Like the impact of oak tannins, the smoked malt contribution is more about texture than flavor impact. While this beer is a little off the usual beaten path, we think A Wee Bit Foggy perfectly showcases just what Scottish-style ales can bring to the glass. It's so rare to find a Scottish-style beer of this quality stateside, and it's our favorite beer so far from these folks. Mark Twain Brewing's A Wee Bit Foggy is an excellent example of an increasingly rare style, carefully balancing its fruity esters and underlying malt.
At nearly 10% ABV, this wee heavy should continue to age smoothly in one's cellar; watch caramelization levels, though, as this is already malt-focused and properly caramelized. For pairings, we'd use its smooth maltiness to calm the heat of spicy pork or barbecue ribs.
We've been enjoying the small number of beers from Mark Twain Brewing Co. that we've been able to get our hands on, and we've finally managed to secure enough bottles to offer our favorite beer from this Missouri-based brewery to our Rare Beer Club members. Dave Alley and Catherine (Cat) Golden joined Mark Twain Brewing around five years ago, after having apprenticed at the O'Fallon Brewery in Maryland Heights, Missouri. This month, we get to highlight their A Wee Bit Foggy—a Scottish-style ale that takes its name from their experience of first brewing this beer, watching fog roll off the nearby Mississippi River.
Mark Twain Brewing Co. sits at 422 N. Main St in Hannibal, Missouri, right across the street from where the young Samuel Clemens grew up, and The Mark Twain Boyhood Home and Museum is just a short walk away from the brewery. The two-story brewery and restaurant features an upstairs balcony overlooking the Mississippi River, while the brewery itself exists in a defunct Ford Model T production facility, with Victorian-era reclaimed building material incorporated throughout. The restaurant offers an expansive pub-food menu, and about two dozen in-house beers are featured on tap, including some of their limited barrel-aged beers.
During quarantine, Mark Twain Brewing Co. is offering online orders for curbside pickup of food and beer. You can check their current status and latest news at marktwainbrewery.com.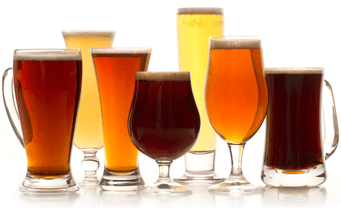 Unmatched Variety by style, brewery & country
Choose from Five different Beer Clubs offering unmatched variety by brewery,
country of origin, and beer style to suit your specific tastes.
DISCOVER OUR FIVE CLUBS