Masia Agullons - Runa Brown Ale
ABV:

5.00%

Serving Temperature:

45-50° F

Suggested Glassware:

Dimpled Mug or Pint Glass
The beer inside this 750 mL champagne-style bottle is made with only water, malt, hops and yeast. It is proudly left unfiltered and unpasteurized, allowing a completely natural re-fermentation in the bottle. Runa Brown Ale pours a lightly hazed, deep mahogany brown color, adorned by a long-lived, light tan, creamy head. On the nose, expect a pleasantly rich brown ale aroma, featuring prominent notes of chestnuts, nougat and clean, fresh malted barley. Look for suggestions of multi-grain bread, as well as some orange/citrus notes too, rounded out by a faint creaminess. We found it very appealing and abundantly inviting. This beer is sumptuously rich and full in the mouth; velvety smooth, it feels and tastes like an "old school" American brown ale from the early 1990s (and yet here we are, 20 years later, finding such beer in rural Catalonia!). Note the creamy, perhaps even perfect level of carbonation, and the moderate roastiness complete with coffee notes. Look for a touch of bittersweet chocolate too. It's quite nutty, with a good deal of yeast expression, and some well-placed spiciness—some likely off the yeast, but much coming from the hops. We got quite a bit of nougat character in the flavor profile, just as in the nose. As it warms, expect the bitterness to gain ground, with the nougat notes coming up a bit as well. The finish offers a very nice lingering hoppy spiciness that cleans the palate up, refreshing it for another sip. And it's very food friendly, especially with grilled/barbequed fare.

Overall, there's a lot of flavor in this 5% ABV beer, yet it remains at all times balanced and poised. Finding such good beer, especially from a tiny farmhouse in the Catalonian countryside, is quite a discovery. Runa Brown Ale has been in the U.S. once before, when a small amount was first brought in from Masia Agullons. It vanished quickly. The importers (Shelton Brothers) then waited at least six months for a follow up shipment. We took all but about 20 cases (around 240 bottles) of the sophomore round. Due to the extremely small output of the brewery, you can bet it's going to be quite some time before any more gets to the states. Our members not only get most of the current U.S. supply, they will also receive their bottles of Runa 4-6 weeks before those 20 cases hit the U.S. market—so, enjoy your bottles of rare, rural Catalonian farmhouse beer—we know we will.

As far as aging, we don't recommend going beyond 3-5 months; even though the bottle conditioning will allow the beer to mature for some time, this beer is amazing in its youth—and it's already aged a bit beneath the brewery before it left on its lengthy journey to get to our members. So go for it.
Located within in the Catalonia region of the Northeastern Spanish countryside is the small village of Mediona. Population: 1638. It is a picturesque region with rolling hills and agriculture-filled valleys. For most of modern history, Catalonia has not been known for its beer, but like many areas of the world that are getting caught up in the wave of artisanal brewing, that's starting to change. Even in the hustle and bustle of its capital city, Barcelona, good, local beer was almost impossible to come by. But in 2005, the first microbrewery in the region opened. Today, there are over a dozen. In 2008, Carles Rodríguez, a former inhabitant of Barcelona, obtained official permission to operate his small, farmhouse-brewery, Masia Agullons. A homebrewer since 2000, Carles decided to get into the business of brewing beer, and in 2005, installed the tiny Masia Agullons brewery inside a mid-19th century farmhouse (some have referred to it as a shed—and by modern standards, that's understandable—it is indeed quite diminutive). That same year, he and his companion, Montserrat Virgili Correa, began organizing the "Mostra de Cervesa Artesana de Mediona" (a craft beer festival celebrating local beer) in order to help introduce fine beer culture to their fellow citizens. Spain is well known for its cuisine, and the chefs in the country are taking advantage of the better beer options by pairing food with beer, and even cooking with it. This piggybacking of great local beer with fresh regional cooking is one mechanism that has allowed the culture of better beer to spread as rapidly as it has. And for visitors lucky enough to find their way down the little dirt road that leads to the brewery, they can pay a visit to the tasting room, where dishes are sometimes made with different types of beer, cooked in a wood oven. Farmhouse food + farmhouse beer = farmhouse bliss! But when it comes down to it, the beers made on Masia Agullons' 500 liter* brewery speak for themselves—and they do so with true elegance, as you'll soon learn. There's a rather slow pace to life in this part of the world—and that suits the brewer, and the beers, just fine. On a given visit in the typically warm weather, you're likely to encounter numerous sun-bathing, farm-dwelling cats, taking it easy and enjoying the life around them as the smells of a wood-burning oven and fresh malted barley fill the air. A similar relaxed demeanor is possessed by Carles, who is adamant about keeping commercial sales at a low volume, so that the beer, and the lifestyle, is never rushed; its quality forever protected. Whatever pace you like Senyor Rodríguez—keep it up—the world will wait for beer this good. *500 liters is about 132 gallons, or, roughly 8 kegs worth of beer per batch. Now that's low volume for a commercial brewery. Seriously!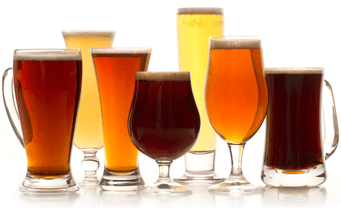 Unmatched Variety by style, brewery & country
Choose from Five different Beer Clubs offering unmatched variety by brewery,
country of origin, and beer style to suit your specific tastes.
DISCOVER OUR FIVE CLUBS