Meantime Brewing Company Limited - Scotch Ale
Like all of the great beer styles of the world, Scotch Ale owes its character to the terroir of its original place of origin. In the case of true Scotch ales, there were two key geographical factors that determined the flavor of the beer. First, the remoteness of Edinburgh from the hop growing counties of England meant that there was an economic incentive to make a very low hopped beer. Secondly, the very soft Edinburgh water, readily tapped via an aquifer running along a geological fault line from Holyrood Palace to the city, was ideal for bringing out the best in darker, malty beers.
Meantime Scotch Ale has been brewed to an authentic recipe specifically for the Rare Beer Club in the United States. However, you may come across some small quantities that crop up at the Greenwich Union, if you know the right people to ask, that is. 8.0% ABV, made with delicately colored malts, Perle and Spalter hops. It is a fine expression of malt in beer.
Scotland's capital, Edinburgh, is one of the world's most beautiful cities. At 18, I moved there to take a job on a newspaper. I was too young to appreciate the place. Being of an age at which most people are in college, I spent most of my leisure time drinking. Back then, Edinburgh was one of the world's great brewing cities. I kept discovering new beers, and each seemed better than the last.
But as fast as I discovered them, they vanished. Breweries were going down like ninepins in the early 1960s. I sometimes wondered if I had really tasted a beer called Fowler's Prestonpans Wee Heavy? Or was it all a dream? It wasn't. I had, and it was one of the best ales I'd ever tasted.
As the breweries vanished, so did I. Breaking my journey in my native Yorkshire for a pint or three of Sam Smith's, I headed for London to seek my fame and fortune.
A decade or so later, Alastair Hook arrived in Edinburgh to study brewing at Heriot-Watt University. He also studied at York University, and even at Weihenstephan. He claims that my Pocket Guide to Beer inspired him to become a brewer.
I met Alastair for the first time in 1991. He was 27, and had been hired to set up a brewpub in Ashford, the last English town on the Channel Tunnel railway. The brewery was in a pub that had been converted into a nightclub. It was felt that the young customers would want lager, not ale.
Alastair brewed a Vienna Lager, the first example of that style ever to have been brewed in Britain. It is a style of lager for which I have long campaigned. This brewery was the first British micro to produce lager.
He had never been written about in a national newspaper, until I wrote a half-page story in the "Food and Drink" section of The Independent. I have been writing about him ever since.
He still produces that Vienna lager, at his Meantime Brewery, in Greenwich, London. And when I yearn for Prestonpans, I seek out his Scotch Ale.
Creamy, coffee-coloured head. The beer itself is slatey, almost black. Dusty, oaky aroma and palate. Smooth, oily, texture. Savoury, slightly meaty, grainy, flavour. Dark cocoa and slight smokiness, in a warming finish.
Smoked fish. Scotch broth. Haggis. Mutton pie. Surf''n'turf. Prime rib, Beef Wellington.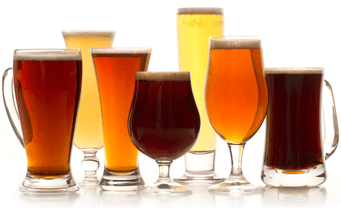 Unmatched Variety by style, brewery & country
Choose from Five different Beer Clubs offering unmatched variety by brewery,
country of origin, and beer style to suit your specific tastes.
DISCOVER OUR FIVE CLUBS