Michael James Jackson: 1942-2007
Michael James Jackson: 1942-2007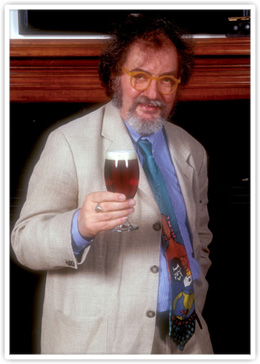 Michael Jackson was an English writer and well established in the world of brewing as the world's leading authority on the subject of beer. He was the author of several best-selling books including The Great Beers of Belgium which is currently in its 5th edition, and he traveled the world extensively for well over three decades to seek out rare and unusual beers.
Belgium's Crown Prince Philippe awarded him the Mercurius Award in 1994, presented with special reference to "The Beer Hunter", Michael's television show, as well as Michael's book The Great Beers of Belgium.
For his beer-related writings, Jackson has also received honors in France, Italy, Germany, Finland, the United Kingdom, and the United States.
In addition to being a consultant editor to the magazine Beer Passion, Jackson wrote articles featured in the Journal du Brasseur, Pint, Bière, All About Beer, What's Brewing, and various food and drink publications in numerous countries. He also produced articles for GQ, Playboy, and the Washington Post, and his writings were also regularly featured in Britain's Observer and Independent. An archive of his articles can be found at beerhunter.com. He later went on to be the founder of The Rare Beer Club® and we do our best to do his legacy justice every month.
Jackson held beer tastings at the Belgian Consulate in New York City and the Belgian Embassy in Tokyo, Japan. He passed away on August 30th, 2007 from Parkinson's Disease in London. Learn more about Michael's life here.