Michael James Jackson: 1942-2007
Michael James Jackson "The Beer Hunter": 1942-2007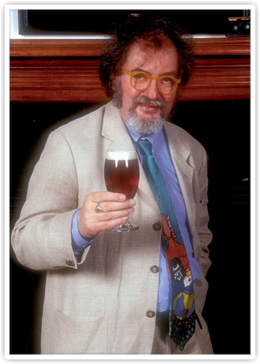 On August 30th, 2007, the world lost a great champion of craft-brewed beer. While there are many people around the world who aren't yet fans of microbrewed beer, his name is known across the globe. In fact, there's NO way you haven't heard of him: Michael Jackson.
Of course, we're not talking about the one-gloved "King of Pop". Michael Jackson was an English writer and well established in the world of brewing as the world's leading authority on the subject of beer. He traveled around the world extensively, meeting with brewers, touring breweries, tasting beers, uncovering lost brews and tracing the history of beer styles back to ancient times, which earned him the nickname "The Beer Hunter".
His TV documentary series, "The Beer Hunter"—which popularized his nickname—was filmed around the world and shown in 15 countries. Perhaps most importantly, he helped to document the world history of beer and was the author of several best-selling books, including The World Beer Guide and The Great Beers of Belgium, which is currently in its 6th edition. His writing style was simultaneously casual and erudite, and always provided an interesting and educational read. Michael used his books to share his experiences, herald the virtues of good beer and help to explain the importance that beer has historically held through the ages, throughout the world.
Belgium's Crown Prince Philippe awarded him the Mercurius Award in 1994, presented with special reference to "The Beer Hunter", Michael's television show, as well as Michael's book The Great Beers of Belgium. For his beer-related writings, Jackson has also received honors in France, Italy, Germany, Finland, the United Kingdom, and the United States.
In addition to being a consultant editor to the magazine Beer Passion, Jackson wrote articles featured in the Journal du Brasseur, Pint, Bière, All About Beer, What's Brewing, and various food and drink publications in numerous countries. He also produced articles for GQ, Playboy, and the Washington Post, and his writings were also regularly featured in Britain's Observer and Independent.
Simply stated, we wouldn't have the options in beer that we do today were it not for Michael Jackson's work. It's that simple. By identifying beers by flavor and style—more to the point—by advertising that there actually are "styles" of beer (a little-known fact to many beer drinkers around the world), and by suggesting thoughtful pairings of beers with particular foods, Jackson helped give birth to a renaissance of interest in beer and breweries worldwide in the 1970s. His work and words were, without a doubt, fresh in the minds of many pioneers in the North American microbrewery movement.
It's difficult to fully appreciate the impact this great champion of the brew has had upon the world of beer, but if you ask any brewer about the man, they're likely to cite at least a few stories of how they've been inspired by him. Here at The Microbrewed Beer of the Month Club, we can say from personal experience that we were certainly 'under the influence' of his works. There's not a beer writer out there who doesn't admire (or at least envy) the man on some level. Despite his fame and being held in such high regard by so many fans of good beer, he remained humble and approachable. To say he will be missed is a colossal understatement.
An archive of Michael Jackson's articles can be found at beerhunter.com. He later went on to be the founder of The Rare Beer Club® and we do our best to do his legacy justice every month. Learn more about Michael's life and The Rare Beer Club acqusition here.
To honor his memory, commitment to our favorite malty nectar, and dedication to telling the story of beer, we ask that you all lift a pint (or two) and toast beer's best friend, the Beer Hunter, Michael Jackson.
To Michael: rest in peace, good sir. We're all left with a much heavier torch to carry in our endeavors to turn people on to good beer—but we'll do our best to continue what you've started.
—The Staff at the Microbrewed Beer of the Month Club