Microbrouwerij Achilles - Serafijn Belgian Pale Ale
ABV:

6.20%

Serving Temperature:

45-55° F

Suggested Glassware:

Tulip, Oversized Red Wine Glass
Serafijn Belgian Pale Ale pours a hazy murky amber with an off white sticky head. On the nose, expect very floral, phenolic, Belgian yeast notes to flutter out of the glass. Expect a mild tartness implied in the aroma, similar to SweeTarts candy. Talcum powder, stone fruits and ripe red grapes are present as well, with caramel and apple skin notes emerging as the beer comes up in temperature. The overall sweetness kicks up a bit at full warmth, along with some subdued clove characteristics. For Belgian beer, 6.2% ABV is beer meant for everyday drinking, and we think you'll agree that this brew is very easy to drink indeed. After an initial burst of sweetness and apple notes, expect a dryness to set in relatively quickly, keeping the sweetness in check. Characteristic Belgian spiciness is very prominent, and comes not from the use of any herbal elements, but entirely from the yeast—and it's clear that it was a very active yeast strain used in this beer. Notes of pear blossom with temperature, as well as suggestions of rosewater and faintly tart, unripe stone fruits. There is a hefty level of carbonation, and this helps to sharpen the overall bite of the beer, cleaning up the palate in the finish, preparing you for another fresh sip. This Belgian Pale Ale winds down with some stemmy, balsa-like woodiness and low levels of bitterness. Serafijn means Seraphim (plural form of Seraph), an order of angels that serve as caretakers of God's throne. The name Seraphim means "the burning ones," and it is said that such a bright light emanates from them that nothing, not even other angelic beings, can look upon them. These six-winged beings constantly shout praises to God, in the form of song, and are the highest rank of angels. A fitting symbol for the brewery of a musician and music teacher. Certainly the Serafijn beers celebrate the accomplishments of their creator, though at only 6.2%ABV, there is no burning, but there is a sublime drinkability. After a few, our beer panel was happily singing their praises. Try pairing with Lobster tail or crab-stuffed shrimp.
Most family run breweries in Belgium are very small, but Microbrouwerij Achilles, in Itegem, is downright tiny. The brewery sits in the garage of the brewer's home, with mash tun, brew kettle, fermentation tanks and a very small bottling line all wedged into the very small space on a quiet street in this small Flemish town. From the road, you'd never know it was there. There are no signs. Yet their beer has managed to earn very limited distribution in the US. This is akin to a scenario where you or one of your homebrew buddy neighbors started selling beer out of your garage and somehow managed to attract interest in the product from abroad. That's some good homebrew! Just behind the "brewhouse" is a real house—one whose family living room has been converted into a small, simple, quiet café where local folk come to share beer and conversation and to support their neighbor. That neighbor is local music teacher Achilles Van de Moer, a gentle, unassuming homebrewer who since starting the brewery in 1999 has all but left his day job to realize his dream of a self-sustaining commercial brewery. Achilles (sometimes spelled Achiel, and pronounced Ah-sheel in Flemish or French) makes simple, honest beers in his small yet sophisticated homebrewery. All of the beers are unfiltered and unpasteurized, and will referment a bit in the bottle, which of course means much more flavor, subtle complexities, and a longer shelf-life. The beer we've selected for you has never before been available in the US, and with the exception of a few shipping containers and warehouses thru which it passed on its way to you, it's coming straight from the brewer himself. Achilles makes a small amount of beer, about 300 hectoliters, which is just less than 8,000 gallons. That's about the volume of a small above ground pool or oversized hot tub. Mmmmm… a hot tub full of beer. Now that sounds like a great way to wind down the night… A more realistic way to put the cap on your work day would be to pop the cork on a bottle of this rare beer from Belgium that we managed to procure from Achilles' very tiny stash. A santé!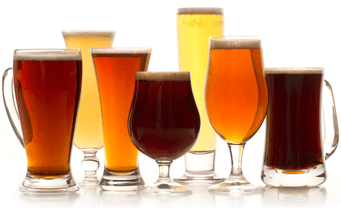 Unmatched Variety by style, brewery & country
Choose from Five different Beer Clubs offering unmatched variety by brewery,
country of origin, and beer style to suit your specific tastes.
DISCOVER OUR FIVE CLUBS