Mikkeller - Hoppy Lovin' Christmas
ABV:

7.80%

Serving Temperature:

45° F

Suggested Glassware:

Pint Glass
Pretty cool quirky little label going on here. Maybe someone's kid made it? Yes, if that kid is named Keith Shore. But he's an adult artist living outside Philly. It's some weirdoes feeding deer mistletoe? This mofo's a foamer, so pour carefully. Pours a copper color and is dressed by a thick, creamy off white head. The nose smells of hops, hops and more hops, including the traditional Pacific Northwest piney, grapefruity hop notes. Some caramel malt notes in the background, holding this holiday party together, but this is a hop heavy beer, as expected for the style, and for Mikkeller. Wafts of juniper and orange peel come to mind, and as it warms, it gives up a bit of its alcohol. Bit of earthiness and a basement-y musty note as well. This sucker is dank. Damn. On the palate, prepare for an intensity that is hard to describe. This beer has a brutal level of hoppiness, without being overly bitter. Massive hop flavor—quite remarkable, really—this has a depth of hop flavor that is truly rare. FLAVOR is the key—hoppy flavors being distinct from hoppy bitterness. Citrus, especially grapefruit, evergreen, mint, and raw tea leaves all rush the palate. There is just a perfect amount of ginger to complement the hops, giving an almost ethereal spicy character. Remarkably flavorful, yet somehow remains astonishingly easy to drink. Not overly sweet, nor brutally bitter, it just lets you experience the delicious Mikkeller hops explosion that it is. Don't get us wrong, there's plenty of bitterness finishing this bold IPA out, it just doesn't seem to match the insane level of hop flavor. Part of the bitterness seems to be an herbal, truly piney note, suggestive of sap, but distinct from hop bitterness, and tons of grapefruit rind. PacNW all the freggin' way. Some suggestions of plastic-y phenolics too, but maybe that's coming from the ginger or pine needles, but it does give some subtle suggestions of Belgian yeast. Interesting, bold, yet subtle. What a treat. Only 20 cases of this beer are out there in the US beyond the stock that we snatched up for you, lucky member—it's very limited and just about no one but you and your Rare Beer Club brethren will have the chance to sample it, so please, be kind, and share with someone deserving this season.
The Scandinavian beer scene continues to make strides. The number of microbreweries, many emulating the craft beers of the US microbrew revolution, has surged. This isn't to suggest that they lack their own creativity—not at all. In fact, some of the most adventurous brews on the planet emanate from Scandinavia. One of the breweries that has led the charge in the creativity (and quality) department is Mikkeller, founded in the kingdom of Denmark by Mikkel Borg Bjergsø and Kristian Klarup Keller (the name Mikkeller is a combination of their first and last names). Their rise to beer geek prominence has been meteoric. In 2006, their first year in business, Mikkeller was named Danish brewery of the year, and the fifth best brewery in the world. The secret to their success? As Bjergsø, now in the business by himself (Keller left to take a job in another field) says, "We brew the beer we like, and we don't think too much what the customer wants." Not pulling any punches there... Turns out, customers like what he's doing. Mikkeller beers are highly coveted, which is why we couldn't be more excited about bringing you one of their newest creations this month, about a month before anyone else in the country will have access. Merry Christmas, Happy Holidays, whatever… you're welcome… Despite the founding duo's split, Bjergsø has not quite gone it alone. He's become a self-proclaimed "gypsy brewer," working in a multitude of nations alongside some heavy hitters. He's teamed up with brewing illuminati like AleSmith, Stone, De Struise, and Three Floyds, among others. Part of what's got Mikkeller noticed, besides their boundary-pushing beers, is their attitude. Bjergsø prides himself on pushing the envelope, while not taking himself too seriously. With amusing names like "Gone Cold Turkey?" "It's Alive!" "All Others Pale," "Drink Your Sorrows Away," and "Beer Geek Breakfast," he has fully, completely and totally embraced his brand's beer geekdom. They recently brewed the world's first Coffee IPA ("Koppi"), and a couple years back, Mikkeller brewed "Black," which they describe as "Denmark's strongest beer and Mikkeller's 'most violent' beer to date." Hell yes! They've recently had that beer distilled to make a beer schnapps that is currently in oak casks and weighs in at 58.6% ABV. This Danish brewer is on the cutting edge, steeped with the youthful, hip elements that have also helped make bands from Denmark some of the best break-out music-makers of the past 5+ years. There's a blatant intelligence, but not pompousness, paired with levity blended with high gravity. The fact is, Mikkeller is one of the coolest breweries out there (and they don't even have their own brewery—go figure!). Mikkeller started brewing beer in their kitchen, and set out to challenge the Danes' taste buds with intense taste adventures, seeking to provoke some inventiveness in Danish beer brewing. As they put it "why not show the way?" Mission accomplished Mikkeller. Thousands of beer geeks can't be wrong. Here are some examples of their distinctive brand of "artistic style", courtesy of their incomparable spokesperson, Thomas Schøn:
http://youtu.be/OzU68oJD1Zk
(nice special effects!)
http://youtu.be/ffSEJre4aJw
(you'll want to stick around for the tagline at the end…)
http://youtu.be/hXpFVPFHHJM
(take home quote: "kiss the Bratwurst")
http://youtu.be/fqrtcQk3Ziw
(take home quote: "I got the worst hair day of my life and you're offering me beer!?")
http://youtu.be/4UBAfWyySmk
(take home quote: "you might have heard of me… but your girlfriend, your mother—they definitely know my name.")
http://youtu.be/Qem0iqkkT-4
(take home quote: "all the guys were very excited…") For more information about the brewery, check out their website at
www.mikkeller.dk
.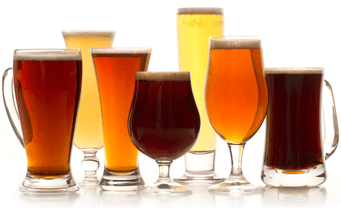 Unmatched Variety by style, brewery & country
Choose from Five different Beer Clubs offering unmatched variety by brewery,
country of origin, and beer style to suit your specific tastes.
DISCOVER OUR FIVE CLUBS