Mikkeller - Monk's Brew 2017
ABV:

10%

Bottle Size:

750-ml

Serving Temperature:

50–57° F

Suggested Glassware:

Tulip, Chalice, Goblet, or Snifter
We managed to secure enough of the 2017 vintage of Mikkeller Monk's Brew to include as a featured selection this month, and we couldn't be happier with how this beer's tasting right now. Brewed by Mikkeller at De Proef Brouwerij in Belgium, this one's pretty rare at this point, with no U.S. distribution in bottles or kegs for the past 4+ years. Monk's Brew was inspired by Mikkeller's travels all throughout Belgium, where they learned from independent Trappist breweries such as Rochefort and Westvleteren. This strong dark Belgian ale is the tasty result—brewed with demerara and dark cassonade sugars.
Monk's Brew pours a reasonably dark, golden brown topped by resilient tan foam; this beer leaves excellent lacing behind as things subside. Beautifully smooth aromatics from the start, packed with caramelization and dried dark fruits, along with rather bright notes of raspberry jam and rich nuttiness. This tends to land in the general vicinity of Belgian quads, and it has aged to perfection at this point: nicely integrated vinous warmth and caramelization, lots of dark fruits, and everything feeling effortlessly smooth and generous throughout.
Full-bodied mouthfeel with a welcome underpinning of fine-bubbled carbonation. Monk's Brew offers up some white-pepper character from its yeast and surprising hop bitterness, to give this beer exceptional balance despite its age. Immense degrees of core maltiness, layered caramel, and deep dark fruits are accordingly well displayed, with the right level of bitterness present to keep this on point. We thoroughly enjoyed Monk's Brew fresh, but there was a bit of an edge to its hop character and intense maltiness that's been smoothed out so well with a bit of age. An incredible Belgian strong ale that's entered its prime, with layers in abundance.
This bottling will continue to age gracefully for years to come—but it's drinking great as is. Rich cheeses tend to be reliable pairings for quads and dark strong ales like Monk's Brew (as such beers can tend toward a meal on their own). In her pairing-focused book Cheese & Beer, Janet Fletcher suggests pairing quads with potent options like blue and washed-rind cheeses, aged Cheddars and Goudas, or with Alpine options like Beaufort, Comté, and Gruyère.
As one of our featured beers this month in The Rare Beer Club, we're pleased to offer up a particularly rare offering from Mikkeller—a 2017 vintage bottling of their delicious Monk's Brew. This world-class Belgian-style strong ale hasn't seen any distribution stateside for the past 4+ years, and we think the 2017 vintage in particular is drinking beautifully right now.
On a variety of levels, Mikkeller has challenged how the craft-beer world thinks about artful brewing. Mikkel Borg Bjergsø started Mikkeller in 2006 with then-business-partner Kristian Keller (who would soon after depart for an editorial position at Copenhagen-based magazine Soundvenue). They began without an actual physical brewery, choosing to instead rent capacity at existent locations like GourmetBryggeriet and Belgium's de Proef Brouwerij. It wasn't long before the notion of a locale-hopping "gypsy brewer" manifested—and stuck.
But the term oversimplifies what Mikkeller is and is not, particularly today, and particularly as other similarly minded folks followed in Mikkel's footsteps. Whether contract brewing, an alternating proprietorship, or any of the other popular approaches for starting up a brewery without having to build one from scratch, what often matters most from the consumers' side is the quality and artistic clarity of the result. What Mikkeller's done time and again is to realize expressively designed recipes at world-class breweries such as BrewDog, Amager, Anchorage, and—most often—de Proef. And, for good measure, Mikkeller currently brews some of their own beers at Mikkeller Brewing's location in San Diego.
The gypsy-brewing model affords creative flexibility elsewhere, and Mikkeller has deservedly become known for their use of nontraditional ingredients and concept-driven efforts that, well, have often worked out. Mikkeller's Single Hop and Yeast Series lines allowed drinkers to taste through and compare different ingredients, while other beers have included special additions as varied as Kopi Luwak coffee, lychee fruits, currants, Chateau d'Yquem barrels, and apparently (per the Mikkeller blog) even cabbages.
For the latest on Mikkeller's international locations and happenings, head to mikkeller.com.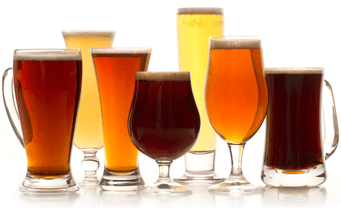 Unmatched Variety by style, brewery & country
Choose from Five different Beer Clubs offering unmatched variety by brewery,
country of origin, and beer style to suit your specific tastes.
DISCOVER OUR FIVE CLUBS