Mikkeller - Nelson Sauvignon Brut
ABV:

9%

Bottle Size:

750-ml

Serving Temperature:

50–57° F

Suggested Glassware:

Tulip or Chardonnay Glass
Mikkeller Nelson Sauvignon Brut (sometimes labeled alternatively as Nelson Sauvin Brut, after the New Zealand hop variety) is an impeccably detailed wild ale that gets fermented with Champagne yeast, Brettanomyces, and enzymes, and ages for months inside white wine casks from Austria. This release from Mikkeller has seen very limited stateside release, with about 350 cases sold annually in 2016 and 2017, and none available in distribution since January of 2019. This beer has been long gone from places that saw earlier releases, and we think it's an ideal fit for the club: super limited, out-there techniques, and drinking beautifully right now.
Nelson Sauvignon Brut pours a bright amber-orange color and seems to glow in the glass. A creamy, light-tan head is formed and sticks around for quite a while, leaving web-like lacing as it slowly departs. It's well hazed, with an initial vibe somewhere between lambic and tripel.
The aromatics of this beer are something else. There are obvious parallels to Belgian lambic here, offering some tart and sweet lemons, hints of salinity, along with some of that leather and vibrant funk of the most expressive examples. There's a surprising amount of depth to this beer, with hints of a savory balsamic character adding a soft edge, while the fruit levels continue to expand as this wild ale is allowed to warm: we found apricots, pulpy tangerine, peaches… Subtle underpinnings of vanilla and almond provide a touch of tannic edge from the time this beer spent aging inside of Austrian white wine casks. There's a whole lot here.
Softly integrated carbonation provides some welcome lift in the first sip, which leads with a vibrant combination of tart berries, tree fruit, and pervasive sherry-like notes. The medium-volume acidity and subtle alcohol also help to keep this 9% beer feeling pretty lean overall. As this warms up a bit, that fruitiness at the core continues to expand, bringing out spritzy lemon and lime in abundance, hints of tart peach and apple. The complex fruit character is a perfect match for the honeyed, white-grape character contributed by the Austrian wine-cask aging, as well as those soft notes of almond-tinged oak. Overall, there's a brilliant balance of those lambic-like elements and the spicy, toastier character of a tripel-like beer underneath.
So much of Nelson Sauvignon Brut's charm comes from its complex fermentations. Using Champagne yeast seems the most likely source of those toasty, spicy, Belgian-y esters we're finding, and they provide a welcome, calm counterpoint to all these lambic-like components and various fruit expressions (which mostly arise from Brettanomyces' contributions). Hints of rounded malt sweetness also play out, emphasizing honeyed notes and fresh-baked bread: a seamless tertiary note that fits nicely beneath everything else going on here. This wild ale is a smooth, hugely nuanced beer to dig into, and its generous ABV tends to keep tucked away.
The potent ABV of Mikkeller's Nelson Sauvignon Brut should keep this going in your cellar for a good bit more time, but we think it's drinking great right now. Keep an eye on any aged bottles to make sure the overall fermentation character is heading in a direction you enjoy. In terms of food pairings: this beer's basically built for a platter of cheese, honey, fruit and nuts.
As one of our featured beers this month in The Rare Beer Club, we're pleased to offer up a particularly rare release from Mikkeller—Nelson Sauvignon Brut, a potent wild ale aged in Austrian white wine casks. The last time this beer saw U.S. distribution was January of 2019.
On a variety of levels, Mikkeller has challenged how the craft-beer world thinks about artful brewing. Mikkel Borg Bjergsø started Mikkeller in 2006 with then-business-partner Kristian Keller (who would soon after depart for an editorial position at Copenhagen-based magazine Soundvenue). They began without an actual physical brewery, choosing to instead rent capacity at existent locations like GourmetBryggeriet and Belgium's de Proef Brouwerij. It wasn't long before the notion of a locale-hopping "gypsy brewer" manifested—and stuck.
But the term oversimplifies what Mikkeller is and is not, particularly today, and particularly as other similarly minded folks followed in Mikkel's footsteps. Whether contract brewing, an alternating proprietorship, or any of the other popular approaches for starting up a brewery without having to build one from scratch, what tends to matter most from the consumers' side is the quality and artistic clarity of that final product. (One could make obvious parallels with the publishing and music industries.) What Mikkeller's done time and again successfully is to realize Mikkel's expressive recipes at world-class breweries such as BrewDog, Amager, Anchorage, and—most often—de Proef. And, for good measure, Mikkeller currently brews some of their own beers at Mikkeller Brewing locations in New York City and San Diego!
The gypsy-brewing model affords creative flexibility elsewhere, and Mikkeller has deservedly become known for its use of nontraditional ingredients and concept-driven efforts that, well, actually work. Mikkeller's Single Hop and Yeast Series lineups incorporate savvy, educational elements, while other offerings include ingredients such as Kopi Luwak coffee, lychee fruits, currants, Chateau d'Yquem barrels, and apparently (per the Mikkeller blog) even cabbages.
For the latest on Mikkeller's international locations and happenings, head to mikkeller.com.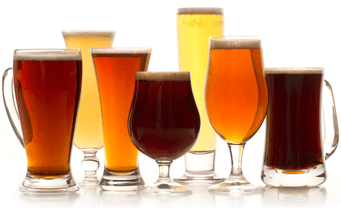 Unmatched Variety by style, brewery & country
Choose from Five different Beer Clubs offering unmatched variety by brewery,
country of origin, and beer style to suit your specific tastes.
DISCOVER OUR FIVE CLUBS