Mikkeller - Santa's Little Helper 2014
ABV:

10.9%

Serving Temperature:

52–59° F

Suggested Glassware:

Tulip, Burgundy Glass, or Snifter
Of the numerous versions of this that we've sampled over the years, this is probably our favorite Santa's Little Helper thus far. It's got the milk chocolate and cocoa richness of a generous imperial stout, but also brings in a spicy yeast character and rich notes of softer caramelized sugars. And it's not as if this series from Mikkeller doesn't have its history of exceptional takes (all revolving around that core focus of a dark spiced Belgian strong ale). That 2007 version was a standout, with its thick layers of cocoa and dried fruit, along with what we tasted as a pleasantly lime-like hop quality. 2011 and 2012 were both especially to our liking (to say nothing of the latter year's cognac-barrel rendition). But, man, this year…
While a recent Facebook post from Mikkeller back in September (which some of you may have seen and been as excited about as we were) was proudly captioned "We are no longer gypsies…" beneath a pictured truckload of stainless steel tanks… Well, there's still a massive amount of Mikkeller beers being enjoyed around the world. Those tanks will mostly be used for on-site consumption for the time being. This release was crafted for Mikkeller by the fine folks at De Proefbrouwerij in Lochristi, Belgium—hopefully a highly familiar name for many of our savvy Rare Beer Club members. The wizards at De Proef have been responsible for a ton of Mikkeller's productions over the years: artfully realizing countless out-there concepts.
This is exactly the sort of beer we tend to look for when the temperatures plummet, pouring a deep chocolate-brown, like the darkest sort of caramelized candi syrup we've seen, its edge a perimeter of gold. At first glance, blind, we'd guess imperial stout—or maybe upon a closer inspection we'd go with a sweet stout, or imperial porter. It's a hefty-looking beer: a nice hint of viscosity, topped by light-brown foam that persists and coats the glass. And it isn't by any stretch of the imagination a clear beer. There's a yeasty and caramelized opacity throughout.
We tend to wax philosophical with beers like this—so let's cut straight to the chase this time. This is some tasty business. As mentioned, there's a ton of chocolate and caramelized notes, certainly hard-hitting enough for our imperial stout and porter fans. The spices and herbal-y hop qualities are subtly integrated as a secondary contribution: suggesting some Vietnamese cinnamon, clove, and even a hint o' mint, alongside the Belgian yeast strain's peppery notes. And, as this warms up, we get a subtler channel of cocoa and vinous alcohol opening up.
We often strongly advise our members to wait a bit for various selections to warm up to the appropriate serving temperature—but this one was delicious even straight out of the fridge, progressing from a more milk-chocolate-forward profile up through greater shows from the spice and undercurrent of alcohol. Throughout, this is delicious, chocolaty, and deftly spiced.
Just a few hundred cases will be making it stateside, outside of The Rare Beer Club™, and we're pretty darn excited to get this one out to our members this winter. Again, it's really an exceptional addition to an annual series from Mikkeller we always look forward to. We have a good couple years of greatness before hitting the bottle's best-by date, and this has enough stuffing to pair up to pretty much anything: roasted turkey, chestnuts, or French apple cake.
On a variety of levels, Mikkeller has challenged how the craft-beer world thinks about artful brewing. Mikkel Borg Bjergsø started Mikkeller in 2006 with then-business-partner Kristian Keller (who would soon after depart for an editorial position at Copenhagen-based magazine Soundvenue). They began without an actual physical brewery, choosing to instead rent capacity at existent locations like GourmetBryggeriet and Belgium's de Proef Brouwerij. It wasn't too long before the notion of a locale-hopping "gypsy brewer" manifested—and quickly stuck.
But the term tends to oversimplify what Mikkeller is and is not, particularly as other similarly minded folks have followed in Mikkel's footsteps. Whether contract brewing, an "alternating proprietorship," or any of the other innovative new approaches to starting a brewery without having to build a new one from scratch, what tends to matter most from the consumers' side is the quality and artistic clarity of that final product. (One could make obvious parallels with the publishing and music industries, among others.) What Mikkeller has done time and again successfully is realize Mikkel's expressive recipes at world-class breweries such as BrewDog, Amager, Anchorage, and—most often—de Proef.
The gypsy-brewing model affords creative flexibility elsewhere, and Mikkeller has deservedly become known for its use of nontraditional ingredients and concept-driven efforts that, well, actually work. Mikkeller's Single Hop and Yeast Series lineups incorporate savvy, educational elements, while other offerings include ingredients such as Kopi Luwak coffee, lychee fruits, currants, Chateau d'Yquem barrels, and apparently (per the Mikkeller blog) even cabbages.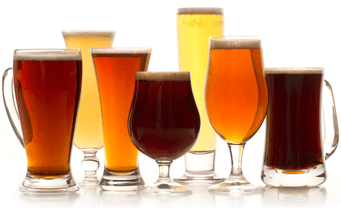 Unmatched Variety by style, brewery & country
Choose from Five different Beer Clubs offering unmatched variety by brewery,
country of origin, and beer style to suit your specific tastes.
DISCOVER OUR FIVE CLUBS