Mikkeller - Santa's Little Helper (2009)
ABV:

11.00%

Serving Temperature:

55° F

Suggested Glassware:

Snifter
Pours a deep chocolate brown in appearance topped by a very thick, permanent hot-cocoa-like head. Not surprisingly, a complex aroma greets the nose (this is a Mikkeller beer, after all). It seems Santa's still got a lot of presents left in the bag. Either it's early in the trip, or, he's loaded on this fine sauce and is only hitting every 100th house or so. So, a deep dark big ABV beer—what do we expect? Chocolate? Yup, it's in there. Plums? Yes, them too. Raisins? Maybe… Star anise? Sure, that's coming across as well. But what's truly unique about this beer is that these otherwise dominant players are stashed away within a more prominent bouquet of atypical nuances. The dark Cassonade (a type of "true" brown sugar) used in the recipe lends a sweetness to the nose, and hints at a sort of concentrated, caramelized maple syrup & pralines. Somehow, the 11% alcohol content manages to rest beneath the surface, hiding frighteningly well in true leviathan style. Cinnamon barely jumps out, but the placement gives the impression that it will announce itself more on the palate—the tip of the iceberg if you will. Expect a sprucey, almost minty character, pine (dare we suggest Scandinavian pine?), and with all of this other elegant chaos going on in the nose, the aromatics are kept grounded in the realm of beer geeks' familiar companion, the hop. These 'kind hops' provide a clean zing in the nostrils, lending some citrus character along with zesty sweet orange peel. Coriander notes barely register as an herbal flitter amidst faint impressions of Sambuca. On the palate, you may find yourself saying "wow, this could be the perfect blend of hops, spice and rich maltiness I've ever had." That's what we said anyway… So, sure, we're total beer nerds over here, but our panel collectively decided that this is their all time favorite holiday beer. That's saying A LOT. Rich layers of chocolate, treacle, gentle cinnamon spice, toasted ginger, dark chocolate, fresh mint sprig, orange juice, currants, cola, and enough alcohol to warm even Santa's rather large belly, even after all of those damned gingerbread cookies. The interplay of complex tastes and the alcohol heat turns the booze into another major player among the portfolio of flavors. It bats the notes about, bouncing them across the palate time and again in a complex cascade. Black berry notes grow as it warms, giving a faint impression of black currant schnapps in the mildly bitter finish. At full warmth, additional notes of cracked black pepper and Sweetarts candy develop. Santa's Little Helper ain't so little… This is a big, powerful, bombastic-yet-graceful brew. Really a work of art in a bottle if you ask us.

Beer geeks rejoice!—You must have been very, very good this year!!
The Scandinavian beer scene is exploding. There's been a surge in recent years in the number of microbreweries, many emulating the big, bold beers of the US microbrew revolution. This isn't to suggest that they lack their own creativity—not at all. In fact, some of the most adventurous brews on the planet emanate from Scandinavia. One of the breweries that has led the charge in the creativity (and quality) department is Mikkeller, founded in the kingdom of Denmark by Mikkel Borg Bjergsø and Kristian Klarup Keller (the name Mikkeller is a combination of their first and last names). Barely three years old, their rise to beer geek prominence has been meteoric. In 2006, their first year in business, Mikkeller was named Danish brewery of the year, and the fifth best brewery in the world. The secret to their success? As Bjergsø, now in the business by himself (Keller left to take a job in another field) says, "We brew the beer we like, and we don't think too much what the customer wants." Not pulling any punches there... Turns out, customers like what he's doing. Mikkeller beers are highly coveted across many continents, which is why we couldn't be more excited about bringing you one of their newest creations this month, about a month before anyone else in the country will have access. Merry Christmas, Happy Holidays, whatever… you're welcome… Despite the founding duo's split, Bjergsø has not quite gone it alone. He's became a self-proclaimed "gypsy brewer," working in a multitude of nations alongside some heavy hitters. He's teamed up with brewing illuminati like AleSmith, Stone, De Struise, and Three Floyds, among others. Part of what's got Mikkeller noticed, besides their boundary-pushing beers, is their attitude. Bjergsø prides himself on pushing the envelope, while not taking himself too seriously. With amusing names like "Gone Cold Turkey?" "It's Alive!" "All Others Pale," "Drink Your Sorrows Away," and "Beer Geek Breakfast," he's fully, completely and totally embraced his brand's beer geekdom. This Danish brewer is steeped with the youthful, hip elements that have also helped make bands from Denmark some of the best break-out music-makers of the past 5+ years. There's a blatant intelligence, but not pompousness, paired with levity blended with high gravity. The fact is, Mikkeller may be just about the coolest brewery out there. There, we said it… They recently brewed "Black," which they describe as "Denmark's strongest beer and Mikkeller's 'most violent' beer to date." Hell yes! Here are a couple examples of their "style"… http://www.youtube.com/watch?v=hXpFVPFHHJM (take home quote: "kiss the Bratwurst") http://www.youtube.com/watch?v=fqrtcQk3Ziw (take home quote: "I got the worst hair day of my life and you're offering me beer!?") http://www.youtube.com/watch?v=4UBAfWyySmk (take home quote: "you might have heard of me… but your girlfriend, your mother—they definitely know my name.") http://www.youtube.com/watch?v=Qem0iqkkT-4 (take home quote: "all the guys were very excited…") OK, OK, we know, it's a pain in the arse to try and copy URLs like these by hand from this printed newsletter to your browser. One day we'll be super-ultra-multi-media and our tasting notes will read themselves to you via live video feed and will pilot your web-browser in total hands off fashion… Virtual beerality baby... But until that happens, here's an easier way to get to the links above: just punch this one up— www.beermonthclub.com/pastbeernews and dig up this month's newsletter (it's easy, you'll find it)—where you'll be able to just click the links above, or, copy and paste them into your browser. Mikkeller started brewing beer in their kitchen, and set out to challenge the Danes' taste buds with intense taste adventures, seeking to provoke some inventiveness in Danish beer brewing. As they put it "why not show the way?" Mission accomplished Mikkeller. Thousands of beer geeks can't be wrong. For more information about the brewery, check out their website at www.mikkeller.dk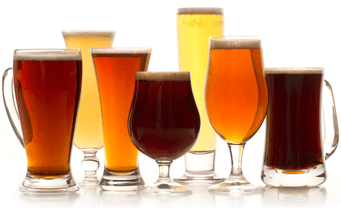 Unmatched Variety by style, brewery & country
Choose from Five different Beer Clubs offering unmatched variety by brewery,
country of origin, and beer style to suit your specific tastes.
DISCOVER OUR FIVE CLUBS