Moa Brewing Company - St Josephs
ABV:

9.5%

Serving Temperature:

42-49° F

Suggested Glassware:

Tulip, Balloon Wine Glass
Moa's St Josephs is, without a doubt, one of the most generous, precise Belgian-style tripels that we've sampled in quite some time. There's a careful balance to be struck with these sorts of higher-alcohol styles, and tripels tend to be among the hardest to do well, relying on their yeast to not only supply much of the beer's flavors and aromatic profile, but also thoroughly ferment a wide range of various sugars. While many renditions err on the side of a cloyingly sweet, insipid dessert beer, there's plenty of warmth, carbonation, and leanness here to keep things lively. We'll also go out on a bit of a precarious limb and mention the opposite side of the spectrum: well-tuned, stylistically on-point tripels that (apologies in advance) occasionally come across as a bit austere, as a bit bland. One could probably say something similar about just about any beer style—ranging from timid to sloppy—but let's just start over by offering the following: our favorite Belgian-style tripels are those that conjure a little something extra.
St Josephs pours a bright, deep orange-brown color (or a murkier copper, should you choose to pour the yeast). The beer forms a significant off-white head that gradually settles down to modest, small-bubbled foam with excellent lacing. There's plenty of carbonation here, and it encourages healthy head formation along with the beer's Champagne-like effervescence. The yeast shot at the bottom of the bottle muddles the appearance, but provides additional notes of dough and clove that fit perfectly alongside the fruitiness and peppery notes of that initial, careful pour. We'd encourage you try it both ways and decide which serving method best fits your own palate. (Hint: there's no wrong answer.) The forwardness of St Josephs is apparent from the aroma forward, with a wealth of white pepper, spiced pear, sourdough bread, white grapes, and nicely reserved caramelized sugars. The yeast character is exceptionally generous, going well beyond just pepper and fruit. The creamy texture is apparent even from the nose, and especially with an additional dose of bottling yeast added to the glass. As we said above, we're particularly fond of tripels that go above and beyond. And we're huge fans of this one.
Those yeasty notes play out just as expansively in the taste, providing a creamy texture and a mélange of dough, soft peppery spice, and caramelized apples and pears. The caramelization and candy-sugar notes throughout are excellent, providing a fullness that balances out those white pepper and spicy qualities, as well as a vivid herbaceous hop bitterness. While this beer is approaching 10% ABV, the alcohol is carefully tucked away, adding a bit of leanness in the mouthfeel overall, but never poking its head out entirely with any harshness or clear warmth. That carbonation, leanness, and full fermentation steer this beer brilliantly from start to end. We expect this tripel to age nicely over a year or more; just pop one occasionally to confirm. Try pairing it with lightly smoked meats, or a complementary roasted pork and apple dish.
While the remote island country of New Zealand tends to be best known by imbibers for its exceptional handling of the Sauvignon blanc grape, its artisanal beer scene has been gaining ground quickly. Expressive breweries like 8 Wired, Epic, Yeastie Boys, and Moa have gained an enthusiastic audience in the U.S. (despite usually only being available in limited amounts). And New Zealand's unique hop-growing industry has been impacting saisons, pale ales, and pilsners the world over. As with grapes, the country's mild maritime climate and encouraging soil have resulted in a wealth of expressive flavor and aroma hops for brewers to experiment with, including the lemon-lime-like Motueka, orange-marmalade-ish Pacifica, and, of course, the renowned Nelson Sauvin variety, which tends to strike gooseberry notes similar to those of the aforementioned Sauvignon blanc. We'll avoid overemphasizing terroir here, since one couldn't be much farther away from France. As a bonus for being located hundreds of miles from pretty much anything, New Zealand also lacks the pests and diseases common in other hop-growing locales—making it a major international source of organically grown hops.
Moa Brewing Company, located in the country's wine-minded Marlborough region, has been helping lead New Zealand's craft beer movement since it was established back in 2003. The brewery's founder, Josh Scott, left behind a promising career in the family wine business (his father actually played a significant role in the area's viticultural ascent) to pursue his passion for beer, fueled by the brewing knowledge he'd gained from extensive travels in Europe and northern California. The brewery's name originates from the country's enormous and extinct flightless birds, and more specifically from Josh's experience hand-delivering beer to a group of archeologists who'd been working to unearth one. Moa Brewing takes full advantage of its proximity to locally grown New Zealand hop varieties, crafting unfiltered, bottle-conditioned beers that have been some of the most exceptional releases we've sampled from that side of the world. Moa's standouts include their Blanc Evolution (a Belgian-style witbier), Methode (a German-style pils), and, of course, St Josephs (their generously potent Belgian-style tripel).
Moa gets patchy distribution in the U.S. overall, and larger-format bottles of their St Josephs have been absent entirely for the past few years. We're excited to offer our members special access to this limited release. With examples like this making their way to the States, here's to hoping we get to see a whole lot more soon from the craft breweries of New Zealand.
by Ken Weaver
I have a beer-tasting format that I tend to go back to, especially with beginners, and it's been useful regardless of whether I'm entertaining a few curious friends or organizing a tasting for a larger audience. It's pretty straightforward, and only requires three well-chosen beers. First: Pick something with hops. Here in northern California that's like saying go track down some air, and pretty much anything hoppy with a reasonably lean malt core will suffice. You want people to taste bright hop flavors and an assertive bitterness (the key contributions), and for them to understand that beer typically has three core ingredients besides water and—bam—here's one of them. A citrusy, impactful IPA can also be a conversational launchpad into the other notes hops can afford, from spicy Czech varieties to those tropical New Zealand types.
Next, and a touch more challenging given our hop affinities in the U.S., it to pick something malt-focused. Anything from a toasty golden helles to an English-style barleywine will do the trick, as you want something that highlights the flavor profiles offered up by malted barleys.
It's that third beer, though, that tends to be the biggest conversation piece. The saying goes: Brewers make wort; yeast makes beer. The idea that fermentation is the result of billions and billions of unicellular organisms chowing down on malt sugars can be a little mind-blowing, and the range of flavors and aromatics that result from different yeast strains allow plenty of options for beer #3. German-style hefeweizens are great, offering banana and clove notes, as are various sour beers (should additional mind-blowing be needed). I usually take a non-sour Belgian style here. A top-tier saison or tripel highlights yeasts fully indulging in those sugars, creating a dry and drinkable canvas, while the expansive flavors get one's audience hooked.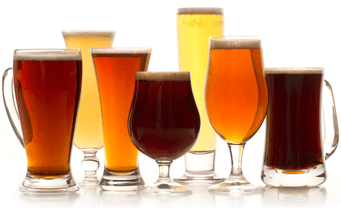 Unmatched Variety by style, brewery & country
Choose from Five different Beer Clubs offering unmatched variety by brewery,
country of origin, and beer style to suit your specific tastes.
DISCOVER OUR FIVE CLUBS