Mystic Brewery - Luminous Ruins
ABV:

4.3%

Serving Temperature:

43–50° F

Suggested Glassware:

Tulip, Goblet, or Chardonnay Glass

While flying under a lot of folks' radar, Mystic has been producing some amazing stuff up at their spot just outside of Boston. Some examples: Spectral Evidence, an imperial stout using Massachusetts malted wheat and native yeast; Entropy, a 14.5% ABV "Boston Cognac" that goes through four fermentations with four different yeast strains; and Amais, one of the rare recent examples of a dark stock ale aged in American oak. And Mystic Brewery also regularly knocks their standards out of the park—such as Saison Renaud, a traditional farmhouse ale that's one of our favorites. We've been digging these folks for a while now, but realized we'd finally found a good fit for our Rare Beer Club members when we tasted Luminous Ruins.
2016 saw about 65 cases of Luminous Ruins make it into distribution (MA only), along with approximately 22 full-size kegs of draft volume (also MA only). Mystic is hoping to get a bit more out there this year based on how it's been received.
The pour on this is a tornado of bubbles and exceptional foam. A bright white head quickly filled the upper portions of our pours of Luminous Ruins, and it's well retained with modest lacing. This was brilliantly clear and effervescent for us: a steady stream of bubbles appearing from the bottom and giving a sparkling vibrancy against its medium-golden color. And it just couldn't be more mouthwatering in the glass: "the Champagne of beers", but convincingly.
Citrusy tartness leads the aromatics early on, before stepping back to reveal a good bit more complexity as this warms up. There are tart lemons and Concord grape notes, accompanied by rounder red fruit, white pepper, and hints of fresh lime. Fruit and subtle phenols run the show, with just a touch of that oak-aging evident in the nose, appearing as a bright presence of wood beside the beer's pepper-focused notes. This becomes toastier and more saison-like as it warms up—though never leaving behind that promising jolt of engaging fruit tartness.
This is brightly acidic at the initial pour, and we found ourselves getting more and more into the layers underneath as this warmed in the glass for a bit. Tart grapefruit, lemon, and peach continually land on the tip of the tongue, while grassy and herbaceous secondary notes from the hops keep this feeling much broader than just sour citrus. We kept going back to the grassy hops in the aroma, and those hints of vanilla. A perfect combo of tart citrus, herbs and oak.
While its aroma hints at what this beer offers, the taste makes it fully clear: Ruins is a serious sour beer—but endlessly refreshing. That's what we dig most about this limited release from the folks at Mystic: there's a ton of complexity here, but it also comes in at 4.3% ABV and is laser-focused on refreshment from start to finish. On the refreshing side of things: there's its lean mouthfeel, fine-bubbled carbonation (courtesy of bottle conditioning), grassy hoppiness (via the dry-hopping), and citrusy acidity that ranges from bracing to subtle (depending upon how it lands). On the complexity side, there's that plus everything else: all the citrus fruit and fruity esters and pepper/clove bitterness and subtle influence from the oak barrels. It comes together—as many of the Mystic creations magically do—seamlessly focused and delicious.
While only 4.3% ABV, this is bottle-conditioned and should at least age relatively gracefully, but we'd encourage our Rare Beer Club members to enjoy their bottles fresh for the dry-hop character. It'll dissipate quickly. Those citrus and herbal notes have us thinking lamb kebabs.
Mystic Brewery was founded in 2009, with the first beers being commercially sold in 2011, following two years of trying to find a space to open a brewery. (It was harder then!) Bryan Greenhagen and his wife had traveled to Belgium for their honeymoon and been inspired by the saisons and mature drinking culture they'd found across Europe. Their resultant brewery, often touching upon some of those more obscure European styles, has been gaining steam ever since, growing from Bryan and an initial head brewer to around 10 employees today.
The focus at the start of Mystic Brewery was on methods, about trusting in good traditional techniques as much as possible, and then building a beer program around those. We may be paraphrasing terribly here, but we'll try to put the Mystic mindset as it's been described to us as follows: Choosing to hand bottle when a mechanical bottler's right there is stubbornness, not artisanship. (Alternately: use techniques that work, and upgrade when you'd be a fool not to.) We got close...and Mystic's use of things like square fermenters and bottle conditioning makes for some incredibly nuanced stuff. They bottle-condition 80% of their beer, focusing on saison and farmhouse ales and, most recently, perfecting a kettle-sour program and trying to bring a higher level of nuance into that space. They're also using those techniques to bring their own particular take on ascendent trends like the northeast's hazy IPAs. (Most of which doesn't make it out of the taproom.) But they're best known for their farmhouse-style stuff.
For the intricate hybrid releases in the kettle-sour program like Luminous Ruins, they found they actually have a pretty great setup for controlling sour fermentation in the kettle, before (for this particular beer) introducing things like saison yeast and out-there hops further down the line. They're going for easier-drinking incorporations of the generated lactic acid in kettle sours—and they've got a number of examples proving this can be done particularly well.
As with many young breweries, distribution has shifted dramatically to the taproom; almost a majority of the brewery's output is pouring through Mystic's taproom in Chelsea at any given moment. They also have a limited Massachusetts and New York distribution, plus a touch in Vermont, mostly to visit. That's it for direct distribution, and Shelton Brothers gets them out to some select spots around the country. Plus a touch to Europe. If you happen to visit their taproom in Chelsea, you'll likely find plenty of hoppy and saison-inclined options available—plus barrel-aged beers and kettle sours—with options for flights, pints, growlers and bottles to go. Find out more about getting in touch at www.mystic-brewery.com.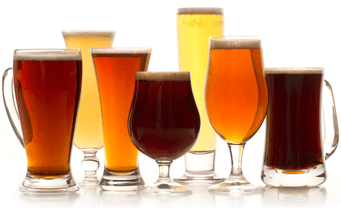 Unmatched Variety by style, brewery & country
Choose from Five different Beer Clubs offering unmatched variety by brewery,
country of origin, and beer style to suit your specific tastes.
DISCOVER OUR FIVE CLUBS