Nebraska Brewing Company - Barrel Aged Reserve Series: Mélange à Trois
ABV:

11.3%

Serving Temperature:

45–54° F

Suggested Glassware:

Snifter, Tulip, Chalice or Chardonnay Glass

This is one of the most impressive beers we've had in a while. The Belgian-style blonde base pops with all kinds of complexity throughout: honeyed malts, round esters like cotton candy and fruit punch—plus fine-bubbled carbonation and a peppery yeast character that pokes in throughout to keep this beer fully focused. The influence from those French oak barrels that previously held Chardonnay is similarly expressive, manifesting as layered tree fruits, buttery oak and vanilla-infused elements that mix with nearby lemon notes to feel like crème brûlée. The interplay's complementary, epic, on point. The 11%+ never feels heavy, with the overall effect seeming rather the opposite: zesty, well-bittered, lean, crisp Belgian-style loveliness.
We understood very, very quickly why this beer has been taking home so many awards in the name of Nebraska.
Allow Mélange time to warm up. Unlike many darker imperial stouts and such out there that suffer at lower temperatures, this shows nicely as deep apricot and pepper even frigid, but it really opens up after a bit of time. The initial pour is pretty magnificent, with a deep golden nectar for the bottom two-thirds, treading the line between blonde and golden, as far as we could tell. A well-formed white head fills the top third proudly at the start of the pour, then slowly subsides to something more manageable to drink through, still leaving thick lacing on the sides of the glass. It's brilliant-looking beer—a fitting start for everything that follows.
Pepper and dough land at the top of the aromatic notes, feeling freshly risen. That lemony acidity kicks in along the edges, letting you know that there's something interesting going on here. It's all Belgian profile at first, and then the Chardonnay-barrel notes come rolling in: all rounded and buttery and lemon custard, and everything you weren't expecting. A squeeze of grapefruit lands on the perimeter of things, almost like a lemon wedge in form and function, as this beer heads out in all sorts of directions. Bready and fruity—still feeling quite fresh.
The barrel's present and plush from the first sip, though. Endearingly buttery Chardonnay notes land at similar volume to a lifting influence of white pepper, clove and zesty CO2. It feels like two contrary influences meeting, but the similar notes of honeycomb and chewy caramelized malts form a solid foundation here, the peppery elements feel ideally textured, and then there's the additional levels that appear after things warm: the almond and clove, hints of cinnamon and deeper spice, esters emerging as everything from cotton candy and fresh apple to some headier, floral elements. The Belgian-style blonde ale at the core feels like it would be an exceptional experience all by itself, and the additional layers from that massively contributive Chardonnay barrel are the sort of thing you wish for from barrels.
And the remarkable thing, through all of it, is how endearing and drinkable Mélange à Trois stays despite its heft. This manages to feel both crisp and massive, buttery and streamlined, a testament to both good brewing and good barrels. It's been a long time since a beer this size disappeared so quickly in our offices. The sweet oak's memorable. The base beer's sublime.
The buttery-vanilla notes here suggest excellent pairing options with baked, flaky white fish, or even something in more of a dessert course, like a buttery-crusted apple and rhubarb pie (it was Pi Day a couple days back, so that's been our headspace). This is bottle-conditioned and big enough to keep a steady course in the cellar for a while, though do keep an eye on them.
We've been digging everything we've been crossing paths with from Nebraska Brewing Co., and their Chardonnay-barrel blonde ale certainly came well recommended. This magical beer has now taken home not one…but three Great American Beer Festival medals in the Wood- and Barrel-Aged Strong Beer category—including two recent golds. Their Mélange à Trois is arguably the calling card of Nebraska's Barrel Aged Reserve Series, and a magnificent way to first encounter this brewery. We're getting a huge portion of this seasonal run of Mélange, as only about 350 cases will be sold outside of the club throughout the entire U.S. this year.
Paul and Kim Kavulak opened the doors of Nebraska Brewing Co.'s brewpub in November of 2007, shortly after the U.S. housing bubble burst. They would weather the recession that soon followed through a combination of careful business decisions and great beer, eventually signing on Tyson Arp, who currently serves as Nebraska's Overlord of Brewing. Their Barrel Aged Reserve Series has been an excellent showcase of this brewery's capabilities in coaxing character from wine, whiskey and brandy barrels. And their Inception Series of smaller-batch releases (on the order of one barrel!) are worth the effort of tracking down. Most of all—we have been looking forward to getting our Rare Beer Club members access to our favorite so far from Nebraska: their much-touted, barrel-generous, intricately woven Mélange à Trois.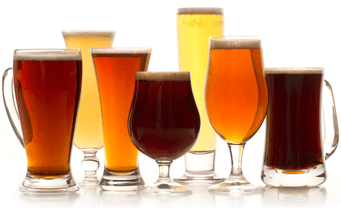 Unmatched Variety by style, brewery & country
Choose from Five different Beer Clubs offering unmatched variety by brewery,
country of origin, and beer style to suit your specific tastes.
DISCOVER OUR FIVE CLUBS