Nebraska Brewing Company - HopAnomaly (Barrel Aged Reserve Series)
ABV:

10.6%

Bottle Size:

750-ml

Serving Temperature:

47–55° F

Suggested Glassware:

Tulip, Chalice, Snifter or Pinot Glass

We've been really enjoying the barrel-aged releases from Nebraska Brewing Co., and this one is our favorite so far. We ended up pouring our tastes into Reidel Vinum beer glasses, which felt like a reasonable size given the 10%+ ABV on this, and this ended up casting up a solid foam and modest haze. The entire span of the Barrel Aged Reserve Series we've been lucky enough to sample thus far has been exceptional, and this limited-release combo of potently expressed hops and generous Chardonnay barrels is a masterful one. So many nice facets.
This special-edition version of HopAnomaly begins as the standard draft version of their big Belgian-style tripel, before seeing six months' maturation in French oak Chardonnay barrels. The base beers starts out with a lot of citrusy and floral elements, while the time spent inside oak contributes generous degrees of barrel character that work as additional, well-fit layers.
This pours a vibrantly bright golden-orange, deepening to near-amber around the center or so. Firm, bright-white foam caps things. The aromatics offer up a number of different lines of exploration: crystalline sugars, oaky butter and vanilla, earthy and spicy hops alongside a warming channel of vinous alcohol… Soft-edged, assuredly dense, plush and appealing.
HopAnomaly never feels weighty, but there's an enormous amount of stuff going on here—from the vanilla influences of those Chardonnay oak barrels, to the time-smoothed hopping layers of earthiness and pine underneath. Notes of almond and denser sugars open up as this warms, with a Russian River Temptation-esque barrel + buttery Chardonnay + vibrant yeast equation playing out here as well. There's some engaging peppery spiciness, and some of the subtle aged characteristics reminded us of some potent examples from Hair of the Dog up in Portland. A vibrant, creamy carbonation keeps everything feeling perfect in the mouth, and a cotton-candy-like (subtle) caramelization provides a whole extra layer from the careful aging. We just loved the different directions this one took, with a ripe melon and apricot fruitiness, plus darker fruits and rich ester character appearing after this was able to warm up a touch. It's wonderfully dense and generous beer, with inviting aspects across a massive landscape.
HopAnomaly is cellarable within reason, though the remaining hop presence we'd expect to trail off quickly. This has already seen six-months-plus in oak barrels, so its hop falloff won't be as dramatic as freshly begun beers. For pairings, the brewery suggests mushroom risotto, roasted chicken and sweet pecan pie.
We've been digging everything we've been crossing paths with from Nebraska Brewing Co., and this firmly hopped, barrel-aged tripel is arguably the best one we've had so far. This beer began its complex life as a hoppy, Belgian-style tripel (or maybe a Belgian-style IPA?) before spending six months inside carefully chosen French-oak Chardonnay barrels. HopAnomaly is part of Nebraska's barrel-aged Reserve Series (which recently had the notoriety of having every single release in the series scoring 96+ on RateBeer...). It's a highly limited collection, and we're appreciative of Nebraska working with us to allocate enough for The Rare Beer Club.
Paul and Kim Kavulak opened the doors of Nebraska Brewing Co.'s brewpub in November of 2007, shortly after the U.S. housing bubble burst. They would weather the recession that soon followed through a combination of careful business decisions and great beer, eventually signing on Tyson Arp, who currently serves as Nebraska's Overlord of Brewing. The barrel-aged Reserve Series has been an excellent showcase of this brewery's capabilities in coaxing character from wine, whiskey and brandy barrels. And their Inception Series of smaller-batch releases (on the order of one barrel!) are worth the effort of tracking down. Most of all—we have been looking forward to getting our Rare Beer Club members access to our favorite so far from Nebraska: their heavily awarded, barrel-savvy, hugely generous HopAnomaly.
The hop-minded origin of Nebraska Brewing Co. traces its way back at least as far as 1992, when Paul Kavulak began an exploration of homebrewing that would continue for a period of 13 years before finally turning a crucial corner. In 2005, while attempting to tweak a batch of Cardinal Pale Ale to offer up that same generous citrusy hit of Cascade hops experienced in great beers like Sierra Nevada Pale Ale, endlessly pursuing incremental recipe tweaks, Paul found himself completely fed up and, in a fit of rage, dumped a rather large bag of Cascade whole-leaf hops into the opened fermenter. Two weeks later, ready to dump the batch, Paul instead found he'd ended up with a beer with exactly that citrusy brightness that was elusive so far. He further realized, "I'll bet I can sell this beer." After two years of developing a plan with Kim, Nebraska Brewing Co. opened up its first location, in the town of Papillion. They started out with a small initial team and a used brewing system acquired from Sasebo, Japan.
Nebraska Brewing remains independent, locally owned and operated—and they added a new brewery and taproom in nearby La Vista in early 2014. Also: The brewery's Cardinal Pale Ale remains one of their most appreciated beers to the current day—with over a dozen national and international awards under its belt. Tyson Arp serves as overlord for both locations with Mitchell Elmblad and Andrew Barnes joining him on the brewing side, and their brewing has continued to create some of the most impactful and well-developed barrel-aged beers we've been finding. Both their original brewpub in Papillion and their new production brewery and taproom in La Vista are very much worth checking out, and visiting information, tour hours, and other key info can be found on the brewery's website at www.nebraskabrewingco.com.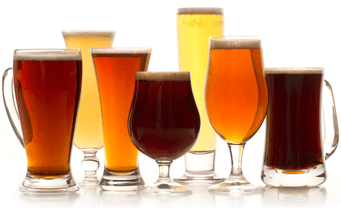 Unmatched Variety by style, brewery & country
Choose from Five different Beer Clubs offering unmatched variety by brewery,
country of origin, and beer style to suit your specific tastes.
DISCOVER OUR FIVE CLUBS