NoDa Brewing Company - Tart Attack
ABV:

4.3%

Serving Temperature:

39-45° F

Suggested Glassware:

Tulip, Berliner Weisse bowl
NoDa Brewing's Tart Attack takes the refreshing aspects of the Berliner Weisse style—lively carbonation, medium-light body, plus a core lactic tartness—and carries them on a different path than usual, with the addition of blackberries. There's a natural pairing between Berliner Weisse and different types of sweetening syrup in Germany, the addition of the latter serving to soften the blow of the style's vibrant acidity. (We prefer to limit our syrup use to waffles.) Here, that same combination is handled organically, with fruit being a part of the beer itself.
Tart Attack pours the color of dark berry juice, with some slight haze and an off-white head that leaves tiny-bubbled lacing on the insides of the glass. In these early stages of its bottled life, this beer shows a focused lactic tartness in the nose alongside an exceptional amount of darker-fruit notes: blackberries, blueberry skins, and the lightly sweetened roundness of, say, blueberry pie. That bright fruit character brings things together perfectly, tempering the sour components without overshadowing them, offering nuanced fruitiness instead of syrup.
Unlike many of the heftier beers that we choose for the Club, Tart Attack is geared to be an exceptionally refreshing offering: most appropriately served at cooler temperatures. There's a lift here from the lean body, the crisp huskiness of wheat additions, and the clear citrusy sour notes, showing lemon and grapefruit rind. Those ripe blackberry qualities, particularly in the form of rich pie filling (sans the sugary sweetness) and berry skins, provide a counterpoint to that core tartness. The sweet-sour blend proves both mouthwatering and entirely satisfying.
While Tart Attack isn't fully bottle conditioned, it's not filtered either, so watch for sediment. Chad at NoDa recommends that bottles be consumed within a year or so, and he expects for this beer to reach its peak in about 6–7 months. For those of you stocking up, we'd suggest opening a bottle every couple months until it hits your optimal balance of fruit and acidity. A lighter-bodied beer like this is ideally suited for similar fare, and the berry qualities and citrus should pair nicely alongside fruit-inclusive salads with a light vinaigrette, while (and especially as this further mellows) a well-made burratta or fresh chevre will afford a pleasant contrast.
One of our favorite parts of all the different things we get to do here at The Rare Beer Club is being able to work with people like Rick Lyke, who heads the nonprofit organization Pints for Prostates. Rick is a prostate cancer survivor himself, and Pints for Prostates has become a major force in raising awareness about the disease and encouraging males to pursue regular health screenings. Nearly 30,000 men in the U.S. die from prostate cancer annually, and 1 in 6 will be diagnosed with it during their lifetime (a 33% higher rate than female breast-cancer frequency). Pints for Prostates uses beer as a shared language for getting that message out.
This is our fourth year partnering with Pints for Prostates, and many of our regular members may remember last year's release: Elevation Brewing Co.'s aptly named Prostator, a smoked doppelbock that proved to be one of the highlights of our 2012 releases. For this year's beer, The Rare Beer Club and Pints for Prostates have managed to finagle our way onto the brew schedule of NoDa Brewing Co. in Charlotte, North Carolina, which just opened in late 2011.
Even within that short span of time, NoDa and Head Brewer Chad Henderson have already managed to carve out a reputation extending far beyond Charlotte. Their Coco Loco porter, brewed with chocolate and toasted organic coconut, was awarded a silver medal at the 2012 Great American Beer Festival in the robust porter category. Their "NoDable Series," which entails a new beer release each and every Tuesday, is one of the more ambitious schedules in the country and allows them to brew small batches of, say, a chocolate-infused dunkelweisse or a milk stout with roasted walnuts. (It's also equally helpful for fine-tuning classic styles.)
For this month's special selection, NoDa is bringing to fruition one of the preceding themes of their NoDable Series: beers based on the traditional German Berliner Weisse style—one of the most refreshing drinks in existence—each with an atypical twist. Previous incarnations include Tart Your Engines (made with lemongrass, ginger, seeds of paradise, and honey) and Get The Party Tarted (incorporating Bing cherries and raspberries). NoDa's Tart Attack will be the very first of these Berliner Weisse-esque beers to be headed for full-scale production.
That said… there still won't be much of it to go around. Aside from a limited quantity being allocated for the Pints for Prostates-sponsored Rare Beer Tasting during the Great American Beer Festival, this will be an exclusive release for our Club members. Also! One dollar from each and every bottle sold through The Rare Beer Club will be donated to Pints for Prostates.
By Ken Weaver
Often dosed post-brew with woodruff or raspberry syrup in its native Germany, the Berliner weisse style (or Berliner-style weisse, depending upon how much weight one tends to give to its area of origin) has transitioned into a rather different entity here in the States. Most of the versions available tend to be sampled straight, allowing the style's vibrant lactic tartness to be fully felt, and where perhaps only a couple dozen examples exist in Germany today, we have (literally) hundreds now available from U.S. craft brewers. Traditional attempts aside, we're even seeing a significant uptick on Berliner-ish weisses of a different sort—using actual fruit.
Florida's almost certainly the epicenter, in the form of its Florida weisse. Peg's Cantina and Brew Pub in Gulfport (one of the earliest proponents; likely the first) hosted the 2nd Annual Berliner Bash on the Bay! this past spring. The exclamation point is apt. One event organizer defined the new style as follows: "It's a spin-off of the traditional Berliner weisse, which is a light, tart, thirst-quenching, low-alcohol (2-5%) wheat beer. Rather than adding a sweet syrup to soften the sour punch, Florida brewers are adding fruit! Lots of fruit! All kinds of fruit! Fruits you've never heard of before!" Florida-weisse options ranged from Cigar City's Dos Años Kumquat Berliner Weisse to something labeled "Captain Vin Bishoff's Health Tonic": a Florida weisse made with sea buckthorns. (They're deciduous shrubs, in case that helps.)
Rest assured: Someone in Germany is definitely unamused. Me? Just curious and thirsty.
The fact is: Florida's kind of a haul from here. The trend seems to be catching on, however. In the recent weeks I've been seeing more terms like Portliner Weisse, Boulder Weisse, and, even more questionably, EugenerWeisse. (Honestly, sometimes I worry.) Less glib attempts, though, like NoDa's Tart Attack—which they thankfully refrained from dubbing a Charlotte Weisse—bring us back around to what's cool here: focused reinterpretation of a classic style.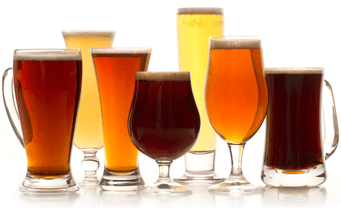 Unmatched Variety by style, brewery & country
Choose from Five different Beer Clubs offering unmatched variety by brewery,
country of origin, and beer style to suit your specific tastes.
DISCOVER OUR FIVE CLUBS