NOVO Brazil Brewing Company - Corvo Negro
ABV:

11%

Serving Temperature:

52–59° F

Suggested Glassware:

Snifter, Tulip or Cabernet Glass

An award-winning imperial stout with Brazilian pedigree, crafted in southern California. We were grateful, given its minimal availability, to secure enough of this for our Rare Beer Club members—and we're really looking forward to having more folks experience this release.
NOVO Brazil's Corvo Negro imperial stout pours a deep, heavily blackened color, lightening to more like a chestnut brown at its edges. It's predominantly the color of opaque pitch, with no light passing through aside from a thin perimeter of bright gold. Any foam is modest here given the heightened ABV, with a narrow border of medium-brown bubbles floating above.
Nutshell: Dark, massive and densely packed from the outset, with subtle gold and froth.
The aromatics here are exceptionally dense, particularly after this is allowed to warm up from fridge temp. Milk and dark chocolate layers proceed alongside a subtle impact of piney hops, which open up into broader fruits and herbaceousness. Corvo Negro's hop character seems, as a whole, to be integrated well beside the bitter roast and dark chocolate notes, rather than a distraction from the generosity of malt. The zing of impactful hop additions is there, but it tends to instead underlie the abundance of roasted coffee, nougat and cocoa notes. A subtle red-fruit warmth is all one gets in the way of alcohol, even after this stout has fully warmed.
For an imperial stout which medaled at the 2016 World Beer Cup in the British-style imperial stout category, yet traces its recipe roots back to Brazil—this beer does a wide variety of things superbly. The overall feel is very crisp and exacting, matching that piney hoppiness to a modestly dry mouthfeel and a toasty finish. And the sheer density and chewiness of that dark-malt character satisfies expectations as far as Russian-style imperial stouts. Mixing metaphors: it pulls no punches and sticks its landing.
Initial core elements of milk chocolate quickly expand into spicier, more bitter territory, with dark chocolate and cocoa, well-roasted coffee, and thin filaments of caramel, licorice and red fruit. There's an underlying toastiness throughout, whether in the form of crisp malt, biscuit sweetness or cocoa powder. Of all the beers from NOVO Brazil we've been able to get our hands on, this has reliably proven to be one of the obvious standouts: effortlessly engaging, and robust enough to satisfy even that most diehard of stout aficionados. At 11% ABV, it's also perfectly sized to share—with more than enough rich complexity for an ideal nightcap.
We've been hugely pleased with how this batch of Corvo Negro turned out, and we expect it to age gracefully over the next couple years. Fresh examples of this stout will lead with those generous degrees of milk chocolate and cocoa, and a bit of oxidized caramel from aging will generally play well against this sort of backdrop. There's a subtle bite of piney bitterness that pokes its head out toward the finish, and we fully expect that to dissipate with time, offering a sweeter overall gloss to this beer. Just drink up before it heads too far south in that regard.
Overall, we found this ideal fresh. Don't hesitate to pop a bottle shortly upon arrival, as this doesn't necessarily require cellar time. If a pop of caramel or lighter hops might move things in an improved direction for your own palate, check on those other bottles after six months.
For pairings, work from those core notes of chocolate, coffee and roast. Traditional imperial stout pairings might head toward similarly weighted turf, like a grilled porterhouse or coffee-rubbed rib-eye, while counterpoint options like creamy vanilla-bean ice cream, or a rich blue cheese, will bring out other elements of Corvo Negro. Just avoid anything too light in flavor when exploring pairing concepts, as this 11% stout can definitely overshadow meaker fare.
One of our two featured beers this month hails from Chula Vista in southern California—by way of Brazil. NOVO Brazil Brewing Company just started pouring in April of 2015, flying under the banner "San Diego Brewed. Brazilian Inspired." We've been sampling a bunch of recent releases coming out of Brazil proper, and we've been especially thrilled with how this newer SoCal brewery's been bringing some stellar examples of Brazil's brewing culture stateside. Of the many delicious stouts we've tried recently, their Corvo Negro made a lasting impression.
NOVO Brazil's imperial stout currently sees very limited distribution in the U.S., such that it can generally only be found (when available) at the brewery and around southern California. (It's definitely one of the most limited imperial stouts we have offered in recent memory.)
NOVO Brazil Brewing Company's founders include two founders of the esteemed Wäls brewery in Belô Horizonte, Brazil, with the latter recently being acquired by the AmBev subsidiary of Anheuser-Busch InBev in early 2015. NOVO is heading in a wholly different direction, with a stockpile of award-winning recipes and brand-new brewing equipment from Brazil. They're already making waves in SoCal with releases like Aussie Pale Ale (brewed with Galena, Citra, Amarillo, Cascade and Galaxy hops—plus cocoa nibs) and a barrel-aged Quadrupel (aged in Heaven Hill barrels). But their Corvo Negro was the one that kept calling us back for more.
To add to its acclaim, NOVO Brazil's Corvo Negro just picked up an award from the highly competitive 2016 World Beer Cup, in the British-Style Imperial Stout category. (Editor's Note: "British-style Imperial Stout" and the more commonly-used term, "Russian Imperial Stout," are synonymous: it's a style of British origin which became known for its primary export destination, much like IPA.) We're going to get just enough of this allocated for our Rare Beer Club members, and we're hoping that you enjoy this award-winning, chocolate-laden impy stout as much as our tasting panel did!
by Ken Weaver
A few+ years back, I had the opportunity to sample a wide range of different Brazilian beers down in Curitiba, in the Paraná state of southern Brazil. I'd been flown down as, essentially, an ambassador of RateBeer, which was (at the time) one of the main congealing elements of online beer culture in that region of the world. I've never met such passionate homebrewers. And, being there to witness that nascent craft beer scene—operating, like many international beer scenes of late, on an accelerated timescale courtesy of lessons learned in the U.S.—well, it felt a little bit like getting a glimpse back in time to an earlier part of our own beer culture.
You could taste potential. You could tell where things were headed.
And one of the main highlights of that trip had been Wäls. Pitch-perfect renditions of tripel, quadrupel and bière brut, in a beer culture more generally inclined to German styles. Various batches of their Petroleum, a chewy imperial stout, were equally on point. Despite Wäls' sale to AmBev last year and (more especially) Brazil's current economic crisis, it's encouraging to hear from Brazilian peeps still planning to open breweries once their economy's upright, and also to see vestiges of that core spirit of Wäls appearing in places like southern California.
Ken Weaver serves as the beer editor of All About Beer Magazine, currently in its 37th year.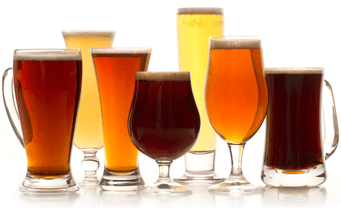 Unmatched Variety by style, brewery & country
Choose from Five different Beer Clubs offering unmatched variety by brewery,
country of origin, and beer style to suit your specific tastes.
DISCOVER OUR FIVE CLUBS