O'so Brewing Company - Project LO (Huell Melon dry-hopped)
ABV:

6.6%

Bottle Size:

750-ml

Serving Temperature:

45–52° F

Suggested Glassware:

Tulip, Teku, or Pinot Glass
We've really enjoyed the beers we've been able to try from the folks at O'so Brewing, but we think we've found just the right one for our Rare Beer Club members this month. The Huell Melon dry-hopping offers up some generous notes of strawberry and melon here (along with some herbal grassiness) and the Project LO base beer is a vibrantly tart sour blonde ale from the get-go. With those powers combined... O'so Brewing made the perfect sour for summer.
This version of Project LO pours a deep, honeyed-orange color with a touch of haze to it, capped by a layer of tiny white bubbles. Other than having a touch more haze, it looks a lot like golden lambic. Give the aromatics some attention here, as the dry-hopping provides the bulk of its expression in the nose: bright, ripe notes of sweet honeydew and strawberries are characteristic of the unique Huell Melon hop, and it's beautifully presented here, with those notes syncing to the tart, lemony core of the blonde base. There's some fresh grass from the dry-hopping as well, with hints of toasty oak from the time this beer spent barrel-aging. The base beer was inspired by Belgian lambics, and those parallels are immediate from the nose.
Fine-bubbled carbonation provides a touch of welcome lift to the texture, with waves of tart lemony goodness landing first. The barrel-aging also provides some soft tannins here, giving some additional structure, while the lambic-like characteristics quickly come into view: subtle funk and salinity, tart lemons, with a hint of lime and peach skin—plus impressively complex acidity that feels somewhere between lambic-like and a carefully assertive American sour. We found the Huell Melon hop's influence a bit quieter than in the nose, but still well expressed, with the subtle melon and berries budging up seamlessly beside this beer's sour, fruity core.
As this warms up a little, the interplay between the fruit and oak becomes more immediate, as vanilla and toasted almond notes grow in volume, and that initial tartness backs off after those first few sips. The honeydew and strawberry elements from the Huell Melon are also a bit easier to discern after allowing this version of Project LO some time to warm. That dry-hopping (and this hop in particular) accentuates and expands upon the lambic-like start, and we definitely wouldn't mind seeing this up-and-coming hop employed similarly in more sour blondes. While its base felt familiar, the dry-hopping took this release to a whole other level.
We expect this one to evolve for another year or more in the bottle, though the key impacts of the dry-hopping are going to be most apparent early on. To enjoy that influence of Huell Melon hops, pop a bottle fresh. For pairing options: the combo of a lemony sour beer plus grassy, melon and strawberry notes kept pointing to summer salads and fresh goat cheese.
O'so Brewing Company, in the small village of Plover, Wisconsin, has quietly become one of the very best breweries in the state—and we're pumped to be able to bring one of their most delicious beers to our members as a Rare Beer Club exclusive. O'so was founded in 2007 by husband-and-wife team Marc and Katina Buttera, who both grew up in Kenosha, Wisconsin. (Quick geography lesson: Kenosha's basically in the very southeast corner of the state, along the shores of Lake Michigan, while Plover couldn't be more in Wisconsin's exact center.) It took a whole lot of steps in-between to get O'so Brewing Co. running, as Marc and Katina raised two young children while working and going to school (which is pretty badass, let's be real). Marc earned a degree in mechanical design and Katina earned hers in accounting, and, after establishing their careers and even moving their family away to Tennessee (for Marc to take a promotion at the foundry he worked for), they realized that something was missing.
As these stories often go: homebrewing soon changed everything. After moving back to the middle of Wisconsin, the couple would open up Point Brew Supply (a beer- and winemaking supply shop) as a side project, which gradually transitioned into a five-year plan to also open O'so Brewing, which they founded in 2007. In the period since, both entities have grown in leaps and bounds. O'so has been one of the fastest growing breweries in the state; their year-round The Big O wheat ale won gold at the Great American Beer Festival in 2015, and their hoppy and sour releases, especially, have made them one of the most influential breweries in Wisconsin.
Some of our Rare Beer Club members will remember O'so's Space Ace Oddity, a delicious white IPA brewed with Sorachi Ace, Nugget and Galaxy hops, and bottle-conditioned with Brettanomyces, which we featured in the club a little over a year ago. It was hard to top that release—but we're thinking this club-exclusive release of Project LO will be up to the task.
Should you happen to find yourself anywhere near the center of Wisconsin, O'so Brewery's Tap House offers up an exceptional selection both of the brewery's house beers along with a surprising number of beers from all around the state. As O'so puts it, "Our mission as a Tap House is to promote a ton of great Wisconsin beer." So: 40 taps in total, including 20–25 of their own, and the Tap House regularly highlights members of the Wisconsin Brewers Guild. For more info on O'so, upcoming Tap House events and more, visit www.osobrewing.com.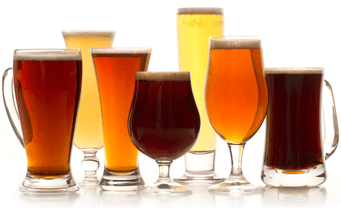 Unmatched Variety by style, brewery & country
Choose from Five different Beer Clubs offering unmatched variety by brewery,
country of origin, and beer style to suit your specific tastes.
DISCOVER OUR FIVE CLUBS