Odell Brewing Company - Barrel Thief
ABV:

9.4%

Serving Temperature:

48–53° F

Suggested Glassware:

Tulip or Goblet

Outside of our Rare Beer Club® offering, the majority of Barrel Thief's limited quantities will be staying in Colorado. This is, basically, the beer we've been waiting for from Odell: bottle-conditioned, grandly hopped, and aged in fresh American oak. Barrel Thief is every bit as nuanced as our experiences with Tree Shaker (the latter's still very much standing out in our minds as an excellent combination of hops and fruit). Here, we've got juicy, effortless tropical hops melding with similarly generous oak-barrel contributions.
Find out how to create your own IPA-only beer membership here!
This pours a deep golden orange, slightly hazy, with a massive off-white head forming at the top: finely bubbled, resilient, and well formed. The haze fits the density of the final product, and the aromatics here seem to just fly off of this one. Even from a couple feet away, we're already engaged with an explosive, finely tuned combination of herbaceous oak qualities and fruity hops. Up close, this is just beautiful stuff: aromatics of fresh cantaloupe, honeydew, an impressively pithy melange of citrus (from grapefruit and fresh-squeezed lemon to angles of kaffir lime leaf and passion fruit), and of course that American oak. The hops and barrel play out in tandem, the latter contributing everything from soft vanilla and herbal qualities to the firmer aspects of bright oak, notes approximating bitter almond skins to cedar. But here that end result, regardless of what angle we came in from, was just magical: fruity, pungent, fresh.
(Those test batches on the pilot system certainly seem to have served their purpose.)
The taste follows through accordingly. Ripe, fresh citrus and firm bitterness seem to hit the tip of one's tongue first, carried forth by a vibrant level of carbonation. There's a bit of that tongue-numbing hop loveliness that sets in rather quickly, but without overshadowing how much depth and nuance are coming through here. That bitter citrus forms the undercurrent, an expressive and zesty bit of grapefruit rind and tropical fruit, while the more subtle fruit is allowed to play out up top: melon, pear, peach—we even found a hint of strawberry, plus a touch of apple and ripe red fruitiness from the sidestream of soft, warming, vinous alcohol.
And then there's the oak barrels' contributions: where the double IPA on its own would hit with those waves of citrus and fruit, before subsiding into bitterness and secondary notes of toasty and lightly caramelized malt, here the mouthfeel seems to wrap around the tongue. A comforting mixture of smooth vanilla and coconut follow things through: the contributions of new American oak appearing at equal volume to the hops without feeling taxing on one's palate. Even at 9.4%, this feels lofty, refreshing—and a perfect expression of hops plus oak.
As with most hop-forward offerings, we'd encourage our Rare Beer Club® members to enjoy this one as fresh as possible. As it ages, that oak character will take more of the center stage. And as far as pairings go, look to use the coconut and vanilla notes: we'd try grilled salmon, or some fruit-forward dessert hefty enough to stand up to what's certainly full-bodied beer.
Odell Brewing Company is one of the relatively few trailblazing craft breweries founded near the start of the microbrewery renaissance to still be brewing strong. Founded back in 1989—rather early considering that most microbreweries in the country today are less than 10 years old—they're now in their third decade of success. Family founded and owned since day one, the company was only the second Colorado microbrewery to open; those of you who know just how populated Colorado is with microbreweries will understand how impressive that is.
So, what's the secret? Well, it comes down to the beer, and these folks craft some great ones. Doug Odell, his wife Wynne and sister Corkie have their good name on every bottle, which certainly helps ensure that what they deliver is top notch. Combine this family pride with the finest and freshest English and domestic ingredients, throw in a measure of English-style ale-making tradition and American craft-brewing ingenuity, and you've got a recipe for success.
While the brewery has expanded several times—including a 2009 addition that brought them up to 45,000 barrels!—one of the most important additions was in 1997: the five-barrel pilot system. Far smaller than their commercial brewing vessels, this small-scale production set up was introduced for experimentation. Limited-release pilot brews are regularly offered in their tap room, and these are typically available only at Odell and a few select bars and restaurants.
We're pretty pumped to feature one of the pilot-system beers, which has never been bottled before. Actually, Odell has done a few small runs on draft of an earlier version of Barrel Thief, using the pilot system to its fullest potential: their Myrcenary Double IPA was used as the test base, putting various batches onto wood for variable amounts of time, and so forth. This final release uses an imperial IPA base specifically tuned to the influence of the oaking.
Barrel Thief will be seeing very limited distribution. Those of you who might recall their Tree Shaker—a mouthwatering imperial peach IPA—know that these folks know what's up when it comes to incorporating hops in a unique fashion. We've been looking forward to the opportunity to snag something hoppy from their pilot system program, and we figured their Barrel Thief was perfect: generous, fruity imperial IPA with a bright accompaniment of oak.
By Ken Weaver
Some of you may recall another barrel-aged IPA that was featured this past year: Cigar City's El Monstruo Lúpulo, a double IPA aged on Spanish cedar and spruce. It came out as a Rare Beer Club exclusive—a fittingly rarified tribute for our company celebrating its 20th anniversary.
The combination of hops and wood-derived qualities is certainly an intriguing one, and this will likely find increasingly more traction going forward. Hops offer all sorts of different and endearing characteristics to beer—from the prototypical citruses, herbaceousness, spice, and grass, to tropical fruits and beyond—while different wood types can offer an equally diverse range of input: from the coconut brightness of American oak to the spicy, cinnamon aspects of Brazilian amburana wood. We're slowly seeing more and more of these reaching shelves.
Cigar City is definitely a great place to look for these sorts of releases: from their White Oak Jai Alai IPA to harder-to-find versions with French oak, Hungarian, toasted oak, etc. Innis & Gunn recently released their Rare Oak Pale Ale in bottles, made with elderflower, sweet gale, and the influence of Scottish oak; this adds to their Toasted Oak IPA (also bottled). Shmaltz employs rye whiskey barrels for their He'Brew Bittersweet Lenny's R.I.P.A. on Rye. Keep an eye out for a bunch more—from cedar IPAs to double IPAs influenced by red-wine barrels.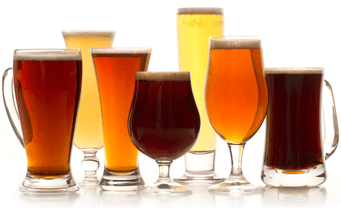 Unmatched Variety by style, brewery & country
Choose from Five different Beer Clubs offering unmatched variety by brewery,
country of origin, and beer style to suit your specific tastes.
DISCOVER OUR FIVE CLUBS