Odell Brewing Company - Saboteur
ABV:

10.00%

Serving Temperature:

45-50° F

Suggested Glassware:

Oversized Wine Glass, Tulip or Snifter
Pours a deep burgundy color, relatively clear, with a beige head that sticks around longer than that annoying couple from your last New Year's party and drops more curtains of lace than a Victorian-era interior designer. OK, enough with the similes or tropes or whatever you literary purist folks want to call them… on to the beer. Now this is a Brett beer! The name references Brettanomyces, that wonderful wild yeast that is the very bane of the wine industry, responsible for sabotaging so many batches of precious vino, but which works magic on beer when properly applied. In this case, the Brett has given us more pineapple notes than a fruit cup. Fans of Brett's effects on beer tend to appreciate the produce-aisle characteristics it can offer up on the nose, and the musty, horse blanket funkiness that is offered up in the flavor profile. Kick it up even further and you will get distinct notes of fresh-cut pineapple, which this beer exhales heavier than a week two The Biggest Loser contestant. Keep sniffing and you can expect the notes of chocolate you'd anticipate in a big brown ale, with some spicy, citrusy hops hanging out in the background, offering up hints of fresh mint as the beer warms. A big, bold, complex nose for sure. We've been sniffing it longer than a dog at a fire hydrant exhibit, and we're still finding a little something new. Seriously, 15 minutes at this point. Time to move on to the sipping. Oh wow… this beer has more flavors than a Baskin Robbins. As we drew our first sips, the first thing we noticed even before the flavor registered was how full-bodied and viscous this amped up funky Brett Barrel Brown ale is. Syrupy stuff, but so rich with flavor—a nice variant on the Brett treatment since so many Brett-fermented beers are relatively thin. Not this one. The tartness is instantly obvious, but the beer is so big—it is at its core a double brown ale after all—that both sweet and sour battle it out with no clear winner. The balance of power will shift however toward funk and sour as the beer ages and more of the residual sweetness is gobbled up by the very hungry Brett living within each bottle. Some toasty notes from the barrel make their way on the scene, along with a flourish of vanilla (this too will grow as the beer's sweetness mellows over time, leaving a bit more space for the vanilla to assert itself). Chocolate, espresso, lemon peel, oranges, mint, cocoa-powdered SweeTarts candy, white wine, lactic sourness… the list goes on and on in this very complex ale. Finishes mildly sour, with pineapple notes first, followed by chocolate and American brown ale notes in the fade, supplemented by impressions of dried citrus fruits. Wow. This is one helluva beer. We've stashed away a few bottles and encourage you to do the same—this is a beer to check in on every 6 months for the next 3-4 years (seriously!). The high ABV is masked in most sinister fashion (itself very saboteur like), but it is high enough that the Brett action will progressively slow down, meaning you have to give it plenty of time to evolve. For a food pairing, the brewery suggests the following: "stop by your local butcher for a 1/2 pound of Buffalo Corned Beef and then by your local baker for a loaf of Marbled Rye, return home and enjoy a glass of Saboteur with a Reuben on your back patio." We tried that, and it rocked harder than a Zakk Wylde show. But we added some cubes of Pepper Jack cheese and it was more mind-numbing than an overly-simile-packed beer review.
The Odell Brewing Company is one of the relatively few trailblazing microbreweries founded at the start of the microbrewery renaissance to still be brewing strong! Founded back in 1989—rather early considering that most microbreweries in the country today are less than 10 years old—they're now in their third decade of success. Family-founded and owned since day one, the company was only the second microbrewery to open in the state of Colorado; those of you who know how densely populated with microbreweries Colorado is will understand how impressive this really is! So, what's their secret? Well, it comes down to the beer, and these guys craft some greats. Owners Doug Odell, wife Wynne and sister Corkie have their good family name on every product, which certainly helps ensure that what they deliver is top notch. Combine this element of family pride with the finest and freshest English and domestic ingredients, throw in equal parts adherence to English-style ale-making tradition and American microbrewing ingenuity, and you've got a true recipe for success. While the brewery has expanded several times, one of the most important additions was in 1997; their 5-barrel pilot system. One tenth the size of their commercial brewing vessels, this small scale production set up was introduced for experimentation. Every few weeks, they create a new specialty beer to share only in their on-site tasting room. If they're particularly well-loved by the brewers and guests, then they make their way to the bottling line for limited distribution in their Single Serve Series, beers brewed just once and in very limited quantities. Generally, you need to get to the brewery to purchase a bottle, but in this case, we picked up a few cases of a beer we enjoyed so much we knew it would be a great fit for the Rare Beer Club. For more information about the brewery and scheduled tours, call (970) 498-9070.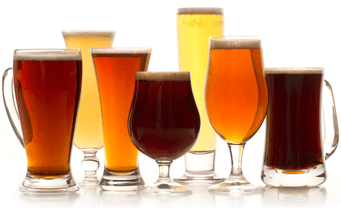 Unmatched Variety by style, brewery & country
Choose from Five different Beer Clubs offering unmatched variety by brewery,
country of origin, and beer style to suit your specific tastes.
DISCOVER OUR FIVE CLUBS