Odell Brewing Company & Thornbridge Brewery - Pond Hopper Double Extra Pale Ale
ABV:

9.50%

Serving Temperature:

48-53° F

Suggested Glassware:

Pint Glass, Oversized Wine Glass or Snifter
Calling all hopheads: Do Not Miss This Beer; Pond Hopper is going to make a serious impression—and once it's gone, it's GONE. PhD.EPA, as we've chosen to abbreviate this beer's name, pours a slightly hazy pale copper color, dressed with a massively frothy, thick off-white head. The aroma… ah the aroma… this beer oozes fresh hoppiness. Look for spicy hops, citrusy hops, tropical fruit hops, piney, resinous hops, minty hops—all manner of different hoppy notes—provided by all US hops (Cascade, Chinook, Centennial, Simcoe, Perle) supplemented by a single Australian-grown hop (Galaxy, selected in honor of Thorbridge's Caolan Vaughn, an Australian living in the UK). Tons of hops, but not out of whack—there is balance provided in the backdrop of British malts (including Golden Promise British Pils). The double in the name does not disappoint—the flavor is intense. Initially, pungent hop notes blend with an intense alcohol sharpness, almost giving the impression of a hop liqueur. Notes of melon emerge in the aftermath, as do many of the massive hop notes from the aroma [notably tropical (mango), pine and mint]. The malty character tries valiantly to compete with the hops, and it does hold its residual sweetness, but this is just not a fair fight—it's like bringing a butter knife to a ninja battle! Of course, a ninja could probably do some pretty wicked things with a butter knife, but you get the point… Get it? Point!? We digress… Tasting this beer, "English" may not jump to mind—as it drinks like a monumentally epic Pacific Northwest Double IPA—but we admire the boldness in taking a British base for the malts and going absolutely medieval on the hops front… OK, maybe not medieval, since, hops were not really used in beer during most of the medieval era, but, again, you get what we're saying (we're saying this is some sadistically hoppy beer). But don't misunderstand—the massive hoppiness that we're describing is largely limited to the aroma and flavor—the finish is only moderately bitter, which feels more lightly bitter in the overall hoppy context of the beer—and that's just what the brewers were going for with their use of hops and offsetting sweetness provided by the heavy-handed British malt bill. The high ABV and bottle-conditioning will allow this beer to hold up for years in your vault, and while usually we say that hop forward beers should be consumed fresh, this beer is so hoppy when fresh, that while you really do need to taste it now, it's going to get pretty interesting as it ages and the hops mellow out over time. We can't say with certainty what it will be like with extended aging, since this is a one-off brew that was just born, but we expect a smooth, refined maltiness to be allowed to play a more dominant role in the flavor profile at about 12-18 months in the bottle, and that this beer will hold up for 2-3 years to come. That being said, we can't stress enough that it is a must-try right now, in its infancy. Brewed to be featured in June at this year's SAVOR event in Washington, DC—which is already sold out—our members are getting to try this beer 2-3 weeks before it hits store shelves in limited supply. So covet thine supply thusly, and share it only with the most loyal of subjects. Cheers!
This month we have an old-world meets new-world brewing collaboration. But there's something different about this one; an interesting reversal of sorts—in this case, the US brewery has been around longer than the UK brewery. So, the new world is the elder and the old world the younger? Oh beer—you really can do anything! The players: the Odell Brewing Company, one of the relatively few trailblazing microbreweries founded at the start of the microbrewery renaissance to still be brewing strong, was founded back in 1989. Family-founded and owned since day one, the company was only the second microbrewery to open in the state of Colorado; those of you who know how densely populated with microbreweries Colorado is will understand how impressive this really is! Owners Doug Odell, wife Wynne and sister Corkie have their good family name on every product, which certainly helps ensure that what they deliver is top notch. Combine this element of family pride with the finest and freshest English and domestic ingredients, throw in equal parts adherence to English-style ale-making tradition and American microbrewing ingenuity, and you've got an enduring formula for great beer. The Thornbridge Brewery, located over 5,100 miles away from Odell's, in the heart of the United Kingdom, nestled deep within an English national park, started brewing in early 2005. A young punk of sorts? Well, their beers were first brewed by Martin Dickie, who left in 2007 to start Scotland's infamous BrewDog. But no, these are studied gents, operating in a country renowned for its beer culture, despite the fact that traditional pub culture is actually on the decline in the whole of the UK. They've managed to integrate that worldly sense of tradition, creating many session-style cask beers, with more modern interpretations and brewing methods applied. In their brief history, they've already pulled in at least 130 brewing awards. Not bad. Not bad at all. Doug Odell and the Thornbridge crew first met up in 2009 when Doug, a frequent visitor to the UK and judge at the famed Great British Beer Festival, popped in to the brewery to say hello along with a selection of his beers, which the Thornbridge team tried and fell in love with. The beers all showcased drinkability, from Odell's multiple award winning IPA, to the 5 Barrel Pale Ale, and seasonals including St. Lupulin and Doug's Red. As they put it "…every beer oozed class and balance with rich hop character or luscious, juicy malt flavours. To be honest, our jaws dropped as we took our first sips… we had developed a brewcrush." This led to talk of a collaboration, which came to fruition in 2010, when Doug came out to the Thornbridge Brewery to produce an interpretation of Doug's very tasty red ale. Clearly, they enjoyed the experience, as it has since yielded a very special, one-off reciprocal brew: a massively hopped beer featuring British malts, brewed at the Odell Brewing Company in Fort Collins, Colorado with Thornbridge's own Caolan Vaughn on site to formulate and brew the beer. We really think you're going to dig this one—we know we did. Cheers!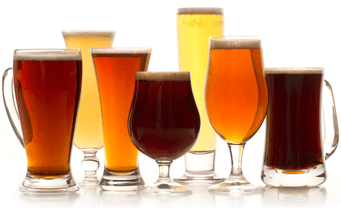 Unmatched Variety by style, brewery & country
Choose from Five different Beer Clubs offering unmatched variety by brewery,
country of origin, and beer style to suit your specific tastes.
DISCOVER OUR FIVE CLUBS