O'so Brewing Company - Silver Streak
ABV:

9%

Bottle Size:

750-ml

Serving Temperature:

45–52° F

Suggested Glassware:

Tulip, Small Nonic, or IPA Glass
We've been shipping beers monthly since 1994, and we wanted to do something special for our 25th anniversary. Over the past few years, we've had the pleasure of featuring a number of delicious beers from the folks at O'so Brewing in Wisconsin, and we chatted with them about taking the delicious New-England-style double IPA style, and giving it a little twist. A rye addition brings some spicy malt complexity to the fruity focus of the style, while a touch of oak adds some smoothing vanilla elements, while balancing things back out accordingly. This is double-dry-hopped with Mosaic, El Dorado, Citra, and Mackinac hops, and overall it's just a delicious expression of some of our favorites hops—plus, you know, a little extra.
O'so Brewing's Silver Streak pours a creamy orange color, mostly opaque, capped by a nice layer of off-white foam. Definitely on that New-England-style hazy side, with an engaging, pulpy vibe. The aromatics are expressively tropical and fruity, with lots of passion fruit and fresh-squeezed lime throughout—actually pretty reminiscent of papaya with lime. The toasty impact of rye adds a little bit of an edge, cutting through the fruity, fresh-squeezed elements. Beautifully tropical, with just a ton of hop complexity apparent before the first sip.
We couldn't be happier with how our 25th anniversary beer with O'so turned out. There's a beautiful amount of lime-like hoppiness, lots of spicy rye-bread character, and an incredible undercurrent of sweet oak that keeps the smoothness level high. The complex fruitiness of the hop additions brings a ton of passion fruit, candied lemon, papaya, and mango, while its spritzy core carbonation provides some lift to everything going on here. A bolder grapefruit presence provides a rudder of bitterness alongside the rye, while that aforementioned super-smooth vanilla oakiness adds another layer and contributes to an overall orangey-creamsicle vibe. Rounded fruity sweetness, uniquely balancing elements of rye and oak, and just a great overall execution of the concept. Thanks much to O'so for helping us celebrate a milestone right! And thanks to our members for twenty-five fantastic years of celebrating great beer!
Definitely one to be enjoyed on the fresh side. The oak plus generous levels of tropical fruit on display here have us thinking of wood-inclined seafood options—maybe grilled salmon with tropical salsa, or all kinds of fish tacos? Lotta fruits and oakiness to work with here.
O'so Brewing Company, in the small village of Plover, Wisconsin, has quietly become one of the very best breweries in the state—and we're pumped to be able to offer up a very special, brand-new release from O'so this month as a Rare Beer Club exclusive. O'so was founded in 2007 by husband-and-wife team Marc and Katina Buttera, who both grew up in Kenosha, Wisconsin. (Quick geography lesson: Kenosha's basically in the very southeast corner of the state, along the shores of Lake Michigan, while Plover couldn't be more in Wisconsin's exact center.) It took a whole lot of steps in-between to get O'so Brewing Co. running, as Marc and Katina raised two young children while working and going to school (which is pretty badass, let's be real). Marc earned a degree in mechanical design and Katina earned hers in accounting, and, after establishing their careers and even moving their family away to Tennessee (for Marc to take a promotion at the foundry he worked for), they realized that something was missing.
As these stories often go: homebrewing soon changed everything. After moving back to the middle of Wisconsin, the couple opened up Point Brew Supply (a beer- and winemaking supply shop) as a side project, which gradually transitioned into a five-year plan to also open O'so Brewing, which they founded in 2007. In the period since, both entities have grown in leaps and bounds. O'so has been one of the fastest growing breweries in the state; their year-round The Big O wheat ale won gold at the Great American Beer Festival in 2015, and their hoppy and sour releases, especially, have made them one of the most influential breweries in Wisconsin.
Some of our Rare Beer Club members will remember O'so's Space Ace Oddity, a delicious white IPA brewed with Sorachi Ace, Nugget and Galaxy hops, and bottle-conditioned with Brettanomyces, which we featured in the club a few years back. We were also lucky enough to get a club-exclusive version of Project LO last year, a sour blonde ale aged in oak barrels and dry-hopped with Huell Melon. It's kinda hard to top those two—but we're doing our best with this month's Silver Streak: a New-England-style double IPA with rye, fermented on oak, double dry-hopped with Mosaic, El Dorado, Citra and Mackinac hops. We worked with O'so Brewing on this one to commemorate our 25th anniversary, and we're excited to be able to share it with our club members. Following up on our Smokey and the Bois beer with The Bruery—made for our club's 20th anniversary, and named after the classic comedy Smokey and the Bear—Silver Streak gets its name from the Gene Wilder and Richard Pryor film of 1976—a classic buddy-comedy/thriller, mostly set on a speeding train.
Should you happen to find yourself anywhere near the center of Wisconsin, O'so Brewing's Taphouse offers up an extensive selection of the brewery's beers, ranging from kettle sours and barrel-aged sours to a gamut of hops to some maltier things on nitro—with around 30 beers total at any given time. Tours are currently at 1pm and 2pm on Saturdays and cost $5 for adults, which gets you a token to be redeemed for any current O'so beer after the tour. For more info on O'so, upcoming Taphouse events and more, visit www.osobrewing.com.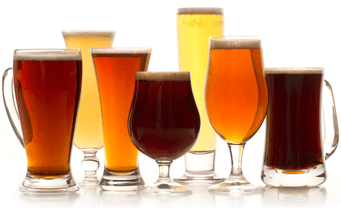 Unmatched Variety by style, brewery & country
Choose from Five different Beer Clubs offering unmatched variety by brewery,
country of origin, and beer style to suit your specific tastes.
DISCOVER OUR FIVE CLUBS