Oud Beersel - Oude Kriek Vieille 2014
ABV:

6%

Bottle Size:

750-ml

Serving Temperature:

46–54° F

Suggested Glassware:

Lambic Tumbler, Flute, or Tulip Glass
Oud Beersel's Oude Kriek Vieille is produced by authentic methods of Oude Kriek under European protection, with no added sugar, artificial flavors, or preservatives. Sour cherries are slowly integrated into the lambic during production, added at a rate of approximately 400 grams per litre (the most of its kind, per Oud Beersel), and the overall impact of the cherries in the sweet-tart final product is unmistakable. Lush, tart cherries, vanilla, and almond notes. The brewery's best-by date for this beer is 20 years after release, and we think this vintage 2014 bottling is entering this incredible beer's prime right now.
We're excited to have the opportunity to bring this to you as a Rare Beer Club exclusive. There were only 18 cases of this distributed in the U.S. in all of last year, and besides our Rare Beer Club allocation, the importer is not planning to bring in any more for 2022.
Oud Beersel's Oude Kriek Vieille 2014 pours a bright, deeply colored ruby in our glasses. Modest off-white foam leaves behind a small amount of bubbles, and this actually looks a lot like Pinot in our glasses: a vibrant burgundy color with deep hue variation. Incredibly deep red fruitiness in the nose: roundly expressed cherry, alongside almonds and toasty oak. The aromatics land with plush fruit first, then ascendent, complex acidity behind; juicy and tart.
We absolutely love the cherry character of Oud Beersel's krieks, and this 2014 vintage is just one of the tastiest cherry beers we've ever crossed paths with. Bold, well-developed acidity and a complex cherry roundness lead everything here. There's core sweetness in tandem with brisk tartness. Brightly sweet-tart in that first sip, with plenty of complexity backing it up. A nice accompaniment of toasty vanilla and almonds, plus subtle oak tannins, provide further structure, and we found a touch of warming cinnamon, too. Loads to enjoy with this kriek, super easy to settle into, and beautifully developed at this point in its lengthy lifecycle. We expect it to continue developing for years, in extended prime. Such a generous cherry beer.
The brewery gives this kriek a 20-year shelf life, so expect it to continue aging gracefully for years to come. For pairings: they suggest cherry sabayon and/or ice cream for dessert, or to serve their kriek alongside salmon, pheasant, duck, chicken, or turkey. (Turducken-ready.)
The historical Oud Beersel, located about six miles from the city center of Brussels, is one of the last remaining authentic lambic breweries in Belgium. The brewery first started way back in 1882, passing through multiple family generations, before almost meeting its end in 2002. Today, the brewery is one of very few to still be employing spontaneous fermentation in this classic brewing region—maturing lambic for up to three years in barrels—which can in turn be blended to go into the brewery's classic Oude Geuze. For the brewery's Oude Kriek, sour cherries go through a primary fermentation in lambic, as well as refermentation in the bottle. The local microflora in the air gives these beers their unique fermentation characteristics, and, quite simply, the lambics and geuzes of Belgium are some of the most expressive, out-there, delicious beers on the planet. We're very grateful to have this lambic producer still around.
Henri Vandervelden started as a seasonal worker for the De Kroon brewery in the late 19th century, with brewing usually taking place between October and April, while his summers and autumns had him buying and picking fruit to prepare for sale. Henri eventually decided to combine these efforts and begin his own brewery. Purchasing land on Kasteelstraat in Beersel and hiring brickmakers from Flanders, the Vandervelden facility—including a house, brewery, and cart house—was finished around 1882, later to be renamed Oud Beersel.
The eldest of Henri's five sons, Egidius, would eventually take the helm as brewer, before passing on the brewery to his own son, Henri Vandervelden II (named after his brewery-founding grandfather), who would become the third generation brewmaster of Oud Beersel when he took over in 1953. The location's farm and cart house were swapped out for a Bierhuis and a spendy Mortier organ in the 1930s, and Egidius' daughter Marie-Thérèse Vandervelden ran the Bierhuis until 1988, when her son Danny Draps took over until the end of 2002. The brewery had survived many challenges over the years—including World War II rationing, when use of wheat was forbidden; an otherwise essential ingredient in lambic, Oud Beersel substituted ground and kilned sugar beets and made a lower-alcoholic beer. But in 2002, the café and Mortier organ were sold, the former being converted into a flower shop. And all of the remaining beer was acquired by the Boon brewery and sold by 3 Fonteinen. Lacking any clear line of succession within the family, the traditionally produced beers of Oud Beersel appeared gone for good.
Henri Vandervelden II made one last effort in early 2003 to find a buyer for their brewery, which had now been run by four generations of Vanderveldens. And he found the right fit with Gert Christiaens. Gert Christianens had been in the traditional beer bar Le Zageman in central Brussels, where he often went to drink his favorite beer with friends—Oud Beersel's Oude Geuze—when he found out that the brewery had recently closed. He decided that this would not stand, and worked with Henri to prepare plans to restart the brewery. The period of transition took almost three years, as Gert collected the malting, brewing, and fermenting knowledge and experience that would be needed for such a vast undertaking, restarting one of the last lambic producers. Henri brewed with him during this period—gradually passing on the brewing knowledge the Vanderveldens had accumulated over the past century-plus.
Today, Gert and his family manage Oud Beersel and their production of traditional lambic beers—combining respect for the brewery's heritage with modern technology and ongoing research projects into spontaneous fermentation. Their current Oude Kriek is an especially vibrant take on this style of spontaneously fermented fruited lambic—particularly the 2014 vintage we've picked out to feature this month. And Oud Beersel continues to innovate with new products like their patented, pressure-resistant, bag-in-box lambic packaging (typically in three-liter sizes, which sounds like something we need, frankly). We're very glad this brewery is still around—and we think their 2014 Oude Kriek Vieille will make you feel the same way.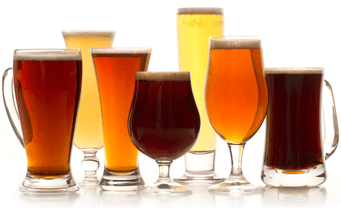 Unmatched Variety by style, brewery & country
Choose from Five different Beer Clubs offering unmatched variety by brewery,
country of origin, and beer style to suit your specific tastes.
DISCOVER OUR FIVE CLUBS