Birrificio Torrechiara (aka Panil Birra Artigianale) - Panil Barriquée
ABV:

8.00%

Serving Temperature:

45-50° F

Suggested Glassware:

Flute, Tulip or Snifter
Panil Barriquée is fermented three times; once in stainless steel, then for 3 months in used Bordeaux and Cognac barrels, and finally, in the very bottle you now have. It pours a dark, clear amber with garnet hues when held to light. A medium beige head begins thick and fades to an everlasting collar and covering. Expect a vibrant, vinegar-like acidity to strike the nose; one gets the immediate sensation that tartness is on the horizon. There are some notes of fresh asparagus (don't worry, in this beer, it's actually quite nice), and super unripe peaches come to mind, as do SweeTarts candy, oak, faint impressions of smoke, and some pickled spices. In the flavor, tartness comes through on the palate, but it's not a puckering tartness, just a nice wake up call to the taste buds. There are some notes of biscuits in the malt backbone, with fruity, vinous qualities (think Chianti), black raspberries, suggestions of cloves, and some spicy plum notes. It's not surprising that this beer is remarkably wine like, given its Italian home. A wonderful complexity comes from the cognac barrel aging, and this imparts, as you might imagine, some subtle notes of cognac. As it warms, distinct notes of kaffir limes emerge, supplemented by flashes of cherry and green apples. Giving a good swirl conjures up notes of musty oranges. Finishes with a complex interplay between bitterness (very faint hops) and sourness, with a wine-like flourish of grapes, acidity and other vinous notes characteristic of malolactic fermentation. Worth noticing are the subtypes of sourness from the acids—both lactic (sour) and acetic (vinegary) notes present. Look also for a ghostlike impression of stiff liquor in the way of mild vanilla notes and dry woody oak character. Each batch of this beer is unique—thanks to the wild yeast and barrel aging, but the quality is extremely consistent—we've had vintages from 2007, 2008 and 2009 and all are quite nice. Aging is a sure thing with this beer; we've sampled bottles that were 3 years old and they remain refined, with the acidity mellowing a bit over time. A true to style sour ale, this is an unpasteurized, raw, truly important conservatorium of wild yeast and tradition! Try pairing with other local specialties such as sliced Parmesan cheese or prosciutto, or a garden salad dressed with Balsamic vinegar and olive oil.
By now you've probably heard about the growth in craft beer in Italy. Perhaps it's the headline grabbing news from a country so well known for its wines that's made this such a surprising story. Maybe it's simply the novelty of 'Italian beer', something that was essentially oxymoronic until fairly recently, especially in the context of a craft beer selection (though strangely appropriate perhaps for a "Rare" beer club). We think the best part of this story is the fact that it demonstrates quite clearly that craft brewing is alive and well—enough so that wine nations like Italy and France are experiencing a beer brewing renaissance and creating some world class beers. For years, if you were looking for Italian beer in the US, you'd be limited to a somewhat bland set of a few pale lagers from a handful of Italian brewers. In fact, since our original Beer of the Month Club launched back in 1994, we've not found a single Italian beer worthy of inclusion (and available in the US). Over the decade, the quality has improved dramatically, and brewery numbers have exploded to 200, though access has not, until very recently, made it possible to bring Italian beers into the fold in a manner consistent with our quality standards. But nowadays, there are more high quality Italian craft beers making it to finer beer establishments in the US, and using our beer combing skills, we've lined up one of the most unique for you from a brewery that embodies the Italian beer renaissance wholeheartedly. Birrificio Torrechiara (aka Panil Birra Artigianale), located just south of Parma in Northern Italy, demonstrates the change in attitude toward beer in Italy very clearly. Since the 1930s, four generations of the Losi family have produced Lambrusco-style wine at their family-owned winery. In 2001, Lorenzo (Renzo) Losi persuaded his father to let him put his homebrewing talents to work, producing some game-changing beers under the name Panil. Today, Renzo produces more beer under the Panil label than wine. His philosophy is to produce beer naturally, absent any sort of chemical preservatives, pasteurization or filtration, permitting in his beer the most authentic, natural flavors and preventing the "industrialization" that has struck even traditional producers who send their libations to the US market. In short order, Renzo moved from only stainless steel fermentation to the barrel. Panil Barriquée (from the French word for 'barrel') was his first to be fermented in wood, employing cognac barrels. According to Renzo, he is the first Italian brewer in modern times to use barrel fermentation; it's an important move that brings "new tastes, or rather, the recovery of ancient tastes, [the] woody, winey [notes], are absolutely to be recovered," according to Renzo. The result is an interpretation of Flemish Red Ale brewed in the style of Rodenbach that has earned critical acclaim as a truly remarkable beer; it does not employ added sugars to make the beer more palatable for the masses in the US market, staying appropriately dry and keeping things au naturel, avoiding pasteurization which would kill the living, wild yeast in the bottle. This is perhaps the most authentic version of the style available from Europe, yet it comes from Italy, not the Netherlands or Belgian Flanders, from where the style originates. Redefining the style? Perhaps. Redefining Italian beer? Definitely. Enjoy this rare treat. Salute!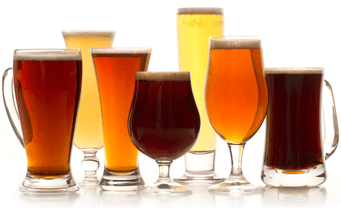 Unmatched Variety by style, brewery & country
Choose from Five different Beer Clubs offering unmatched variety by brewery,
country of origin, and beer style to suit your specific tastes.
DISCOVER OUR FIVE CLUBS