Perennial Artisan Ales - Funky Wit
ABV:

5%

Bottle Size:

750-ml

Serving Temperature:

45–52° F

Suggested Glassware:

Tulip, Teku, or Chardonnay Glass
We've been loving everything we've been sampling from Perennial Artisan Ales, and we're excited to secure their highly limited Funky Wit as a Rare Beer Club exclusive release. This mixed-fermentation (using a house blend of Brettanomyces, Lactobacillus, and Pediococcus after a primary fermentation using a classic yeast strain) Belgian-style witbier is aged in oak foeders and hasn't been released for a couple years (and in miniscule quantities when it was). You may have seen a fruited version of it—the brewery's done limited releases with apricots, raspberries, raspberries and rhubarb, and Charentais melons—but the unadultered version hasn't appeared since 2016. We landed just enough for The Rare Beer Club, with a small amount held for Perennial's tasting room.
Perennial's Funky Wit pours a vibrant golden-straw color in the glass, glowing with a touch of haze, and capped by a resilient head of tiny-bubbled white foam. First appearances look good here, with nice lacing and retention, and a honeyed glow. The aromatics land quickly, with a complex tartness arriving first and foremost, showcasing a vibrant lemony core along with a touch of salinity, blue cheese and funk—with that mixed-fermentation-wild-ale aspect of this beer leading things. The aromatics seem to exhibit many of the core characteristics of mouthwatering lambic, with witbier characteristics often appearing in a supportive role. There's an easy undercurrent of coriander coming through clearest, serving as a nicely toasty element underneath that's both familiar and, in this context, surprisingly well synced. We found notes of tart lime, toasty oak, and tart grape in the aroma as well, amplifying as things warm up. As initial impressions go: the aroma is like a complex sour ale blended with just enough witbier.
The coriander note does a great job softening the initial tartness here, as bubbly carbonation provides a good bit of lift and an almost spritzy feel. There's a whole lot to this release from Perennial, and initial sips keep within a lambic-like channel of intricately woven sourness, an impact of toasty oak and subtle tannic structure, and subtle elements of saltiness and funk. It would stand on its own simply from the mixed-fermentation character—with just a delicious blend of acidity, fruitiness, and subtle oaky vanilla notes. But that precise coriander takes this to another level entirely for us: easing into that complex tartness, staying endlessly toasty and earthy underneath. The focus seems laser-guided towards an immensely satisfying sour ale / witbier hybrid that's unlike anything we've had before. Though Funky Wit occasionally sees the light of day with additional fruit added (as noted above), this opportunity to dig into the refreshing subtleties of the core version provided a perfect summer fit for The Rare Beer Club.
Perennial's Funky Wit has already seen aging time in oak foeders before release and is doing beautifully at the moment, such that we expect this to drink best on the fresher side. But for those looking to cellar some, six months or so should be just fine. As far as pairings go... we would be inclined to use the bold lemon acidity and warming coriander alongside dishes like chicken curry (or vindaloo?). This wild ale should also go quite well with herbed goat cheese.
We've been looking forward to securing something special from Perennial Artisan Ales out in St. Louis, Missouri for our Rare Beer Club members. And this month we managed to get exactly that: the unfruited version of the delicious Funky Wit, which was last brewed in 2016 and saw only 70 cases released. This version of Funky Wit will be available exclusively to our RBC members, with just a limited amount left to be sold through the brewery tasting room.
Perennial Artisan Ales got its start around seven years ago, opening in September 2011. Phil Wymore is Perennial's brewmaster and co-founder, and brings his experience from working at Goose Island Beer Co. and Half Acre Beer Co. out in Chicago. Phil got started at Goose Island as a brewer back in 2006, eventually ascending to the role of Cellar Manager, where he managed various fermentation processes and their renowned barrel-aging program. That's a pretty solid pedigree. When Phil signed for a year-long stint as head brewer at Half Acre for the brewery's opening year, he brought along deep experience from Goose Island into a job arrangement that would allow him to learn the financial side of things better—with the plan always being to head off on his own. In 2010, he moved back to Missouri to start Perennial.
The St. Louis brewery takes much of its influence from Belgian and American craft brewing cultures, with the first recipe Phil brewed for Perennial being Hommel Bier: pulling in classic Dupont yeast and combining it with biscuit and aromatic Munich malt, as well as Columbus, Mt. Hood and Cascade hops from the Pacific Northwest. The focus from the beginning has been hand-crafted, small-batch releases that are built for the discerning beer geek. Perennial uses local, seasonal and organic fruit and other special ingredients as often as possible, while their barrel-aging program (not surprisingly) includes a wide range of wine and spirit barrels. Some of their more popular releases include Suburban Beverage, a stellar gose-style ale with Key lime, Meyer lemon and Valencia oranges, and Abraxas, their award-winning impy stout that's packed with contributions from cacao nibs, vanilla beans, cinnamon and ancho chiles.
For those near the St. Louis area, definitely check out Perennial's Brewery and Tasting Room for a deep-dive into what this brewery is all about. They offer an incredible diversity of beers on draft and bottled, with the tasting room currently open Wednesdays through Sundays and offering a rotating, beer-inclined menu that highlights area producers. The brewery added an additional brewhouse in 2016 to better separate their clean and sour fermentations, and there are brewer-led tours (and tastings!) given every Saturday at 2pm. For more info on Perennial Artisan Ales and all the delicious things they've been up to, head over to perennialbeer.com.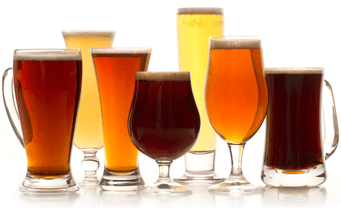 Unmatched Variety by style, brewery & country
Choose from Five different Beer Clubs offering unmatched variety by brewery,
country of origin, and beer style to suit your specific tastes.
DISCOVER OUR FIVE CLUBS