Pivovar Herold - Herold Midnight Wheat Lager
ABV:

5.3%

Malts:

These malts were made for Herold, and are generally not used in the Czech Republic - specially-malted wheat from Moravia, local barley from Breznice, and dark specialties malted at Tabor and Brno.

Hops:

Saaz from Zatec and Bor
Starts as a light wheat, brewed with 60% wheat malt and 40% local golden malt and Bavarian yeast, then lagered up to 6 weeks for smoothness. Double decoction brew, primary fermentation in open vats for 8 days at step-controlled temperature; secondary fermentation is cold in lager tanks, where it is combined with Bohemian black lager (which has been filtered to reduce yeasts, reviving the fermentation). This adds the chocolate color, enriched body, and complex taste highlights of smoke, coffee, and a touch of caramel.
I've talked and written a great deal about beer with food, and because beer doesn't get enough respect, often I have deliberately used some pretty fancy foods in films, books, and articles. I wanted to show that beer is good with the finest and most elaborate of foods. But sometimes people have said to me, what about beer with "down home" food?
I like down home food as much as anything, especially when I am in my local pub, which is all of four minutes walk from my house. I timed it once when I changed locals many years ago, to see what the difference in the distance was. My previous local was three minutes walk, but it went downhill somewhat – not the walk, but the pub – and I switched to my present local, to which I am deeply devoted. I was willing to have a journey that was 25 percent longer.
A really down home meal at my local is British bangers, fried eggs, and fries. Sausage, egg and chips, that's a real classic pub meal in Britain. It reminds me of the many hearty meals that they used to do at McSorley's, the oldest pub in New York. Or if you have traveled to the Czech Republic you might have been in Prague, and visited a very famous brewpub there called U Flecku, where they give you a mountain of cheese and bread, and call it a coal miner's breakfast. In Britain you might get a ploughman's lunch, although in the Britain of my childhood we had a lot more coal miners than we had ploughmen.
The Herold Brewery, which is south of Prague in a town called Breznice, was one of the first breweries to revive the wheat beer tradition in the Czech Republic. Like a lot of Czech brewers they make a dark lager as well, and they have really combined those two to create a dark, or a black, wheat beer. This is a new beer made especially for the Rare Beer Club. It's a style that some might have tried in dark wheat bocks like Aventinus from the Schneider Brewery in Germany, in that sort of ballpark, but a true original created for our club.
It encourages me that a new style of beer would be created by a very old brewery, brewing in that area since the 1300's. It was a brewery belonging to a castle, an aristocratic estate, with some very fine gothic buildings. Today the style is more Renaissance, as it has been rebuilt several times. Of course, when the communist period came along, aristocrats were not allowed to run breweries, and it was taken over by the state. Because it was a pretty small brewery, just making beer for the people living in the estate, the government thought it would be a good facility to use as a research and test brewery. When the wall came down and communism came to an end, and Czechoslovakia ceased to exist, they privatized the breweries. This brewery has been run by American entrepreneurs, which might explain why it is producing some new styles of beer. It's very nice to think, once again, that with some American ownership the brewery is actually making very distinctive beers.
It is a very interesting combination. What I like about this type of dark wheat beer is the sort of toffeeish maltiness from the dark beer, and the slightly crisp, sharp acidity – a bit like apples – from the wheat beer, is a bit like having a liquid toffee apple. The acidity that comes out from the fruitiness in the beer cuts the fat in a down home meal like sausage, egg and chips. It works pretty well, I say do try this at home.
Only for you, exclusive to the club. Just a chance to taste a little bit of Czech brewing art that you can't find anywhere else. Take an armchair visit to Bohemia, sit comfortably, open the bottle, fill the glass. It's a very soothing beer. Drink now while stocks last, I know I'm going to.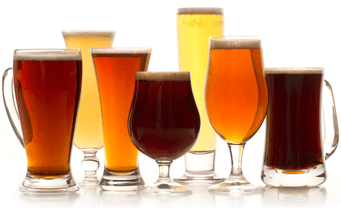 Unmatched Variety by style, brewery & country
Choose from Five different Beer Clubs offering unmatched variety by brewery,
country of origin, and beer style to suit your specific tastes.
DISCOVER OUR FIVE CLUBS