Pivovar Kocour Varnsdorf - Kocour IPA Samurai
ABV:

5.10%

Serving Temperature:

45-50° F

Suggested Glassware:

Pint Glass
This beer pours a hazy medium straw color with a massive, pillowy white head that laces wonderfully in the decay. Features a great nose of clean pilsner malt, chockfull of fresh grains, biscuits and dough. These notes are embraced by a floral, perfume-like aroma of noble hops, gently supplemented by grapefruit, which is minor at first. Despite using Amarillo and Simcoe hops, with only a "brewer's pinch" of Czech Saaz hops, herbal, lemony, notes are prominent upfront. Expect a minor note of lager-like sulfur, akin to a pilsner. Take your first sip and look for a crushing surge of extremely dry, earthy hoppiness. Notes of black peppercorns quickly follow. The malt backbone remains clean, yet aptly supportive, just barely holding up against the repeated sword strokes of bitterness that the high alpha acid content strikes upon the palate. At full warmth, the American hop notes unfurl with deployments of orange zest, lemon meringue, enhanced by notes of alcohol. So clean, it seems rather lager-like, a result of this ale having been cold-conditioned at pilsner/lager temperatures (37-39˚F) and made with locally grown Czech Pilsner malt. The beer finishes quite dry, and rather powerfully bitter, yet somehow delicate and demure. Expect an extremely lengthy finish with the floral bitterness hanging on for at least a few minutes. For what we have become accustomed to as "IPA-like" in the states, especially those emanating from or inspired by the Pacific Northwest, you may not think the IPA label is appropriate—but open your mind! Fact is, no one really knows what IPAs are "supposed" to taste like—the original versions sent to India in the days of colonial Britain are long gone—the versions that we have in the US are probably not representative of the original style, since hops from the Pacific northwest were not widely used to 'hop' British beers of the era. The point is, "IPA" is wide open to interpretation. This version on one hand evokes today's British versions of the style, yet also has some bombastic and severely bitter hop notes present in American IPAs—but beyond that, it introduces a clean, almost lager-like quality to the style, putting a Czech spin on things. It's brash and refined at the same time, atop a base of clean, pilsner-like grains (it is from the birthplace of Pilsner), and we hope it sets the standard for what would be a welcomed sub-style of beer: Czech IPA—clean malts, crisp flavor and girthed up hop bitterness. Great when partnered with a Ploughman's Lunch, with the sharpest Cheddar or Blue possible, and some seriously pickled onions.
Rare Beer… it's what we do and it's why you're here reading this. This month we have a brew from the Czech Republic, available only through the Rare Beer Club. Not only that, but it was only brewed once. What's even more exciting is the fact that this just might represent the birth of a new style of beer! Now, "one-offs" generally don't qualify as creating a style, unless others follow suit—which we sincerely hope happens, since "Czech IPA", if it's anything like this beer, would be a welcomed addition to the various styles of brew already out there. So, who's behind this very unusual brew? Well, in addition to the brewer, who we'll talk about shortly, none other than Michael Jackson himself. It was with a heavy heart, tempered by a feeling of gratitude, that we first sampled Kocour IPA Samurai, for we knew it was a beer Michael encouraged the brewer to create, helping to shape the young Pivovar Kocour Varnsdorf's brewing path. Sadly, he never got the opportunity to taste what may be the Czech Republic's first IPA (he passed away in August of 2007), so our tasting session was tinged with a degree of sadness. But this quickly faded to a sense of respect and celebration, with the feeling that Michael was reaching out from the afterlife to turn us all on to yet another great beer. Here's the back story: Honza Kočka, former Czech Airlines steward turned acclaimed beer writer, beer tasting judge, blogger and journalist, decided that he must take beer more seriously after his first visit to the Great American Beer Festival in 2001. After hobnobbing with other beer writers like Stephen Beaumont and Michael Jackson, he was encouraged to amp up his efforts to vocally broadcast the virtues of better beer back home in the Czech Republic. To assist him in that effort, he enlisted the help of Michael Jackson, who, along with owners of a Czech Brewery (Herold), held a press conference to create a local buzz (no pun intended). In the process, Honza and Michael became good friends, with Michael apparently having total faith that if Honza started a brewery, it would put out top quality beer. In fact, MJ threw out an enticing offer—he'd purchase the first 1000 cases of Honza's initial beer to be featured in his Rare Beer Club to help get them off the ground (not an offer he'd make without complete confidence in the product). They began discussing what that first beer should be, and the concept of a Czech IPA was born. Why an IPA? Well, similar to the environment that fostered the US microbrewery revolution, the Czech Republic is a land of lagers. Honza and MJ felt that it was time to introduce the nation to the beery bounty of ales, and, the glory of the hop. When Michael Jackson gets behind your new brewery effort, you gotta go for it right? And go for it with gusto! So that's what Honza did, founding the Kocour brewery in Varnsdorf ("Kocour" is Czech for "Tomcat" and is a nickname of Honza Kočka, since his surname Kočka is Czech for "cat"). Kocour has committed itself to an uneasy task (as Honza describes): "To persuade domestic conservative beer drinkers that beer does not equal a chilled bottle in the fridge, that beer means more than a Czech lager, that beer can go easily with gastronomy, that there is a beer for every season, for every state of mind…that beer is simply much more than is usually perceived." As a result, Kocour has the widest beer style portfolio in the Czech Republic, with several beers being developed with the help of foreign brewers and friends. The beer featured this month, for example, was created with the help of now-legendary Toshi Ishii of Yo-Ho Brewing in Japan (who has a similar mission statement and ambitiousness as Kocour, and also was bitten by the US brewing bug, having worked in southern California at the Stone Brewing Company). As Honza recently told us when asked to comment on this special release of Kocour IPA Samurai, "Yes, we admire the US craft beer scene, it has certainly influenced us a lot. It is our pleasure to send an IPA brewed in the Czech Republic back to its US roots." We know Michael would have appreciated this beer, and we are beyond excited that this beer finally came to be, so that we can honor Michael's original commitment to Honza and to developing the Czech beer scene, by sharing a great rare beer with our members. So members, please raise a pint in Michael's honor (and give Honza a nod too while you're at it). Cheers!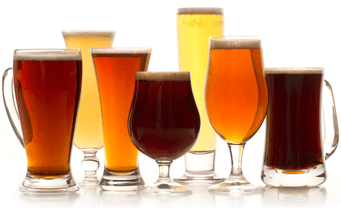 Unmatched Variety by style, brewery & country
Choose from Five different Beer Clubs offering unmatched variety by brewery,
country of origin, and beer style to suit your specific tastes.
DISCOVER OUR FIVE CLUBS