Reuzenbieren - Reuz Black IPA
ABV:

10%

Bottle Size:

750-ml

Serving Temperature:

45–52° F

Suggested Glassware:

Tulip, Nonic Glass or Dimpled Mug
We've been very much looking forward to Reuzenbieren's debut in the U.S., and Rare Beer Club members will have the opportunity to check this one out well in advance of it hitting any shelves. This black IPA from Reuzenbieren offered an experience we haven't been able to find anywhere else, combining the brewery's Belle Saison yeast with a generous selection of Amarillo, Cascade, Chinook and Citra hops—making for a potent, exceptionally nuanced black IPA, brewed in Belgium, but without a doubt created in the Netherlands. As we noted elsewhere, this picked up two major gold medals in the past couple years, at the Dutch Beer Challenge and the World Beer Awards, and it's a truly exceptional IPA+ from Reuzenbieren. Unfiltered, unpasteurized, refermented in the bottle—and a beautifully unconventional take.
The importers (based in the San Francisco Bay Area) mentioned that one very slight change was made to the label before it was finalized for the U.S. It may, or may not, be coincidence that the color of the black-IPA-sipping giant's shirt now matches the San Francisco Giants.
Reuzenbieren's Black IPA pours as promised—deep dark black at the core with cola-brown edges, capped by a very light tan head. The foam at the top stays varied in sized, but creamy, persistent, and generous in its lacing. The aromatics present are some of the very best we've ever had from a black IPA: dense with milk chocolate, nougat, and dried fruit from the very beginning, while the persistent mineral and piney hop presence plays out overhead. Carefully balanced between its dark specialty malts and the melange of hop additions lifting things up.
We've had a lot of black IPAs over the years, but relatively few of them have been especially interesting experiences. That's part of the reason why we've been digging De Pinte Imports, and particularly their focus on next-wave European breweries bringing a fresh perspective to styles like this. Reuzenbieren's Reuz Black IPA is a massive display of potent piney bitterness and hop flavor, expanding into mineral and surprisingly dense floral notes, while its core of a robust chocolate and cocoa dark-malt character (along with a subtle, spicy corollary courtesy its yeast) adds more dimensions than we're accustomed to from this style. This expands into generous roast, baker's chocolate, and subtle nuttiness with a bit of time to warm, and, as we dug deeper, this black IPA (DIPA?) kept expanding: char, dark chocolate, yeasty breadiness.
The brewery gives this a best-before date five years out from bottling, thought it will become a wholly different creature by that point—its hop character lessening over time, and more of those middle-malt oxidative aspects of dry caramel and sherry coming into play. This should develop nicely, but don't expect a black-IPA-ish experience even a year out, as this will likely be a different beer by then. That impactful hop bitterness (pine and mineral focused) makes this a perfect palate refresher for fattier fare, and it seems like some core savory notes would fill out the overall palate. The salinity of peppered bacon or pork belly should be well met.
Reuzenbieren of the Netherlands just started being imported to the U.S. by the brand-new De Pinte Imports out of California. This importer's got a number of great, under-the-radar breweries from Europe set to debut in 2018, including hoppy pilsner from The Ministry of Belgian Beer, and hopless releases from Gruut (making, as you may have guessed, gruits). De Pinte's currently focusing on what they refer to as 'second-wave' breweries from the region, and are importing smaller producers that combine traditional local methods with new-world flair (and, often, hops). Reuzenbieren's black IPA will land to Rare Beer Club members well in advance of it hitting any shelves—and it's a perfect example of what these folks are up to.
Reuzenbieren got its start through a shared love of beer between Jos van Breda and Bernard Smits, who'd been friends since childhood. The two had been avid members of their town's beer tasting association (we wish our town had one of those...), going so far as to compete in the annual Dutch Blind Beer Tasting Championships (also a thing...), which pits beer judges in what we presume/hope to be some sort of inebriated, blindfolded, obstacle-course-based battle royale. It's actually pretty prestigious—and the importer mentioned Bernard even won one year, being named best beer judge in all of the Netherlands! The competition's prize was brewing lessons, which Jos joined him for, starting them down a now-familiar rabbit hole.
Their very first commercially released beer occurred as part of a local biannual(-ish) festival, which so happened to be a festival for giants. Moergestel and its surroundings have folklore relating to giants in the surrounding hills, and, honestly, beyond that, how much of a nudge do you really need to have a festival where you get to dress up as giants and drink special beer? We may see you at a future one. The debut beer of Jos and Bernard was a big success, and completely gone the first day. When the time came later to open their own commercial brewery, with a third partner, Martin Op't Hoog, they also happened to be making gigantic, flavorful beers, making the naming easier. "-bieren" means beers. "Reuzen-" means giants.
Jos and Bernard have been brewing together for over 15 years now, with most of that beer being created for local consumption at festivals up until recently. For making batches of the larger-scale releases, Reuzenbieren currently travels a few kilometers down the road to their Belgian neighbors, Het Nest in Turnhout, recreating the recipes they've developed over the years to their liking. Reuzenbieren's Black IPA and Lentebock both recently picked up gold medals at the World Beer Awards, and we're thoroughly excited to get a sufficient amount of this initial shipment for our Rare Beer Club members. This brewery will have a very modest presence in 2018, through distribution in Ohio and Tennessee, though our members will be the first folks stateside to get the Black IPA. For any folks traveling nearby the Netherlands, the brewery's currently got a small-batch brew system plus an upstairs tasting room. For the latest hours, release info and more, head over to their website at www.reuzenbieren.com.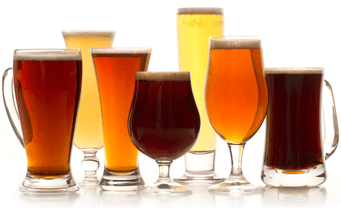 Unmatched Variety by style, brewery & country
Choose from Five different Beer Clubs offering unmatched variety by brewery,
country of origin, and beer style to suit your specific tastes.
DISCOVER OUR FIVE CLUBS