Rowley Farmhouse Ales - The Smoking Swede
ABV:

5.5%

Bottle Size:

750-ml

Serving Temperature:

48–55° F

Suggested Glassware:

Nonic, Tulip, Teku, or Trusty Drinking Horn
Let's get a sense of what we're digging into with this one. Gotlandsdricka is the indigenous beer of Gotland, Sweden's largest island, located in the Baltic Sea between Sweden and Latvia. Similar in many respects to Finland's native brew, sahti, this is a type of beer that typically relies on juniper—both berries and twigs—and is typically made in the home or farmhouse according to traditional recipes. The name means "drink of Gotland" or translated further, "drink of the good land." Both styles also tend to have rye and oats in addition to malted barley, and often use local herbs, and in the case of Gotlandsdricka, sometimes local honey. Though Gotland is a relatively small land mass (at about 30 miles wide by 100 miles north to south), due to local, often family-based recipes there is quite a wide interpretation of the style; one person's homebrewed Gotlandsdricka is quite likely to taste very different than another's. Unlike most sahtis, Gotlandsdricka tends to rely heavily on wood-smoked malts. In the days before brewers' yeast was cultured, many Gotlanders used baker's yeast, sometimes by way of actual bread loaves, or relied on wild yeasts and bacteria cultures residing on the juniper sticks used to stir the brew.
Today the population of the Gotland is approx. 57,000, and residents have much to boast of their cultural heritage. Human presence here predates history, with evidence of civilization dating back to at least the Stone Age, though perhaps the most enduring legacy is that of Viking culture and the middle ages. It's not clear when something resembling today's "average" Gotlandsdricka was first brewed (and truth be told, any native beer brewed there at any point would be, by definition, a Gotlandsdricka), but as is typical of insular cultures, most everything is sourced locally, and traditions endure a bit longer than is often seen on the mainland. Primitive, raw, wild beer, Gotlandsdricka is indeed a rare, traditional style.
This month, we're able to offer this special release from Rowley Farmhouse Ales as a Rare Beer Club exclusive offer. This beer will be sold through the club and the brewery's tasting room only, and it's one of the hardest-to-track-down beer styles we've featured in a while.
This pours a well-hazed, golden-orange color, capped by a moderate display of bubbles. As advertised, this feels like fresh, turbid, vibrantly yeasty beer. Gotlandsdricka and its intricate farmhouse brethren seem very much appropriate for a world in which hazy IPAs have risen to the top-entered category at the Great American Beer Festival (which happened this year). There's vibrant, sourdough-like tartness immediately apparent, refreshing and citrusy, spilling forth from the aromatics, conjuring fresh-baked bread, lightly tart lemons, and a hint of rye. The smoke is subtle but pervasive: birch-smoked malt, while of a different sort of wood, had us thinking of the tightly wound smokiness of Lagavulin. And that's all just in the aromatics.
This beer is something else. The lightly tart core citruses and sourdough-like yeastiness form the foundation from the get-go, with a modest undercurrent of carbonation providing just enough lift. We've definitely never had anything quite like this beer before... That touch of rye adds a comforting warmth and spice, while the birch-smoked malt is exceptionally well integrated: super smooth, nothing close to the face-punch of lesser rauchbiers, and it works great alongside the other core notes here. (Not anything close to astringent, despite the firm smoke experience.) This old style might take a bit of time to get used to, with the wild yeast in addition to the core components of birch-smoked malt and juniper. The juniper offers up a nicely herbaceous, even spicy component throughout that had us thinking of sahti—but this also very much goes off in its own direction from that juniper-heavy style. That smoke and fruits and juniper grow more rounded with a little more time to warm up. As one of the very limited number of opportunities to try this historic Scandinavian style, this proved to be surprisingly refreshing and complexly composed—at least in Rowley's contemporary take.
The birch-smoked malt component comes through most clearly at the far end of things, with a robust smoke profile that expands. (Much respect to Tobias, the smoker of Rowley's birch-smoked malt.) The finish definitely brings everything into clearest view: delicious, toasty and dry, with a nice and nearly peaty smoke component adding further structure, and all sorts of complex tartness showing with a bit more time. Rowley presents Gotlandsdricka as a delicate balance of disparate elements: potent citruses, soft smoke, savory undercurrents (courtesy of both rye and wood contributions). This is very much a beer worth spending some time with: a conversation-inspiring combo of nontraditional smoke, funky yeast contributions, beyond-normal-bounds grain additions, herbaceous juniper... There's so much going on here. It's an odd, and highly uncommon, experience to be sipping Gotlandsdricka. We'd share this one.
We'd generally encourage our Rare Beer Club members to dig into this one fresh. There's a vibrant combination of sourdough notes, subtle mineral bitterness, and delicate smoke that's prone to get more muddled over time. As far as pairings go: the combination of herbaceous juniper alongside bright citrus and smoke has us thinking of roasted chicken or pork sausage. That said, we could also see a creamier, smooth goat cheese fitting in as an ideal backdrop.
Rowley Farmhouse Ales down in Santa Fe hit our radars pretty recently, having opened in 2016. But the funky farmhouse ales and sour concoctions these folks have been putting out have been quickly making them a name in the wider beer world. Rowley brewed something special for us this month—a rare Gotlandsdricka, inspired by the historic Scandinavian beer style—and pretty much pulled out all the stops in creating this one, as some of the necessary ingredients can take some doing... Rowley is headed up on the beer side by brewmaster John Rowley, who's worked as a lab scientist at Los Alamos National Laboratory for the previous dozen-plus years, picking up 80+ regional and national brewing awards along the way. We're thrilled to be able to get this brewer's work into the hands of our Rare Beer Club members.
We'll let Rowley introduce The Smoking Swede, as well as his methods for creating it:
"The Smoking Swede is an interpretation of Gotlandsdricka, an indigenous farmhouse ale brewed on the island of Gotland. The small island of Gotland is 40 miles or so off the coast of Sweden in the Baltic Sea. Since the Viking age, this beer has been continually brewed on Gotland, often in small wooden mash tuns called rostbunns. A main component to this style involves the use of juniper, and since we have no shortage of local juniper in and around Santa Fe, we foraged our own local boughs and berries to be used in the brewing of our version. We also used birch smoked malts, that our good friend Tobias smoked for us up in the hills in the Jemez wilderness. Typically one might choose a harder wood in the US, but we wanted to be true to style as much as possible.
"Besides the birch smoked malt, the grain bill for this beer consists of a large portion of rye, raw wheat and naked oats. We lightly hopped this to 22 IBUs using Russian Serebrianka hops, and fermented it using our house mixed culture. This beer was brewed exclusively for the Rare Beer Club and Pints for Prostates, an organization we stand behind wholeheartedly. It will only be available through the club, and we will also be pouring a gin-barrel-aged version during Denver Rare Beer 10 and at our tap room. Cheers! Or should we say Skål!"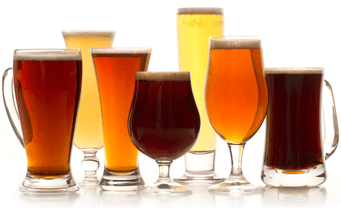 Unmatched Variety by style, brewery & country
Choose from Five different Beer Clubs offering unmatched variety by brewery,
country of origin, and beer style to suit your specific tastes.
DISCOVER OUR FIVE CLUBS