Saint Somewhere Brewing Company - Cynthiana
ABV:

8.00%

Serving Temperature:

48-55° F

Suggested Glassware:

Tulip or Oversized Wine Glass
Brewery owner, founder, brewer (and as sole employee, almost everything else), Bob Sylvester created this beer just for our members, and we're pretty darn psyched to be bringing it to you. The beer is named for the Cynthiana grape, also known as the Norton varietal, named after Dr. D. N. Norton of Richmond, Virginia, who first grew the hybrid in 1820. It's the oldest cultivated American grape, and is one of, if not the only true, native grape variety in the U.S. As Bob is fond of using local Florida ingredients in his beers (as well as Belgian malts and European whole leaf hops), it came as no surprise to us that he sourced these grapes from a small vineyard in North Florida, which, as Bob pointed out to us, "is the birthplace of wine in the US thanks to the Spaniards." Incidentally we love talking with Bob, he's like a proud papa when he describes the history and various virtues of his home state. The Cynthiana grape must (i.e. the fresh pressed skins, seeds and juice) is added to the secondary fermenter, where some sugars are fermented out but plenty of the character remains in the beer—though this particular grape is known for its relatively neutral qualities, so don't be surprised if its influence is nuanced. Cynthiana pours an absolutely gorgeous copper orange color, dressed with a large, cream-colored head. A truly beautiful beer—hold it up and let it catch some sunlight to really appreciate how beautiful this beer is. Our noses are greeted by a truly welcoming aroma—notes of fresh oranges and lemon zest are profound—sunshine and citrus—a liquid version of old world Florida! There is a richness, almost a creaminess blanketing the scent, and such robust Belgian character, it's almost as if we're at a café in West Flanders, drinking a freshly drawn bolleke of Belgian ale. We also got a flash of white wine (think Chardonnay) as it stills, whereas swirling amplifies up the fresh fruit and floral perfume that is at the core of this beer. A bit of sweet dough makes its way out as well. Now, we could sniff this beautiful brew all day, but, eventually one must move on. On the palate, the beer is less fruity than the nose would suggest, offering a wine-like dryness, and the kind of gentle bitterness you get from apple and grape skins. When young, there's a minor suggestion of plantains, but this will fade relatively quickly as the beer ages. Look for a mild tartness and some subtle suggestions of tea with lemon, with a light bite of black pepper. In the finish, there is a nice, cleansing bitterness that approaches lime zest—a wonderful combination of the whole cone strisselspalt hops and the grapes. Finishes with very pleasant, vinous after-breaths and an ever-present citrus zest. This truly is a lovely beer, one that transports us to old world Belgium, by way of western Florida!? Who would have thought beer this good, this authentically Belgian, could have come from just outside Tampa? Bob Sylvester, that's who. Remember that you cannot get this beer outside of the club, unless maybe you visit the brewery and nip on some of Bob's limited personal collection, so if you want more to enjoy, or, to taunt your friends with (whatever floats your boat), consider upping your order this month. Our thanks go out to Bob for brewing this up for us. He also provided us with some notes regarding cellaring this beer—as Cynthiana will hold up nicely for at least three years—"as it ages, the maltiness will rise along with the usual Belgian Dubbel notes of raisin, rum and toffee, but will become drier due to the yeast and the grapes." We can hardly wait to check in on our own stash at 6-month intervals from 6, 12, 18 and 24-36+ months down the road. This is some great beer—now and later. Cheers friends!
The last time we featured the Saint Somewhere Brewing Company, our write up began as follows:"There are certain 'good beer hot spots' in the country, where craft brewing is at the forefront of the local brewing culture and people are taking notice. Florida is not one of them." Well, things have changed—not that you can walk into any Florida town and find a world class beer bar, or a beer geek's favorite brewery, but some truly gifted brewers have been washing away the lousy reputation that Florida has held with respect to good beer. Saint Somewhere Brewing's deftly made beers have been a big part of that. Their focus is traditionally-brewed, small batch, handcrafted Belgian-style ales, with a local spin. And small they are: in 2011 they produced about 375 barrels of beer. That's less than 12,000 gallons of beer. To put that into perspective, many U.S. families use more than that volume of water each month in and around their homes. Founder and owner Bob Sylvester got his brewing start in 2001 on one of those "Mr. Beer" homebrew kits that you may have seen at Bed, Bath & Beyond and the like. Now, if you can make good beer on one of those "systems," the beer gods may just be telling you that you've got some talent. Spurred on by his early homebrew efforts, Bob joined a homebrewing club near his home in the Tampa Bay area and honed his skills. Entering one of his beers (a tough-to-homebrew Flemish-style Red Ale) into the Best Florida Beer Competition, he beat out over 300 Florida homebrews, winning the category and taking home Best of Show! A mere five years after that first Mr. Beer brew, Bob went pro, leaving behind an over twenty-year history working retail in men's clothing, and starting the Saint Somewhere Brewing Company. He wanted the company to be very Florida-centric but to brew beers that fit into a Belgian-style sort of style spectrum. The name "Saint Somewhere" comes from a lyric in the 1979 Jimmy Buffett song called Boat Drinks: Lately, newspaper mentioned cheap fare I gotta fly to saint somewhere… It's a clever reference not only to the beach and island lifestyle that comes with Floridian life, but the "Saint" reference marries that concept to the famous Abbey-style ales of Belgium. Other Floridian themes are peppered throughout his work, from his website to the names of his beers—not surprising as Bob (and his wife) are Florida natives. Bob's choice in imagery recalls the Golden Age of Florida, before it became known more for Disney World and Spring Break than as a grand getaway for the nation's elite. In fact, the label imagery on every bottle of the Saint Somewhere beers was taken from a sort of "Florida tourism brochure" printed in the early 20th century, evoking images of tropical paradise, fairies and the land of milk and honey. A penchant for the old world is evident in the packaging and the brewing of his beers—and both work toward elevating the perception of beer as a gourmet product—something the Florida beer scene has greatly benefitted from. As the sole employee of the company, Bob has complete creative control and LOTS of work; the man makes his own candi sugar for goodness sake (a key ingredient used in brewing numerous Belgian ales). But he managed to brew us an exclusive beer just for Rare Beer Club members. His brewery started as an assemblage of used dairy equipment and open top wine fermenters—with nothing electronic in his brewing apparatus—everything done manually. He's added some new gear, including the first bit of electronically-controlled devices, a glycol chiller, which is used to keep things consistent between the winter and summer months. Still not used to control fermentation temperature so much as to keep things below 95°F in the summer… It's still basically a scaled-up homebrew system that uses open fermentation, where the beer is left to ferment in unclosed containers, permitting some ambient, wild airborne yeast to take root, and letting Bob visually check the fermentation at every stage. It's a traditional Belgian technique, and Bob is very fond of authenticity in his approach, even paying more to import only Belgian malts (the same ones used for nearly all Trappist breweries) and European whole leaf hops. He even adds Brettanomyces (basically "wild yeast") while bottling his beers, giving a slight funky, farmhouse character that nicely dries out the beers, and naturally conditions (carbonates and matures) the beer while it sits in the bottle waiting for the lucky sipper to embark on their own journey to St. Somewhere. The brewery's website,
www.SaintSomewhereBrewing.com
, is a bit light on info—though it has a number of cool photos of Tarpon Springs and Tampa from the early 1900s. They do have a presence on Facebook that they update regularly, so go make friends with them there (search for Saint Somewhere Brewing). And if you're in their area, near Tampa Bay, you may be asked (via Facebook) to help Bob bottle any of his current lineup of three beers—he often is in need of volunteers, and will give you free beer for your trouble! The brewery is open for tours on Thursdays and Fridays from 6-8pm. $10 gets you a Saint Somewhere glass to take home and three 8-oz fills. Can't beat that deal!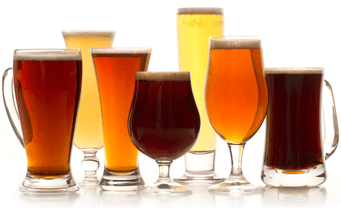 Unmatched Variety by style, brewery & country
Choose from Five different Beer Clubs offering unmatched variety by brewery,
country of origin, and beer style to suit your specific tastes.
DISCOVER OUR FIVE CLUBS