Sly Fox Brewing Co. - Nihilist
ABV:

10.0%

Serving Temperature:

52–59° F

Suggested Glassware:

Snifter, Tulip, Burgundy Glass
It was a little tough to sip this one without an occasional "We believe in nothing, Lebowski!" echoing through our subconscious, conjuring white Russians. We didn't mind this. Nihilist is an expansive, generous imperial stout that never once had us questioning the underlying core principles of our existence. There's a rich, mouth-enveloping viscosity here that brings layers of dark chocolate and caramel, invoking Bell's Expedition Stout profile with less bitter roast.
It's a delicious beer. And it stays away from feeling overly heavy, hitting its stride at a slightly cooler temperature than many imperial stouts. Each sip seems to change slightly, the palate's shifting focus from the light smoke on the finish, to fruit leather and dark chocolate striking the mid-palate, to the subtle impact of herbal and citrusy hops. There's a lot going on here, if in a way that doesn't feel at all cluttered, and the secondary bitterness from the roasted malts keeps this beer on point. Nihilist pours a deep-dark chocolate brown, modestly viscous, with lacing like cocoa. We have to be in a certain mood for the imperial stouts that seem a bit like porridge; Sly Fox's version keeps things friendly: assertive lift from fine-bubbled carbonation and a zesty bitterness, and a fruity, almost-ninja-like-in-its-stealth dose of warming alcohol. It goes perfectly, pulling together an imperial stout that unabashedly encourages you to drink it.
The aroma on this seems to stay relatively lean. We found ripe cherry notes waiting up front, subsequent middle malts like milk-chocolate caramels. One finds sections of bitter roast and licorice and espresso on the periphery, most of the bitterness actually coming from the malt. Sweet red fruits fill the space between, with some roasted marshmallow. Soft roast, but rich.
The flavors follow accordingly, following similar weighting. There's a forward red fruitiness, a nicely ripe mélange of berries, cherries, and fruit leather. The hop bitterness and flavor isn't a huge component of this, as the aroma sort of suggested. But they're well measured against the sticky caramel and toffee notes that follow, which never get to fully adhere. Instead we're offered embittered roasted malts, toasty bread, and bitter chocolates that almost feel citrusy. The fermentation on this allows some residual roundness at the core, giving it a bit of heft.
For all the imperial stouts we've sampled over the years, which would decidedly not be in the single digits, we tend to be especially fond of the ones that succeed at pinpoint mouthfeel, as in we really enjoy the physical process of drinking them. Mouthfeel is underrated. And in the imperial-whatever categories, it's even more important (just ask the Belgians) to take how the beer physically feels seriously. Drink a beer flat and you'll know. Drink a beer that fizzes into the ceiling and you'll know. Texture, refining bitterness, lifting CO2… And it's just delicious.
Sly Fox Nihilist is bottle conditioned, so don't worry about setting some down on that front. We would encourage members who are planning to cellar some bottles to keep an eye on the bitterness level, just to make sure enhanced caramel doesn't tip things the wrong way. As for food: we found ourselves wanting to amplify that light smokiness alongside ribs or pork loin. Nihilist has only been brewed once before, as a draft-only release. Aside from limited release in the general vicinity of the brewery, the majority of this batch is allocated for our members.
The Sly Fox story began in 1994 when Pete Giannopoulos, who left his job in corporate sales earlier that year to pursue his dream of opening a brewpub, found a site in southeastern Pennsylvania that seemed perfect—an old inn with a barn that he envisioned as a future brewery. But when he talked to the New Jersey investors who'd been encouraging his search, he discovered that talking was the extent of their game. But did he fuhgettaboutit? Not a chance. It was a disappointment, but as the old saying goes (we're taking some editorial liberties here), when the going gets tough, the tough get sly. Having lost the investors he thought were on board, things all fell into place with a single suggestion from family patriarch, Dr. Peter H. Giannopoulos: "Why not let us be your partners?" With that, what had been simply a personal business prospect suddenly became a prospective family trade.
In the end, even with family investments procured, that original site didn't pan out, and for a couple of months with no luck finding an alternative, Pete began to reluctantly consider a return to the corporate world. Then, another family member came to the rescue. During a phone call from Pete's mother, she mentioned walking around Pikeland Village Square on Rt. 113 in southeastern PA, where she noticed a large building with a 'vacant' sign on the door. "I think I've found the place," she told her son. And indeed she had.
The Sly Fox had found its den. Pete quickly went to work designing the pub, while he and his younger brother John set out to become professional brewers. The whole family pitched in, with Mrs. Giannopoulos helping to decorate and various aunts and uncles helping out. Older brother Harry was put in charge of the books and financial records, while younger siblings Wendy and Glenn signed on to work at the pub. The name "Sly Fox" was arrived at during a "family meeting" (there were lots of those in those early days) to reflect the brewpub's home in Pennsylvania's Chester County and the area's fox-hunting tradition. An original logo modified from a drawing of Pete's showing a smiling fox lifting a pint was hung above the entrance. And with that, The Sly Fox Brewhouse & Eatery opened its doors on December 20, 1995.
Current head brewer Brian O'Reilly arrived in March 2002. Brian had been bit by the beer bug during an overseas study program in Austria during his college years. After graduation, he began working at an area microbrewery, then moved on to an assistant brewer position at New Hampshire's Brewers Bier Haus where he honed his craft under brewmaster Phil Markowski (whose excellent Cuvée des Fleurs we have featured previously). O'Reilly took over when Markowski left to become brewmaster at Southampton Publick House.
After a few other stops, O'Reilly came to Sly Fox, where his innovative versions of Belgian and German beer styles, among others, have won the brewery high praise and national recognition. Since opening over 18 years ago, Sly Fox has relocated the original brewpub and opened a full production brewery. In 2006, they added a canning line, making them the first brewery in the Mid-Atlantic region to use canned beers as their primary package. That move made Sly Fox one of the forerunners of the canning revolution that has been sweeping the industry ever since. One of our beer panel members recalled trying her first canned beer—it was Sly Fox's Pils, and it was "gloriously, shockingly great." We're pleased to be able to offer our members the brewery's Nihilist, their limited-release Russian Imperial Stout.
by Ken Weaver
Perhaps my favorite part of Randy Mosher's Tasting Beer, or at least the part that's most stuck with me, is the occasional inclusion of what he calls "Historical Styles." German porters, for example. American pre-Prohibition pilsners. Steinbiers. Lichtenhainers. Antique styles that—for one reason or another—hadn't managed to stick around, or hadn't yet managed to find a modern-day champion for what those styles could be. (Martyn Cornell's Amber Gold & Black does a particularly good job of capturing Britain's historically finicky beer-style preferences.)
All told, lost styles tend to be a lot more interesting when they come back. (It's hard to drink an old brewing text, even with a good blender.) One of my best tastes from the past year was a Gose via Portland's Upright. Ten years ago, there were a handful-ish. Today: hundreds. In similar fashion, Sly Fox produces what's arguably the most influential stateside Grisette. The style is an old Wallonian one, described in Phil Markowski's Farmhouse Ales as follows: "Oral accounts of those who remember the old grisettes say they were low-alcohol, light-bodied, saison-like golden ales of no great distinction." Sly Fox took home a GABF silver last year for theirs, in the competitive Belgian- and French-Style Ale category. To newfound distinctions.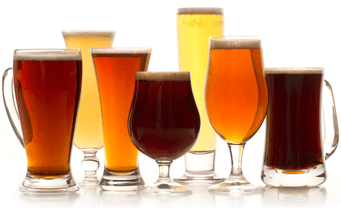 Unmatched Variety by style, brewery & country
Choose from Five different Beer Clubs offering unmatched variety by brewery,
country of origin, and beer style to suit your specific tastes.
DISCOVER OUR FIVE CLUBS