Sly Fox Brewing Company - 20
ABV:

6.6%

Serving Temperature:

39–47° F

Suggested Glassware:

Tulip, Chalice, or Pinot Glass

"Two decades is but a tick of the cosmic clock, but nonetheless it is an impressive milestone for any family-owned business. In that time, the brewing company "family" has grown to include a state-of-the-art production facility, two popular pubs and committed kin that consistently deliver award-winning, authentic beer to an ever-growing audience of dedicated fans. In 2016, as we press on toward the next twenty years, we extend gratitude to everyone who has supported our mission." –Sly Fox 20 label notes
Sly Fox's 20 is a one-time release in celebration of their 20th birthday—so we don't expect to see it again anytime soon. (Maybe for their 40th?) This limited Belgian-style golden ale saw an exceptionally modest distribution outside of the brewery, limited to about 250 cases that saw a bit of shelf time in New York and Pennsylvania. Our long-standing relations over the years with the esteemed Sly Fox team allowed us to finagle enough of it for our Rare Beer Club members.
Behold! More glorious beer and finagling awaits!
This is lovely stuff in the glass, drumming up memories of the world-class Westmalle Tripel and other massively headed Belgian-style tripels and/or golden ales. 20 pours deeply golden with a good bit of haze present. That bright, white foam atop said nectar takes up a sizable portion of the glass, leaving behind a peristent ring of lacing. Everything we'd want to see.
Throughout, this feels like a way bigger beer than the 6.6% suggests. There's no alcohol or anything along those lines, but we really dig how much of a robust yeast character and crisp maltiness is coming through here. Aromatics lead with notes of almond and citrusy pepper, with things opening up from there into doughy, honeyed malts along with dates and sweet-orange qualities. There's just enough sweetness here—like marmalade on buttered toast. A subtle, refreshing vein of grassiness and mint appear on the edge, courtesy of dry-hopping.
Best of all, for us, is all of that combined crispness and honeyed depth following through in the flavor. We were totally down with this one. A firm undercurrent of zesty carbonation is assisted by the solid peppery and clove phenols from the yeast. One could, for better or for worse, think of these elements as the reliable and efficient honeycomb structure underneath the layers of baklava-like sweeter notes of this beer. There's rich honey, candied oranges, an expansive doughiness, toasty bread, vanilla-focused esters—as much as you care to look for. Yet the complete package feels effortlessly light: a sign of greatness in Belgian-style brewing.
This is bright, limber, herbaceous and delicious. Drink up! If you don't immediately do so... this one should be good for at least a year or so in the cellar, with our only reservation being the modest alcohol levels present. Effervescent carbonation and pepper here are able to slice through buttery, fattier pairings; the orange marmalade note suggests a chicken or duck focus.
The Sly Fox story began in 1994 when Pete Giannopoulos, who left his job in corporate sales earlier that year to pursue his dream of opening a brewpub, found a site in southeastern Pennsylvania that seemed perfect—an old inn with a barn that he envisioned as a future brewery. But when he talked to the New Jersey investors who'd been encouraging his search, he discovered that talking was the extent of their game. It was a disappointment, but as the old saying goes (we're taking some editorial liberties here), when the going gets tough, the tough get sly. Having lost the investors he thought were on board, things all fell into place with a single suggestion from family patriarch, Dr. Peter H. Giannopoulos: "Why not let us be your partners?" With that, what had been simply a personal business prospect suddenly became a prospective family trade.
In the end, even with family investments procured, that original site didn't pan out, and for a couple of months with no luck finding an alternative, Pete began to reluctantly consider a return to the corporate world. Then, another family member came to the rescue. During a phone call from Pete's mother, she mentioned walking around Pikeland Village Square on Rt. 113 in southeastern PA, where she noticed a large building with a 'vacant' sign on the door. "I think I've found the place," she told her son. And indeed she had.
The Sly Fox had found its den. Pete quickly went to work designing the pub, while he and his younger brother John set out to become professional brewers. The whole family pitched in, with Mrs. Giannopoulos helping to decorate and various aunts and uncles helping out. Older brother Harry was put in charge of the books and financial records, while younger siblings Wendy and Glenn signed on to work at the pub. The name "Sly Fox" was arrived at during a family meeting (there were lots of those in the early days) to reflect the brewpub's home in Pennsylvania's Chester County and the area's fox-hunting tradition. An original logo modified from a drawing of Pete's showing a smiling fox lifting a pint was hung above the entrance. The Sly Fox Brewhouse & Eatery opened its doors on December 20, 1995.
Current brewmaster Brian O'Reilly arrived in March 2002. Brian had been bit by the beer bug during an overseas study program in Austria during his college years. After graduation, he began working at an area microbrewery, then moved on to an assistant brewer position at New Hampshire's Brewers Bier Haus, where he honed his craft under brewmaster Phil Markowski (whose excellent Cuvée des Fleurs we have featured previously). O'Reilly took over when Markowski left to become brewmaster at Southampton Publick House.
After a few other stops, O'Reilly came to Sly Fox, where his innovative versions of Belgian and German beer styles, among others, have won the brewery high praise and national recognition. Since opening, Sly Fox has relocated the original brewpub and opened a full production brewery. In 2006, they added a canning line, making them the first brewery in the Mid-Atlantic region to use canned beers as their primary package. That move made Sly Fox one of the forerunners of the canning revolution that has been sweeping the industry ever since. One of our beer panel members recalled trying her first canned beer—it was Sly Fox's Pils, and it was "gloriously, shockingly great." We're pleased to be able to offer our members the brewery's 20, a one-time Belgian-style release for their 20th anniversary.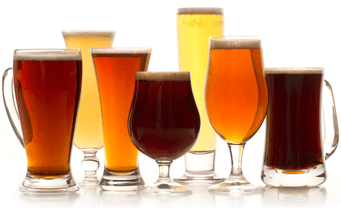 Unmatched Variety by style, brewery & country
Choose from Five different Beer Clubs offering unmatched variety by brewery,
country of origin, and beer style to suit your specific tastes.
DISCOVER OUR FIVE CLUBS