Sly Fox Brewing Company - Ichor
ABV:

10.00%

Serving Temperature:

48-55° F

Suggested Glassware:

Tulip or Snifter
"In mythology, Ichor was the rarified element which flowed through the veins of the gods, making them superior to mere mortals. In reality, Ichor is an extraordinary Belgian-style Quadruple which allows mortals of discriminating taste to enjoy an experience of almost godly perfection."

Ichor is an Abbot style Quadruple brewed with German Pils and Roast malts, Belgian Candi Sugar, and German Tradition hops. Expect it to pour a burgundy brown color, capped by a frothy, off white head. There is a slight, initial waft of Belgian-style farmhouse funk, supplemented by notes of gingerbread, pumpernickel, Irish cream, cookie dough, plums, raisins and date nut bread. Look for a bit of candied orange peel as well, not to mention some citrus/over-ripened orange notes. Notes from the aroma develop in the flavor profile, but are a bit inhibited by an undercurrent of alcohol, and also colored a bit with some tasty chocolate notes and even a touch of coffee. As Ichor warms, expect some leathery notes to emerge. This beer really just keeps on giving and giving as it comes up in temperature, evoking raisins and oranges soaked in liquor (a liquor that is somewhere between añejo tequila and dark rum), with an ever present brown sugar note. With flourishes of sour/granny smith apples as well, there's a bit of something for everyone. There are some unexpected flashes of vanilla in the finish, suggesting some oak aging, but this beer has not seen any wood at all. Also look for suggestions of coriander and cardamom. The Belgian yeast has really worked its magic on this brew. The finish also suggests grapes, especially as it warms, as well as toffee. Wraps up with a faint spicy heat (peppery, probably from the alcohol). Some euro-pastries going on here too: think croissant with a bit of chocolate spread. Even with plenty of sweetness in this beer, the brewers have managed to balance things quite nicely with a hop profile that bitters things up a bit in the finish. The sweetness prevails, but it was a noble effort on the part of the hops. Overall, this is a big, tasty beer that melds tradition with modern craft brewing creativity. It gets a little hot here and there—but hell, whaddya expect—it's 20 proof—not to mention being the blood of the gods! While it is certainly ready to drink now, this beer will only improve with careful aging. As a bottle-conditioned beer of stature, Ichor will hold up well in the bottle for at least 3 years. Maturation will occur from 3 to 48+ months. We have enjoyed it fresh, and, at 1, 2 and 4 years old, but we're told if treated right (stored at consistent, cellar temperatures) it will provide a nice treat for up to 10 years. Consider picking up enough bottles now to allow yourself the opportunity to do a "vault check" at 1, 2 and 3+ year intervals. You won't be disappointed.
The Sly Fox story began in 1994 when Pete Giannopoulos, who left his job in corporate sales earlier that year to pursue his dream of opening a brewpub, found a site in southeastern Pennsylvania that seemed perfect—an old inn with a barn that he envisioned as a future brewery. But when he talked to the New Jersey investors who'd been encouraging his search, he discovered that talking was the extent of their game. But did he fuhgettaboutit? Not a chance. It was a disappointment, but as the old saying goes (we're taking some editorial liberties here), when the going gets tough, the tough get sly. Having lost the investors he thought were on board, things all fell into place with a single suggestion from family patriarch, Dr. Peter H. Giannopoulos: "Why not let us be your partners?" With that, what had been simply a personal business prospect suddenly became a prospective family trade. In the end, even with family investments procured, that original site didn't pan out, and for a couple of months with no luck finding an alternative, Pete began to reluctantly consider a return to the corporate world. Then, another family member came to the rescue. During a phone call from Pete's mother, she mentioned walking around Pikeland Village Square on Rt. 113 in southeastern PA, where she noticed a large building with a 'vacant' sign on the door. "I think I've found the place," she told her son. And indeed she had. The Sly Fox had found its den. Pete quickly went to work designing the pub, while he and his younger brother John set out to become professional brewers. The whole family pitched in, with Mrs. Giannopoulos helping to decorate and various aunts and uncles helping out. Older brother Harry was put in charge of the books and financial records, while younger siblings Wendy and Glenn signed on to work at the pub. The name "Sly Fox" was arrived at during a "family meeting" (there were lots of those in those early days) to reflect the brewpub's home in Pennsylvania's Chester County and the area's fox-hunting tradition. An original logo modified from a drawing of Pete's showing a smiling fox lifting a pint was hung above the entrance. And with that, The Sly Fox Brewhouse & Eatery opened its doors on December 20, 1995. The brewpub's first brewer was Pete's brother, John Giannopoulos, who was succeeded in the brewhouse by Brady Van Duff, his former assistant. Van Duff was followed in turn by Bob Waterman before award-winning brewer Bill Moore (Stoudt's, Independence) came aboard in 2000-2001 and manned the kettles until current head brewer Brian O'Reilly arrived in March 2002. Brian had been bit by the beer bug during an overseas study program in Austria during his college years. After graduation, he began working at an area microbrewery, then moved on to an assistant brewer position at New Hampshire's Brewers Bier Haus where he honed his craft under brewmaster Phil Markowski (whose excellent Cuvée des Fleurs we have featured previously). O'Reilly took over when Markowski left to become brewmaster at Southampton Publick House. After a few other stops, O'Reilly came to Sly Fox where his innovative versions of Belgian and German beer styles, among others, have won the brewery high praise and national recognition. He also happens to be a charismatic fellow with keen marketing skills; shortly after Brian joined Sly Fox, demand went up—due to his incredibly well-crafted brews, of course, but also because of his contagious enthusiasm and talent for promotion. Since opening 16 years ago, Sly Fox has relocated the original brewpub and opened a full production brewery. In 2006, they added a canning line, making them the first brewery in the Mid-Atlantic region to use canned beers as their primary package. That move made Sly Fox one of the forerunners of the canning revolution that has been sweeping the industry ever since. One of our beer panel members recalled trying her first canned beer—it was Sly Fox's Pils, and it was "gloriously, shockingly great." We love The Sly Fox! The beers are always solid, often staying very true to style, which is quite common in Pennsylvania, having a long legacy of brewing top quality, supremely drinkable beers. Which is not to say that these guys don't step outside of stylistic boundaries—they do (Green Peppercorn Triple, anyone?)—but you can always count on a solid beer from these guys. If you have the chance to visit them at their brewpub or brewery, do it—you'll see family, friends and better beer fans gathered under one roof, basking in the glory of this local treasure trove for good beer and eats. For now, in lieu of a visit to the brewery, we're offering you a great cellaring beer—which just happens to be their strongest bottled beer: Ichor. Enjoy your transformation from mere mortal to godliness. Cheers!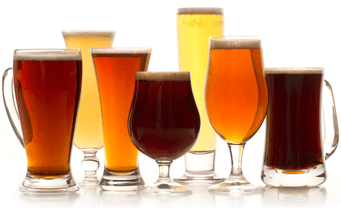 Unmatched Variety by style, brewery & country
Choose from Five different Beer Clubs offering unmatched variety by brewery,
country of origin, and beer style to suit your specific tastes.
DISCOVER OUR FIVE CLUBS