Sonoran Brewing Company - Old Saguaro Barleywine
ABV:

9.2%

Int'l Bittering Units (IBUs):

58
This month's feature selection from Sonoran Brewing Company in rapidly-growing Scottsdale represents the first beer that we have ever offered from dry and toasty Arizona. Given what brewer Scott Yarosh creates at his brewery there, the Grand Canyon state is making a dandy debut.
Tucked away in a side building of the quite whimsical Pinnacle Peak Patio and Steakhouse, the brewery feels like a place that should be visited on horseback (even though the drive there winds one past the customary new stucco homes, golf courses, and retail plazas of the upscale desert suburb). When first opened in 1957, the Pinnacle Peak was a general store and rest stop for travelers heading to nearby lakes. To boost sales of his small business, the owner decided to serve dinner on the weekends and now some 50 years later what started as a weekend cookout has grown into the world's largest western steakhouse, with seating for 1800 people inside and outside for 2000. Yes, that last zero is meant to be there.
In addition to housing the Sonoran Brewery, Pinnacle Peak Patio is renowned for its mesquite broiled steaks, casual western atmosphere, and its no necktie tradition – which is so strict that the scissors and knives come out if you arrive wearing one, so that you may be relieved of your offending cravat. They proudly claim to have cut over a million ties from unsuspecting customers.
Not to be confused with another Arizona brewery that makes the novelty lager with the chili pepper in the bottle, or the Sonora Brewhouse on a main road in Phoenix, or a guy that would probably ever dream of wearing a necktie to a steakhouse, Scott is a focused and entirely hands-on brewer who only recently released Sonoran's first small commercial production in bottles, all 22 ounce and all with fired-on stencil labels. Our Old Saguaro is an exclusive bottling, hence the paper label. Because the beer is otherwise available only locally in greater Phoenix area pubs and restaurants on draft, having a chance to share the Old Saguaro with the Rare Beer Club members is a first, and a genuine treat for us all.
Sonoran's Old Saguaro is a barley wine style ale, aged for months at the brewery. In fact, they brewed this batch of beer on June 16th 2008 and it has been aging in tanks until bottling started on November 21st. Its deep copper color is meant to symbolize Arizona's rich copper history, and like all barley wine is meant to be savored, like a fine cognac.
The beer is named for the famed Saguaro (sah-wah-roh) cactus, which is native to the Sonoran Desert, and the Saguaro blossom is also the state flower of Arizona. Saguaros have a relatively long life span - they take up to 75 years to develop a side arm, and some may live for more than 150 years.
➢ Sonoran's Old Saguaro Barley Wine is boiled for 3 hours, allowing the malted barley to naturally caramelize, giving Old Saguaro its copper color and smooth taste.
➢ We used about 1.16 lbs of malted barley per bottle during the making of Old Saguaro for the Rare Beer Club.
➢ It took 2 people about 3 & 1/2 days to fill and package the Old Saguaro bottles for the Rare Beer Club. That is an average of 1 bottle every 37 seconds per person.
➢ The Starting Gravity is 23.5 Brix, or 1.09714 Specific Gravity
➢ Even though Old Saguaro has 58 IBUs it is not considered to be a hoppy beer. The high amount of malt balances the hops, giving it a more malty flavor.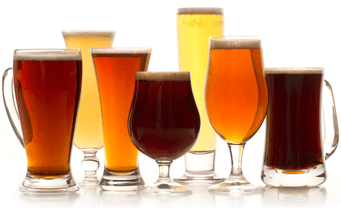 Unmatched Variety by style, brewery & country
Choose from Five different Beer Clubs offering unmatched variety by brewery,
country of origin, and beer style to suit your specific tastes.
DISCOVER OUR FIVE CLUBS