South Street Brewery - Imperial Satan's Pony
ABV:

9%

Bottle Size:

750-ml

Serving Temperature:

48–55° F

Suggested Glassware:

Tulip, Small Nonic, Snifter, or Goblet
For our annual collaboration with the Pints for Prostates organization, we've worked with the folks over at South Street Brewery to pick out a very special beer for this Rare Beer Club feature. $1 per bottle sold of Imperial Satan's Pony will go to Pints for Prostates on behalf of Rare Beer Club and South Street. This limited-release beer was scheduled to be poured at the Pints for Prostates' annual Rare Beer Tasting in Denver this September, which was recently cancelled due to COVID-19 concerns, so we're extra glad to be able to get this beer out into the wild through the Rare Beer Club. Pints for Prostates is a grassroots campaign that raises awareness among men about prostate cancer and the importance of early detection, and was founded by beer journalist Rick Lyke back in 2008. Learn more at pintsforprostates.org.
South Street's Imperial Satan's Pony is a bourbon-barrel-aged imperial red ale clocking in at 9% ABV. The original Satan's Pony amber ale is one of Virginia's longest-running beers, and its imperial counterpart uses twice the malt bill and twice the hops, while aging the outcome for two months in freshly emptied bourbon barrels. Very much into barleywine-like territory, but especially smooth overall. Outside of the club, this beer sees distribution only in Virginia.
This barrel-aged imperial amber ale pours a deep ruby, reddish-brown color, like dark maple syrup. Rather dark overall with an amber glow, capped by a fine-bubbled, light-tan foam that leaves a modest ring of lacing. Generous aromatics of dried dark fruits (dates, raisins…) and caramels lead, though this stays fresh and vibrant overall. Plenty of plush red fruits and cola character, plus hints of maple syrup and an enjoyable, satisfying bourbon presence that never overwhelms the base beer. Burnt sugars, spicy malts, and some modest char from the barrel.
This is an exceptionally smooth 9% beer, emphasizing a robust, toasty amber core and the streamlined, focused impact of its time spent in bourbon barrels. Moderate carbonation is ideally tuned for this rich, deeply malty offering, while hints of a subtle, warming alcohol presence keep it all feeling light. This is such a pleasure to drink, and as it warms we found more and more layers to dig into. Ripe red fruitiness, lightly salted caramel, a hint of high-ABV Zinfandel… We unpacked enormous amounts of core maltiness overall, with pinpoint texture and effortless drinkability. Its bourbon-barrel impact never oversteps, offering spicy, toasty, oaky primary notes that work hand in hand with the imperial red base. We found this to be a hugely successful (and hugely drinkable) scaleup of a classic Charlottesville staple.
Imperial Satan's Pony is suitably sized for some modest aging, though watch the caramelized oxidative notes don't get to be too pronounced over time. In terms of pairings: core notes of deep red fruit and caramel have us looking to grilled pork dishes or a rich pecan pie.
This mont h we're pleased to be able to introduce many of our Rare Beer Club members to the folks at South Street Brewery in Charlottesville, Virginia. South Street Brewery holds an extensive tradition as Charlottesville's longest-running brewery and pub, and they had new life breathed into the operation when the brewery was purchased in 2014 by Blue Mountain Brewery. Blue Mountain will likely be a more familiar name, as we've featured any number of their delicious barrel-aged beers over the years, and two of the brewery's founders—Mandi and Taylor Smack—had worked for South Street almost a decade earlier, with Taylor serving as brewer from 2001 to 2007. The new owners are committed to revitalizing this downtown Charlottesville landmark—and their beer releases have just been getting better and better.
Blue Mountain Brewery in Virginia has already made quite a name for itself within Virginia's craft beer scene, including bringing home eight Great American Beer Festival medals since opening up in 2007. Many breweries would (and do) take the obvious route from there in terms of expansion: invest in a production facility, focus on pumping out as much of their best-selling offerings as possible, and settle in for the long haul. With the opening in 2011 of their second location, Blue Mountain Barrel House, Master Brewer Taylor Smack and fellow partners gave a pretty clear indication that they are decidedly not like most breweries.
Taylor's brewing experience extends back long before Blue Mountain's first location opened 13 years ago. As an enthusiast of world-class beer, you've likely heard of Bourbon County Stout from Chicago's Goose Island—one of the very first bourbon-barrel-aged beers in the U.S. It's still often considered one of the best examples out there, even long after everyone's jumped on the barrel-aging bandwagon. For over a year, Taylor was the only person in the world producing that stout, after he'd taken over brewing responsibilities at Goose Island during 2000 and 2001. That one-of-a-kind brewing experience has certainly informed the direction Blue Mountain has been taking with their Barrel House projects.
Blue Mountain Barrel House, overlooking 4,000-foot mountains along the border of the George Washington National Forest, incorporates a wide range of lessons-learned over the years. The "rural brewpub" model at Blue Mountains' original location encouraged them to go off-grid with their water, drilling a well to ensure more consistent and pristine supplies than they'd likely get from conventional city water. Hundreds of barrels currently occupy the Barrel House—like Maker's Mark, Wild Turkey, Four Roses, and (Virginia to the core) Elijah Craig—allowing them to pursue a wide variety of experimental beers and blending programs.
This month we're pleased to offer RBC members our favorite release we've tried from South Street Brewery so far: their bourbon-barrel-aged imperial red ale, Imperial Satan's Pony. This is an amplified version of one of Virginia's longest-running beers, Satan's Pony, with double the malt and hops, aged in freshly emptied bourbon barrels for around two months.
For the latest info regarding South Street's draft lists, upcoming events, and operating hours, head to southstreetbrewery.com. And for all the latest details about Blue Mountain Brewery and Blue Mountain Barrel House & Smokin' Barrel Restaurant (in Arrington, Virginia, about 45 minutes southeast of South Street Brewery) visit them at bluemountainbarrel.com.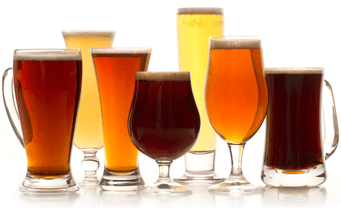 Unmatched Variety by style, brewery & country
Choose from Five different Beer Clubs offering unmatched variety by brewery,
country of origin, and beer style to suit your specific tastes.
DISCOVER OUR FIVE CLUBS