St. Bernardus Brouwerij - Grottenbier Bruin
The beer has a chestnut color; a huge, meringue-like head (marron glacé?); and big aromas reminiscent of oloroso sherry. It is dry at the front of the tongue, developing a medium to full body, with layers of maltiness. The flavors are drily toffeeish and honeyish. The finish is slightly medicinal, resiny, and very long.
This beer was made by one of the biggest characters in Belgian brewing. A very small man physically, but a huge character: Pierre Celis. He's well known for his white beer, but this is obviously not his white beer.
I remember a good 15 years ago, Pierre took me to some caves, and I asked why he was taking me there. He said that he was going to make a champagne-style beer in the caves, letting the beer come to its maturation being turned like champagne and leave it to have a refermentation in the bottle, then freeze the neck and take the plug of ice out. It was a beer that would be bottle-conditioned, but a bright beer. He nurtured that idea for 15 years, and while doing so he opened his brewery in Austin, Texas. That was taken over by Miller, and he moved the brewing of his white beer to Michigan. For a guy in his 70's, he's a pretty busy guy, and he had a triple bypass in the middle of all of that. Before his bypass we were chatting, and I asked him what was next; he said that he would not start any other breweries until after the operation, and he was deadly serious about that.
But finally he did make his champagne beer. He does not have any freezing, he leaves the sediment in. It's a dark beer, and it really doesn't matter whether it's sedimented or not.
The beer is made from predominantly amber Vienna malts, and darker Munich malts. It doesn't have a really dominant hop character, but Pierre uses spices from a tropical country in addition to hops to create that very distinctive and rather hard-to-analyze character. When I first tasted this beer I was getting a lot of toffeeish character from the dark malts, and I think it was from the yeast that I got a very honey-like flavor. This beer has been cellared for several years, and during that cellaring it has become drier and more complex. I think that back when I first tasted it, maybe I thought of Oloroso sherry; now I might be thinking of Amontillado, or Pedro Jimenez sherry. It has remarkably rich and complex flavor, and is drying out as it develops in the bottle. It is an enormously distinctive beer, at about 6.5% alcohol, I find it really quite addictive.
Quite often I name a Beer of the Year. I don't do it every year, but maybe I should. Maybe I should make more of an issue of it. When this came out I named it my Beer of the Year, and now it's been maturing in the bottle for 3 or 4 years, it's still Beer of the Year. I think it's just a wonderful beer. If you had the opportunity to taste it before the current maturation, try it again and see what you think.
You know, we don't do this often enough with beers. We don't work enough on cellaring beers and enjoying the differences. The whole brewing industry is geared toward the idea of consistency. I'll ask a brewer how he wants his beer to taste, and he'll say that he wants it to taste like it did yesterday. I'll say that's not a taste, just being the same as it was. But this is a live, evolving beer, cellared more deeply, in a more interesting place, with a more interesting treatment, turning the bottles in a very constant temperature. It's a very interesting way of encountering what bottle-conditioned beer can be.
Grottenbier they call it. It means beer from a grotto, a cave beer. This is a wonderful and very complex example of a cave beer. Push the boat out, it's quite expensive, but I think you'll enjoy it. It's been my Beer of the Year once, and probably could be Beer of the Year quite a few times.
It's a big beer, and could dominate anything other than a rich stew. Perhaps with oily fish? Grottenbier was served very successfully with eels in a Belgian beer dinner at Monks Café, in Philadelphia. Its medicinal touch (those "South American" spices?) might go well with fennel or celery root. Or dishes flavored with absinthe, Pernod, pastis or anis. A bouillabaisse, perhaps? I am not sure the Belgian counterpart, a waterzooi, is allowed to be sufficiently rich or spicy. Cookery writer Ruth Van Waerebeek ("Everybody Eats Well in Belgium", Workman Publishing, New York) has a recipe for sautéed monkfish on a bed of Belgian endives in a Witbier sauce, which I feel could be accompanied by Grottenbier. Or try it with gumbo or jambalaya, dishes associated New Orleans. The city of voodoo might appreciate a beer from rocky cellars. Both of those dishes can mix fish and meat; Grottenbier and and andouillettes?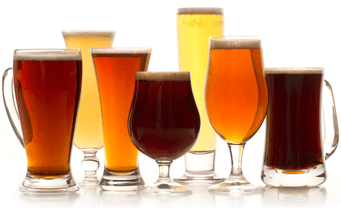 Unmatched Variety by style, brewery & country
Choose from Five different Beer Clubs offering unmatched variety by brewery,
country of origin, and beer style to suit your specific tastes.
DISCOVER OUR FIVE CLUBS