Strange Roots Experimental Ales - Agent Orange
ABV:

9%

Bottle Size:

750-ml

Serving Temperature:

45–52° F

Suggested Glassware:

Tulip, Teku, Snifter, or Pinot Glass
Two exclusives this month! Like this month's dry-hopped version of O'so Brewing's Project LO, this fruited, mixed-culture ale from Strange Roots is exclusively available through The Rare Beer Club, with a modest amount being allocated for the brewery's tasting room in Western Pennsylvania. We've been following the under-the-radar work of Draai Laag (now: Strange Roots) for years, as Dennis Hock and company have been putting out exceptional sour ales in very limited quantity through Shelton Brothers, and the recent brand reorientation seems like a good long-term move for getting the word out about these beers. This month, we get to offer Strange Root's Agent Orange to our Rare Beer Club members, and we think this is the ideal release to start with: a brilliantly developed tart ale, with persimmons and apricots.
This is a particularly special beer from Strange Roots. It's the first time they've bottled into a 750mL format, which they did specially for the club, and it's also the first beer they've so far released under the Strange Roots label that they've made with foraged local microorganisms. The core beer is a heftier version of their base saison, fermented with organisms the brewers harvested locally, while a secondary fermentation is started with the addition of fresh, whole apricots, followed by the persimmons. Dennis mentioned the persimmons provide an almost orange-candy character when fermented, while the apricots land with funk and peachiness. It is probably worth reminding folks that this beer's 9% ABV—the alcohol is very well hidden.
Agent Orange pours, not too surprisingly, with a pulpy orange/apricot color, capped by soft white foam, showing a bit of haze overall. This feels juicy, for sure, as rich aromatics appear immediately after this is poured: tart apricots and peach notes leading the charge, a welcome touch of vanilla near the perimeter, and a dense melange of fruits, apricot skins and complex acidity at the center. The mixed-culture indigenous fermentations offer up a nicely developed blending of tart citrus, smooth lactic acidity, and a nuanced array of fruitiness that works well with the special additions. A firmly tart aroma, with plenty of depth to keep us coming back.
Strange Roots ages nearly all of their beers in oak barrels, typically from between nine and 12 months, though this example was fermented entirely in stainless steel, with an impression of tannins coming from those apricot skins, adding some nice structure. Its flavor profile brings a delicious range of fermentation character throughout: tart lemon and grapefruit-like acidity, hints of funk and salinity, smooth notes of almond and candied orange, and even touches of sourdough and fresh limes, as we dig down. The fermentation profile's unique and delicious.
And the special additions kick this one up a few more notches... The apricot and persimmon play out perfectly in expanding beyond the tart citrus focus of the base, bringing that unique, sweet-persimmon impact alongside apricot notes that feel peachy and properly ripe. With the pinpoint, fine-bubbled carbonation of this special offering, and that sense of tannic structure guiding things, this limited release from the folks at Strange Roots proved to be the standout of everything we've managed to taste from them. There's tons of bright fruit presented, with ample expression of those lesser-seen special additions, and lots to love about this beer.
While the fruit aspects of this beer will mellow out over time, we expect this one to continue developing nicely in the bottle for six months or more. We'd encourage members to pop an early bottle for full fruit effect. For food pairings, we're inclined to think in terms of the key notes of lemony citrus and apricot, which steer us toward lighter, creamy cheese options and (possibly) beer-braised pork. Those hearty apricot notes had us pining for Moroccan tagine.
Strange Roots Experimental Ales will be a new name to pretty much everybody, but some of our members may recall this Pennsylvania brewery's previous name: Draai Laag Brewing Co. Dennis Hook started Draai Laag back in 2011, self-engineering an $800 brewing system and bootstrapping an operation that focused heavily on complex sour ales and bringing in local ingredients and microflora. And that small-batch, out-there approach—Draai Laag's system at the time made only two barrels of beer at once—brought forth some amazing results, and a small amount of Draai Laag's bottles saw wider exposure through Shelton Brothers. But as Dennis was looking to move into exploring a wider range of beer styles (and, let's be real, we can't consistently spell Draai Laag either), the brewery became Strange Roots as of March 7.
Rest assured, Dennis is still doing beers that are way, way out there. He's been building his brewing capabilities for almost 20 years, since he was 17 years old and his mom agreed to let him brew (as long as he wouldn't drink any, relying on of-age neighbors for feedback)—and as Strange Roots looks to the future, he's looking to push the envelop even further. Strange Roots recently released Grand Blu, a collaboration with House of 1,000 Beers that includes penicilium roqueforti, responsible for the distinct character of blue cheese, accompanied by additions of peaches and fermented in casks for 11 months. The brewery's been surveying and testing local wild microflora for brewing possibilities, with one key highlight being their Park Series of beers—fermented with yeast and bacteria harvested from local Pittsburgh-area parks. Dennis mentioned upcoming projects with foraged pawpaw fruit and mayapples. We got to learn about fruit and other ingredients that we had no idea were growing in Pennsylvania.
Which is kind of the point. Strange Roots continues the traditions of Draai Laag while giving Dennis and company even more room to explore. We're pumped to be able to offer the very first beer release under the Strange Roots label to incorporate foraged microorganisms—and the result (with additions of persimmons and apricots) is unlike anything we've had. If you're near Pittsburgh, the brewery has locations in Millvale and Gibsonia. Tell Dennis we said hi!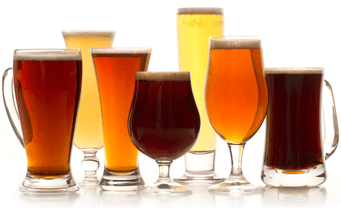 Unmatched Variety by style, brewery & country
Choose from Five different Beer Clubs offering unmatched variety by brewery,
country of origin, and beer style to suit your specific tastes.
DISCOVER OUR FIVE CLUBS