The Bruery - 10 Lords-A-Leaping
ABV:

10.5%

Serving Temperature:

48–55° F

Suggested Glassware:

Tulip, Chalice, Snifter or Pinot Glass

We're excited to get this latest release in The Bruery's "The Twelve Days of Christmas" out to our Rare Beer Club members, as it's one of our favorites in the series so far. A full-bodied dark imperial wit, it's brewed with a mellow assortment of 10 different spices to celebrate its position in the lineup: allspice, anise, cinnamon, cloves, coriander, dried apples, ginger, mace, nutmeg and orange peel. For the lengthy list, the overall impact is nuanced and warming and perfect for this beer. At 10+%, this one's perfect for sipping on as the weather turns colder.
This pours a deep, dark chocolate-brown color, which gives a good hint as to where this wit is headed. There's very little light getting through and it looks like dark cola nearer the edges. There's proudly formed foam here, a dense and fine-bubbled head that leaves thick lacing as the glass is tilted. Without a doubt, 10 Lords-A-Leaping is a densely rendered imperial wit, as generous clove and banana yeast aspects are already apparent in the nose. An engaging pour.
Upon closer inspection, those yeast-derived aromatics prove to lead the way, with peppery elements present in addition to the banana and warming clove. These generous notes blend seamlessly alongside the other spicing elements of this beer, with the cinnamon, ginger and apple additions showing through particularly clearly. One also gets the impression that this is heading into dunkelweizen turf overall, with some of the subtle toffee and caramelized notes of the darker malt character coming through as well, alongside the spice. There's a satisfying warmth overall from the aromatics, with cola and spiced apples and a touch of vinous heat.
The things we've been impressed with time and again by these Bruery releases has been how they often sound way out there in terms of special ingredients, but they somehow manage to steer things back around to impressively drinkable beers. 10 Lords-A-Leaping is certainly no exception, combining its smooth spicing and creamy carbonation with a vibrant feel overall.
If we were to take a step back and try to describe this beer, amped-up dunkelweizen is what repeatedly comes to mind, as this combines a chewy, almost-hefeweizen-like yeast character with dense, caramel and dried-fruit notes from the darker malts. But those spices build out an entirely new dimension relative to any other dunkelweizens (or similar) we've had before. The coriander and orange peel elements of the "witbier" side play out as satisfying secondary notes, helping contribute another layer and a feeling of crisp familiarity. There's an excess of delicious echoes here: from holiday spice, to mulling spice, to witbier spice, to yeast-y spice... But, as a whole picture, 10 Lords-A-Leaping comes together as a smooth, complex stunner.
The Bruery suggests cellaring 10 Lords-A-Leaping for up to two years, which would get this just to the end of the final "Twelve Days of Christmas" series releases. We're especially fond of how this beer's coming together right now—but some additional caramel or sherry notes from aging will also fit right in. For pairings, those spice elements (particularly cinnamon and dried apples) have us thinking along the lines of vanilla-bean ice cream and apple-pie-esque desserts, though the overall profile also feels like a promising fit with chicken- or pork-and-apple sausages. The alcohol's tucked away, but it's still big enough to overpower lighter fare.
What The Bruery has done for beer in Orange County, California, while impressive, is just a part of their contribution to the brewing landscape. Once just a confusingly named, obscure little brewery from an oddly named little Southern California town, The Bruery is on the minds of the vast majority of beer geeks across this country and beyond. They have continued to develop their barrel aging-program, recently launched the new Bruery Terreux line, and ultimately become one of the most respected breweries in the nation.
As a result of their unbridled creativity and skilled brewing practices, The Bruery's beers are still some of the most highly coveted out there. Period. It was back in 2009 that they released a beer that took the brewing community by storm: Black Tuesday, a massive imperial stout (clocking in around 20% ABV) that was aged in bourbon barrels for well over a year.
Massively oaky, rich, velvety smooth and borderline nourishing, it's caused quite a stir and an annual tradition. The demand for this beer led people to drive and/or fly from hundreds or even thousands of miles away. A handful of breweries take the "limited release" concept to another level like The Bruery has done with their beers, with annual vintages that sell out in a single day. And some take it one step further, creating the beer equivalent of a serial novel. The Bruery remains in the midst of just such a release. Modeled after the verses of "The Twelve Days of Christmas"—they're now up to verse ten, hence, the 2017 release: 10 Lords-A-Leaping! This beer was brewed in limited quantities in Orange County, California, which despite being in a state known for its brewing prowess, was a beer wasteland for quite some time. The Bruery is one of the spots helping change that. Their rise has been nothing short of dazzling—and we've been very happy to have been with them since near the start of their Twelve Days of Christmas series—bringing members a bottle of each since 2 Turtle Doves.
Each beer in their Twelve Days of Christmas series is made only once, and was designed to be enjoyed now, or, if you can wait, alongside the other 11 in the series in a vertical tasting, which will wrap up in 2019 with 12 Drummers Drumming. So, you can certainly expect these releases to age well. For more information about The Bruery, check out their website at: www.thebruery.com or dial them up at 714-996-MALT.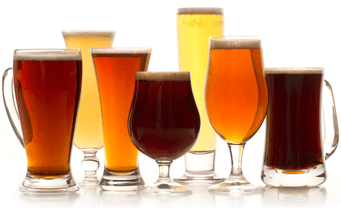 Unmatched Variety by style, brewery & country
Choose from Five different Beer Clubs offering unmatched variety by brewery,
country of origin, and beer style to suit your specific tastes.
DISCOVER OUR FIVE CLUBS