The Bruery - 12 Drummers Drumming
ABV:

12%

Bottle Size:

750-ml

Serving Temperature:

45–54° F

Suggested Glassware:

Chalice, Tulip, Snifter, or Pinot Glass
It's kinda crazy to think that a brewery's been doing a series of one-off limited releases for over a decade now—and that the project has finally reached its endpoint. (Heck, many small businesses would've been happy to make it as long as 5 Golden Rings...) But here we are: the final release in The Bruery's 12 Days of Christmas series. We were fortunate to have gotten on board with this project early on, offering Rare Beer Club members each and every bottle from the series starting with the second release, Two Turtle Doves. Riffing on the Belgian tradition of brewing strong, dark, often-spiced beers for the holiday season, The Bruery has released a new beer celebrating one of the twelve days of Christmas each year since 2008.
This twelfth and final release, 12 Drummers Drumming, brings everything full circle. Their first beer in the series, Partridge in a Pear Tree, was styled after a massive Belgian quadrupel, and the series has occasionally veered back to this particular style over the years, including a straight-up quad rendition with 7 Swans-a-Swimming back in 2014. This 12th beer combines a dense, Belgian-style quadrupel base with a smaller portion of The Bruery's bourbon-barrel-aged anniversary ale, at a ratio of 4-to-1. While the large proportion of quad firmly positions this beer in line with the Christmas series, that portion of anniversary ale highlights another project that The Bruery's had going on for just about as long: their ongoing series of solera-style old ales, in which a portion of each year's anniversary ale gets held and blended into the next year's batch of anniversary ale—creating an old ale of increasing complexity every year. It's a celebration of two decade-long efforts, and feels like an ideal end to this release series.
The Bruery's 12 Drummers Drumming pours a deep mahogany color with modest foam and reasonable lacing around the periphery of the glass. It looks dark, dense, intricately built. The rich aromatics of dark fruits land immediately, with quad-like elements of plums, raisins, and well-ripened figs. While generous from the get-go, give this beer a bit of time to warm from fridge temperature to get the full effect. There's a lot of complexity to dig into: from vibrant toffee and a hint of vanilla, to the deeply rich brown sugars and burnt caramel of the old ale.
We're particularly taken with how well this overall blend works together, as that first sip puts forth a generous combo of the Belgian-style quad and Solera-method old ale components. It is not a tiny result… Generous layers of dense, dark fruitiness, toffee and peppery yeast from the quad are met by the abundantly caramelized and Sherry-like depth of the old ale. Overall mouthfeel is quite robust, viscous, and generous on all fronts, with a modest impact of oaky tannins plus a lean current of warming, vinous alcohol providing plenty of lift to the texture overall. There are particularly bold notes of toffee and fig throughout, tuned to the holidays, leading up to a well-rounded finish of caramel and toastiness from the bourbon barrels.
As with all of the beers in the 12 Days of Christmas series, 12 Drummers Drummings was brewed to be both ready to drink now and sturdy enough for some additional aging time. If you've been cellaring earlier releases from the series to drink with this one, we'd be inclined to do that sooner rather than later. Look to heartier fare on the pairings front: the dark fruit and caramelization have us considering brisket burnt ends or a spicy, peppery grilled steak.
What The Bruery has done for beer in Orange County, California, while impressive, is just a part of their contribution to the greater brewing landscape. Once just a confusingly named, obscure little brewery from a curiously named little Southern California town, The Bruery is now known to the majority of beer geeks across the country and beyond. They've continued to develop their extensive barrel-aging program, launched the Bruery Terreux line, opened The Tasting Room at Bruery Terreux in Anaheim, and ultimately become one of the most respected breweries in the nation. They've even recently added a third Bruery location: The Bruery Store at Union Market in Washington, DC, establishing a wee East Coast outpost.
As a result of their unbridled creativity and skilled brewing practices, The Bruery's beers are still some of the most highly coveted out there. Period. It was back in 2009 that they released the beer that took the brewing community by storm: Black Tuesday, a massive imperial stout (clocking in around 20% ABV) aged in bourbon barrels for well beyond a year. Hugely oaky, rich, velvety smooth, and borderline nourishing, it caused both a stir and an annual tradition. The demand for this stout led people to drive and/or fly from hundreds (or even thousands) of miles away. A handful of breweries have managed to take the "limited-release" concept as far as The Bruery has done with their beers, with annual vintages that sell out in a single day. And a few have even gone one step further—creating the release equivalent of a serial novel.
The Bruery is just now finishing up such a release. Modeled after the twelve verses of "The Twelve Days of Christmas"—they're finally at the last verse with this release: 12 Drummers Drumming. This beer was brewed in limited quantities in Orange County, California, which despite being in a state known for its brewing prowess, was a beer wasteland for quite some time. The Bruery has been one of the spots to help change that. The ascent's been inspiring to witness—and we've been very lucky to have been with them since near the start of the 12 Days of Christmas series—bringing RBC members a bottle of each since 2 Turtle Doves.
Each beer in the 12 Days of Christmas series is brewed only once, and each was designed to be enjoyed now or, if you've been able to wait, beside the other 11 in the series in a vertical tasting, which finally culminates in this 12th release. For those of you who've been cellaring these annual releases waiting for the full set—now's the time. For more information on The Bruery, visit their website over at www.thebruery.com or give them a call at 714-996-MALT.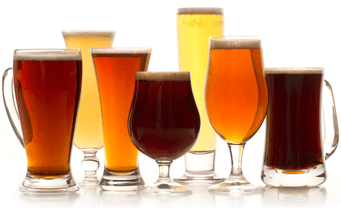 Unmatched Variety by style, brewery & country
Choose from Five different Beer Clubs offering unmatched variety by brewery,
country of origin, and beer style to suit your specific tastes.
DISCOVER OUR FIVE CLUBS