The Bruery - 3 French Hens
ABV:

10.00%

Serving Temperature:

50° F

Suggested Glassware:

Elongated Tulip, Goblet or Chalice
The Twelve Days of Christmas series continues! So far, each year's beer has been a strong, dark ale. This year and last, the brewers worked some ingredient(s) into the recipe that suit the verse—this year, it has hens in it! Just kidding… it features French oak (maybe birds will make an appearance next year for "Four Calling Birds"). Actually, don't necessarily expect future releases to integrate ingredients that have anything to do with the verses—this was never part of The Bruery's original concept, it just so happens that the past two years have gone that route.

The beer pours a dark brown color with mahogany hues, capped by a tight, sticky pale tan head. On the nose, it smells spot on for the Belgian Strong Dark Ale style, featuring notes of dark bread and plenty of spiciness. Look for faint impressions of ginger and sweet Belgian candi sugar. It needs some time to warm up before its depths are revealed. Allow that to happen and suddenly it smells like an oaky cabernet as the aroma goes extremely vinous. This character is blended with an undercurrent of plum and plumes of cocoa. On the palate, however, this is no ordinary BSDA. First off, it's got a nice weight to it—moderate viscosity, quite mouth-filling—it's spicy and abundantly phenolic, with a backdrop of chocolate and pumpernickel, and even some rye-like spiciness (though there was no rye used in the recipe—the spiciness is all due to The Bruery's extremely active house yeast strain!). The spicy tang is accentuated by ample alcohol presence, quite apropos for the style. The influence of red wine is unmistakable, as the effects of fermentation in used French oak that held red wine give a distinct impression of a big, bold cabernet. Pretty intense, even though the beer is a blend of only 25% French oak fermented beer and 75% from stainless steel. As the first wave of flavors settles over the palate, another kicks up, dropping notes of candied orange peel, followed by a stodgy bitterness that holds on to the palate for quite a while before relenting and allowing some bready notes to return. Faint vanilla notes show up as well, with some tingly, spicy notes of young, fresh raw wood, and other woody elements that contribute creamy, smoky notes in the finish, with a tinge of acidity. Keep in mind that French Oak lends more subtle "oakiness" than American Oak, and that's the case here, though ginger-like tingling and fresh-woodiness offer up plenty of spice, especially in the finish. This bottle-conditioned beer will dry out as it ages, so check in on it anywhere from 6 months to 9 years out when all verses have been sung. But be careful—a vertical tasting of such big beers is certain to render you horizontal if you don't divvy up the bounty.
There is a certain amount of 'beer coveting' that goes on in today's modern era of limited release, one-off, über-specialty, craft beers. Depending on who you ask, this phenomenon is either a great thing that promotes rabid craft-brew devotion and gives ADHD-suffering beer geeks something to constantly look forward to. Or, it drives up the cost of beer, leads to "over-hype" and inevitable disappointment from unrealistic expectations, potentially turning off better-beer converts and disgruntling once hardcore devotees. We tend to side with the first camp, believing that these special releases create a deeper level of 'fandom' and appreciation among those who seek out these limited release beers. Perhaps more powerfully, it presents an opportunity for brewery press via word-of-(foaming-at-the-)mouth, which is extremely valuable in an industry that, for the most part, does not advertise. As far as catering to the ADHD crowd, what's wrong with that? The degree of brand-traipsing that is such a key part of the craft-brew movement is an expected counterpoint to the lack of uniqueness that dominated the American beer market for so long (and still does, really… we're still only 5% of the market when you look at craft brewed beers!). Revel in the drive and ability to try everything and anything out there—including limited release beers. These beers all serve as a tangible reminder of how far craft beer has come. Twenty five years ago if you tried to tell someone that you were eagerly awaiting the release of a limited release beer, they'd probably tell you that if it's only made once a year, it probably ain't that good. A handful of breweries take the limited release concept to the nth degree, creating the beer equivalent of a serial novel. Stone Brewing Company's "Vertical Epic" series really set the bar high in this regard. A different beer is released once per year for 12 consecutive years starting 02/02/02, then a year and a day later on 03/03/03, 04/04/04, continuing thru 12/12/12—or, just in time for the end of the world nine days later on December 21st, 2012 (so says the Mayan calendar, Nostradamus, certain Asian philosophies, and various others 'sources'). A small, barely 2-year old brewing outfit called "The Bruery", whose name is a clever but sometimes confusing combination of 'brewery' and founder Patrick Rue's last name, is in the midst of a similarly ambitious vertical release. Modeled after the verses of 'The Twelve Days of Christmas'—they're now up to verse three, meaning the 2010 release is "3 French Hens." The beer is brewed in limited quantities in Orange County, California, which despite being in a state known for its brewing prowess, was a beer wasteland producing pathetically limited quantities of beer. The Bruery is helping change that—and their rise to fame in such a short span of time has been nothing short of dazzling. Each beer in their Twelve Days of Christmas series is made only once, and was designed to be enjoyed now, or, if you can wait, alongside the other 11 in the series, which will wrap up in 2019. So, you know it's going to age well (assuming it—and we—survive that whole end of the world business—not to mention the Stone Vertical Epic tasting on 12/12/12, which will be a doozy in and of itself!). Looks like we have the makings of a holiday tradition here; as with last year's installment in the series, Rare Beer Club members are getting this beer at least a few weeks before the general public gets their filthy hands on it—which is a pretty sweet deal for those of us who covet beer.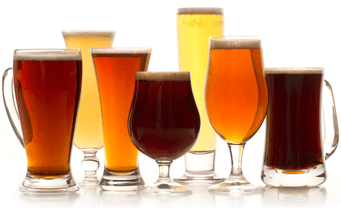 Unmatched Variety by style, brewery & country
Choose from Five different Beer Clubs offering unmatched variety by brewery,
country of origin, and beer style to suit your specific tastes.
DISCOVER OUR FIVE CLUBS