The Bruery - 4 Calling Birds
ABV:

11.00%

Serving Temperature:

50° F

Suggested Glassware:

Tulip or Oversized Wine Glass
The Twelve Days of Christmas series continues! So far, each year's beer has been a strong, dark ale. In the initial years of the series, the brewers worked some ingredient(s) into the recipe that suited the verse—last year, it had French hen feathers in it. Just kidding… it featured French oak, so, there's your verse lingo tie-in. But we were advised by the brewery last year not to expect future releases to integrate ingredients that have anything to do with the verses—this was never part of The Bruery's original concept. If it happens, so be it, but they will not be bound by such limitations! That being said, we like creating myths that will fill the internet and beer blogs, so this year, we're making the completely unfounded and unsubstantiated claim that the "4" in 4 Calling Birds refers to the use of four spices: nutmeg, allspice, star anise and sweet orange peel. Yes, all four of those are indeed in the beer, but they have nothing to do with the name… or do they? (beer bloggers, run with it!). The beer is a rough combination of two recipe ideas, one a black beer with coffee, chocolate and almonds, and the other a Christmas-spiced Belgian dark strong. Somewhere in that mix, the mad crazies at The Bruery decided to malt bomb the hell outta this one, throwing eight different types of malted barley into the mix (and, for the beer bloggers again: eight is 4 times 2, and the square of 2 is 4, so, it all makes perfect sense!). The beer pours a mocha-brown color with deep red hues around the rim and an inviting tan head which is rather substantial given the sizeable 11% ABV. On the nose, expect notes of gingerbread and mulling spices, especially anise & licorice, as well as some ginger and suggestions of eucalyptus. This beer uses a different yeast than The Bruery's own house strain, which is one of those magic little strains that helps to cover up alcohol presence in many of their colossal sized brews. But in this one, some boozy character along the lines of dark rum and mulled red wine emerge. Look for notes of banana bread, brown sugar and dried figs/dates as the beer temperature rises. On the palate, the massive malt bill dominates, offering notes of bitter chocolate, spices (much the same as the aroma), pumpernickel bread, roasted barley, molasses, burnt caramel and marzipan. We also got some oaky characteristics, which were unexpected because there's no wood used in this beer, but seems to be a conspiring of the spices and yeast. Overall, the beer is exceptionally smooth, rich and warming, with a slight tannic/astringent character from the spices and a tingle of anise in the finish. Another lovely Brue to complement the series. This bottle-conditioned beer will dry out as it ages, so check in on it anywhere from 6-months to 8 years out when all verses have been sung. But be careful—a vertical tasting of such big beers is certain to render you horizontal if you don't divvy up the bounty.
There is quite a lot of 'beer coveting' that goes on in today's modern era of limited release, one-off, über-specialty, craft beers. Depending on who you ask, this phenomenon is either a great thing that promotes rabid craft-brew devotion and gives ADHD-suffering beer geeks something to constantly look forward to, or, it drives up the cost of beer, leads to "over-hype" and inevitable disappointment from unrealistic expectations, potentially turning off better-beer converts and disgruntling once hardcore devotees. We tend to side with the first camp, believing that these special releases create a deeper level of 'fandom' and appreciation among those who seek out these limited release beers. Perhaps more powerfully, it presents an opportunity for brewery press via word-of-(foaming-at-the-) mouth, which is extremely valuable in an industry that, for the most part, does not advertise. As far as catering to the ADHD crowd, what's wrong with that? Many better beer drinkers intentionally seek out the next beer—they have their favorites, but remain open to exploration at all times. This key part of the craft-brew movement is an expected counterpoint to the lack of uniqueness that dominated the American beer market for so long (and still does, really… we're still only 5% of the market when you look at craft brewed beers). So we say go for it! Revel in the drive to try everything and anything out there—including limited release beers. These beers all serve as a tangible reminder of how far craft beer has come. Twenty five years ago if you tried to tell someone that you were eagerly awaiting the release of a limited release beer, they'd probably tell you that if it's only made once a year, it probably ain't that good. Some drinkers of fizzy yellow lager may still be of the same opinion. A handful of breweries take the limited release concept to another level, creating the beer equivalent of a serial novel. A small, barely 3-year old brewing outfit called "The Bruery", whose name is a clever but sometimes confusing combination of 'brewery' and founder Patrick Rue's last name, is in the midst of a similarly ambitious vertical release. Modeled after the verses of 'The Twelve Days of Christmas'—they're now up to verse four, meaning the 2011 release is "4 Calling Birds." The beer is brewed in limited quantities in Orange County, California, which despite being in a state known for its brewing prowess, was a beer wasteland producing pathetically limited quantities of beer. The Bruery is helping change that—and their rise to fame in such a short span of time has been nothing short of dazzling. Each beer in their Twelve Days of Christmas series is made only once, and was designed to be enjoyed now, or, if you can wait, alongside the other 11 in the series, which will wrap up in 2019. So, you know it's going to age well. Looks like we have the makings of a holiday tradition here; as with the previous two years' worth of installment in the series, Rare Beer Club members are getting this beer at least a few weeks before the general public gets their filthy, greedy mitts on it—which is a pretty sweet deal for those of us who do covet beer. For more information about The Bruery, check out their website at
www.thebruery.com
or dial them up at 714-996-MALT.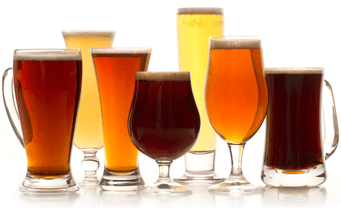 Unmatched Variety by style, brewery & country
Choose from Five different Beer Clubs offering unmatched variety by brewery,
country of origin, and beer style to suit your specific tastes.
DISCOVER OUR FIVE CLUBS