The Bruery 7 Swans-A-Swimming
ABV:

11%

Serving Temperature:

50–57° F

Suggested Glassware:

Snifter, Tulip, or Burgundy Glass
Our affinity for The Bruery's "12 Days of Christmas" series is well known—as The Rare Beer Club has been making these limited releases available to our members from the beginning. If we may say so: it's pretty darn remarkable and endearing that the brewery went with more of a traditional rendition this time around: their take on the Belgian quadrupel. No fancy spices. No fruit additions. Nothing but the basics (malt, hops, yeast, water), plus a traditional use of Belgian dark candi sugar. We were pretty thrilled to see them do this tough beer style so well.
The Bruery's 7 Swans-A-Swimming pours a deep, amber-brown color, with the foam readily departing and leaving just the nectar behind. This is not a small beer (by any measure), but a beautifully integrated, fruity alcohol character makes this feel far leaner and ready to sip than is arguably fair for a beer this hefty. The head's gone quickly, and this shows some honey-ish viscosity that makes one inclined to pour it into a snifter and enjoy in front of a roaring fire.
A generous aroma offers deeply integrated caramelized and burnt sugars, and the alcohol is very well hidden: fruity, vinous, nothing sharp in the slightest. Dark dried fruits, raisins and dates, first and foremost, plus brown sugar (as well as soft vanilla and spice) shine through.
This feels like a perfect beer for the holiday season: a bit of yeast-derived spice, chewy notes of dried fruits and nuttiness, plus a seamlessly integrated alcohol character that's both fruity and soft-edged. We got notes of raisins, dates, pecans, and even a hint of toasty walnut here: that rich profile of the traditional Belgian-style quadrupel, but as seen through The Bruery's lens of such things. This is definitely on the sweet side, but the subtle alcohol here lends an immediate leanness that keeps the core sugars in check. As it warmed, everything remained balanced. Eventually we found more subtle notes of toffee, darker fruit, and medjool dates.
The Bruery suggests this is suitable for aging up to five years, and we would not be at all surprised if it lasted longer. We tend to pair viscous, especially generous beers like this with a simple counterpoint: something along the lines of vanilla-bean ice cream to offset that depth.
What The Bruery has done for beer in Orange County, California, while impressive, is just a part of their contribution to the brewing landscape. Once just a confusingly named obscure little brewery from an oddly named little Southern California town, The Bruery is on the minds of the vast majority of beer geeks across this country and beyond. They have continued to develop their barrel aging program to become one of the most respected in the nation, often focusing on truly unique sour ales. Lately, they've delved into dark sour beers in the porter and stout vein. Sour Stout? Tart Porter? You betcha.
As a result of their unbridled creativity and skilled brewing practices, The Bruery's beers are some of the most highly coveted out there. Period. In 2009, for example, they released a beer that took the brewing community by storm: Black Tuesday, a massive imperial stout (clocked in around 20% ABV) that was aged in Bourbon barrels for well over a year. Massively oaky, rich, velvety smooth and borderline nourishing, it has caused quite a stir and an annual tradition. Each year since then it has been released on the final Tuesday of October. The demand for this beer led people to drive from hundreds, even thousands of miles away, and some ended up empty handed due to the four-hour line that wrapped around their facility and the limited quantity produced. Not bad for a beer that was selling for as much as $50 per bottle. And yes, we'd love to tell you that we're going to get that beer for you, our beloved members, but if we somehow managed to pull that off, there would be riots in the streets of Placentia, congressional inquiries would follow, we'd be tried for treason domestically and probably war crimes in The Hague.
But we'll look into it.
A handful of breweries take the "limited release" concept to another level like this, with annual vintages that sell out in a single day. And some take it a step further, creating the beer equivalent of a serial novel. The Bruery is in the midst of just such a vertical release. Modeled after the verses of 'The Twelve Days of Christmas'—they're now up to verse seven, hence, the 2014 release is "7 Swans-A-Swimming." The beer is brewed in limited quantities in Orange County, California, which despite being in a state known for its brewing prowess, was a beer wasteland producing pathetically limited options in local beer until the very recent past. The Bruery is one of the extraordinary breweries helping to change that. Their rise to fame in such a short span of time has been nothing short of dazzling—and we're very happy to have been with them since the start of their Twelve Days of Christmas series, bringing our members a bottle of each since 2008's Partridge In A Pear Tree.
Each beer in their Twelve Days of Christmas series is made only once, and was designed to be enjoyed now, or, if you can wait, alongside the other 11 in the series in a vertical tasting, which will wrap up in 2019 with Twelve Drummers Drumming. So, you know these releases are going to age well.
For more information about The Bruery, check out their website at: www.thebruery.com or dial them up at 714-996-MALT.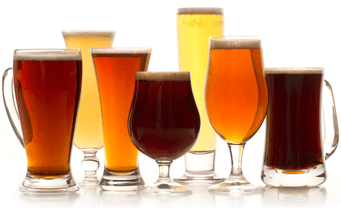 Unmatched Variety by style, brewery & country
Choose from Five different Beer Clubs offering unmatched variety by brewery,
country of origin, and beer style to suit your specific tastes.
DISCOVER OUR FIVE CLUBS