The Bruery - 8 Maids-A-Milking
ABV:

11.3%

Serving Temperature:

46–54° F

Suggested Glassware:

Tulip, Snifter, or Burgundy Glass
8 Maids-A-Milking is suitable for aging up to four years (soon after the release of "Twelve Drummers Drumming") when cellared properly. Best stored and cellared around 55°F (13°C) in a dark place. –8 Maids-A-Milking label notes
The Twelve Days of Christmas series continues!
So far, with the notable exception of 5 Golden Rings, each year's beer has been a strong, dark ale. In the initial years of the series, the brewers worked some ingredient(s) or techniques into the recipe that suited the verse—French oak in 3 French Hens, for example. But we were advised by the brewery a few years back not to expect future releases to integrate ingredients that have anything to do with the verses, since this was never part of The Bruery's original concept. If it happens, so be it, but they will not be bound by such limitations! When it came to 8 Maids-A-Milking, the use of the song verse for determineing the direction for this beer seemed to make complete sense.
You know, at least relative to brewing with hens.
So this year, we're pleased to offer up to our Rare Beer Club members The Bruery's 8 Maids-A-Milking: a Belgian-style imperial milk stout. The addition of lactose to a stout-y framework is actually quite traditional, while the "Belgian-style" and "imperial" additions take this into a whole different territory. This one's massive, generous and nails the feel of the series overall.
8 Maids-A-Milking pours deep chocolate-brown, topped by a rather impressive light-brown, creamy head that initially seems like it might stick around longer than it does. Beneath it: an impressively dense-looking, reasonably viscous beer, with modest lacing around the far edge. The aromas coming out of this beer are far broader than the "imperial milk stout" title may suggest, and we were actually quite surprised by how well this stuck, as mentioned, with the overall theme. There's just tons of dried dark fruits here—raisins, dates. Plus: brown sugar.
But there's a lot else going on here as well. There's a smooth ribbon of milk chocolate that runs through every part of this beer, certainly solidifying the milk stout aspirations, but it's surrounded by a ton of support. The Belgian yeast character in the aroma offers up a bunch of cloves and banana-like notes, almost giving the impression of a dunkelweizen. And that red fruitiness, almost like candied cherries, goes seamlessly amidst the other components.
This eighth offering in The Bruery's Twelve Days of Christmas series pretty much proves to be a worthy inclusion from the first sip. There's a peppery, clove-like bittering edge here via the Belgian yeast, which, along with that precise, invigorating CO2, helps steer a massive ship.
That dunkelweizen suggestion fully plays out here, with generous degrees of clove and sweet banana combining into something that feels very much like crème brûlée alongside all of the caramelized notes. One can find additional nuance in a lot of directions: pursuing some dark chocolate notes, underlying toffee and bubble gum, plus those endless charms of dried fruits. This is generous, massively appointed (on a number of unexpected fronts) and just delicious.
The brewery recommends aging this for up to four years, through the completion of the full 12 Days of Christmas series. For 8 Maids-A-Milking pairing options, they suggest fare such as baked brie, coffee cake, a plateful of cookies, and/or chestnuts roasting on an open fire.
What The Bruery has done for beer in Orange County, California, while impressive, is just a part of their contribution to the brewing landscape. Once just a confusingly named, obscure little brewery from an oddly named little Southern California town, The Bruery is on the minds of the vast majority of beer geeks across this country and beyond. They have continued to develop their barrel aging-program, recently launched the new Bruery Terreux line, and ultimately become one of the most respected breweries in the nation, often focusing on unique sour ales. Lately, they've delved into dark sour beers in the porter and stout vein.
As a result of their unbridled creativity and skilled brewing practices, The Bruery's beers are some of the most highly coveted out there. Period. In 2009, for example, they released a beer that took the brewing community by storm: Black Tuesday, a massive imperial stout (clocked in around 20% ABV) that was aged in Bourbon barrels for well over a year. Massively oaky, rich, velvety smooth and borderline nourishing, it has caused quite a stir and an annual tradition. The demand for this beer led people to drive and/of fly from hundreds, even thousands of miles away. Not bad for a beer that's selling for as much as $50 per bottle.
A handful of breweries take the "limited release" concept to another level like the Bruery has done with their beers, with annual vintages that sell out in a single day. And some take it one step further, creating the beer equivalent of a serial novel. The Bruery remains in the midst of just such a release. Modeled after the verses of "The Twelve Days of Christmas"—they're now up to verse eight, hence, the 2015 release: 8 Maids-A-Milking! This beer was brewed in limited quantities in Orange County, California, which despite being in a state known for its brewing prowess, was a beer wasteland for quite some time. The Bruery is one of the spots helping to change that. Their rise to fame has been nothing short of dazzling—and we have been very happy to have been with them since close to the start of their Twelve Days of Christmas series—bringing our members a bottle of each since 2009's 2 Turtle Doves.
Each beer in their Twelve Days of Christmas series is made only once, and was designed to be enjoyed now, or, if you can wait, alongside the other 11 in the series in a vertical tasting, which will wrap up in 2019 with 12 Drummers Drumming. So, you can certainly expect these releases to age well. For more information about The Bruery, check out their website at: www.thebruery.com or dial them up at 714-996-MALT.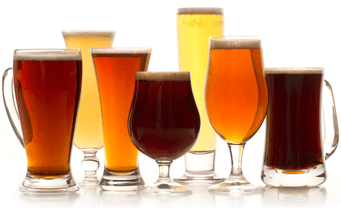 Unmatched Variety by style, brewery & country
Choose from Five different Beer Clubs offering unmatched variety by brewery,
country of origin, and beer style to suit your specific tastes.
DISCOVER OUR FIVE CLUBS