The Bruery - 9 Ladies Dancing
ABV:

11.3

Serving Temperature:

48–55° F (The Bruery suggests 50° F)

Suggested Glassware:

Tulip, Snifter, Small Nonic, or Pinot Glass

This latest release in The Bruery's "Twelve Days of Christmas" Series is one of our favorites, an 11.3%-ABV, one-time offer that finds its inspiration in tiramisu. The special ingredients in the 9 Ladies Dancing release include cacao nibs and coffee, vanilla and lactose—but the result is a lively, fruit-forward release that's hugely drinkable fresh, though built to age very gracefully.
At no point does this one feel overly weighty, despite its dessert influences. That suggestion of tiramisu was actually most apparent in the aroma for us, with comforting notes of coffee-soaked wafers and hints of caramel landing above the fruitier tones. The robust, roasted and creamy elements of tiramisu(-ish) are underpinned by a robust red-fruit character that shows through and expands quite a bit in the flavor. Chocolate-covered cherries. Milk-chocolate-y strawberries. Nicely roasted coffee and toffee elements that line up beside ripe red berries. As this warms, the milk chocolate and strawberry notes come through more clearly. We all kept going back to the aroma in trying to wrap our heads around this beer: its clear tiramisu angle is most evident there, and always as just one element of a deeply developed strong ale.
9 Ladies Dancing was endearing from the moment we poured it, but at around 50 degrees or so this opens up into its full potential: generous, layered fresh-fruit character that's balanced by a subtle caramelization and secondary tiramisu-ness: coffee, vanilla, cookie. It's tough for us to think of a more suitable holiday-beer profile off the top of our heads: this one offers a lean and well-hidden boost of alcohol, a vast range of flavor profiles, adding up to fruitiness plus chocolate, and nothing whatsoever spice-heavy. This one is instead led by fresh berries, careful amounts of its special ingredients, and tiramisu nudges that never feel overdone here. Again, we kept going back to the aromatics to better understand all the things going on in 9. This is absurdly generous, nicely integrated, with a perfect profile for alongside holiday fare.
The Bruery recommends aging this release for up to three years—which takes one just to the edge of the final "Twelve Days of Christmas" series release. So don't be afraid to set this one down for a bit—even though we really dug it fresh. For pairing, look out for complementary notes to those caramel/dried fruit/berry notes, thinking in terms of vanilla-heavy or fruit-ish desserts. This is a hefty beer: grilled skirt steak would pair well to the coffee and roast notes.
What The Bruery has done for beer in Orange County, California, while impressive, is just a part of their contribution to the brewing landscape. Once just a confusingly named, obscure little brewery from an oddly named little Southern California town, The Bruery is on the minds of the vast majority of beer geeks across this country and beyond. They have continued to develop their barrel aging-program, recently launched the new Bruery Terreux line, and ultimately become one of the most respected breweries in the nation.
As a result of their unbridled creativity and skilled brewing practices, The Bruery's beers are some of the most highly coveted out there. Period. In 2009, for example, they released a beer that took the brewing community by storm: Black Tuesday, a massive imperial stout (clocked in around 20% ABV) that was aged in Bourbon barrels for well over a year. Massively oaky, rich, velvety smooth and borderline nourishing, it has caused quite a stir and an annual tradition. The demand for this beer led people to drive and/or fly from hundreds, even thousands of miles away. Not bad for a beer that's selling for as much as $50 per bottle.
A handful of breweries take the "limited release" concept to another level like The Bruery has done with their beers, with annual vintages that sell out in a single day. And some take it one step further, creating the beer equivalent of a serial novel. The Bruery remains in the midst of just such a release. Modeled after the verses of "The Twelve Days of Christmas"—they're now up to verse nine, hence, the 2016 release: 9 Ladies Dancing! This beer was brewed in limited quantities in Orange County, California, which despite being in a state known for its brewing prowess, was a beer wasteland for quite some time. The Bruery is one of the spots helping to change that. Their rise to fame has been nothing short of dazzling—and we have been very happy to have been with them since close to the start of their Twelve Days of Christmas series—bringing our members a bottle of each since 2009's 2 Turtle Doves.
Each beer in their Twelve Days of Christmas series is made only once, and was designed to be enjoyed now, or, if you can wait, alongside the other 11 in the series in a vertical tasting, which will wrap up in 2019 with 12 Drummers Drumming. So, you can certainly expect these releases to age well. For more information about The Bruery, check out their website at: www.thebruery.com or dial them up at 714-996-MALT.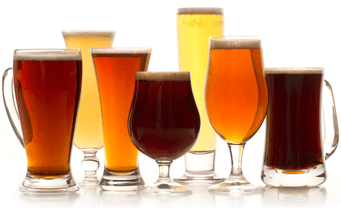 Unmatched Variety by style, brewery & country
Choose from Five different Beer Clubs offering unmatched variety by brewery,
country of origin, and beer style to suit your specific tastes.
DISCOVER OUR FIVE CLUBS