The Bruery - Mash & Coconut (2017)
ABV:

13.1%

Bottle Size:

750-ml

Serving Temperature:

52–58° F

Suggested Glassware:

Tulip, Teku, Snifter or Pinot glass
One of our two featured beers this month is a standout from The Bruery's archives that we think is drinking super well right now. Mash & Coconut (2017 vintage) is a bourbon-barrel-aged imperial brown ale that's brewed with about 400 pounds of toasted coconut per batch. This is a big beer, at 13% ABV, and the cellar time has done exceptional work in smoothing out the edges here and making for a cohesive experience that's just unlike anything else.
In Mash & Coconut, the hefty addition of toasted coconut serves to amplify the coconut-like qualities derived from this beer's time spent aging inside of bourbon barrels, and the overall experience is decadent maltiness and deep coconut throughout. We found the robust notes from the coconut and the barrel contributions to be presenting so nicely right now. This is perfectly aged, drinking super smoothly, and it does an incredible job of having its coconut additions smooth out the edges of its potent core imperial brown ale and barrel character.
This pours a deep, deep reddish-brown color, capped by a modest degree of off-white foam. Despite the potent ABV, the foam in our glasses persisted for a bit, leaving substantial lacing behind. The generous initial aromatics point to brown sugar and deep caramel—a generous and superbly rounded start, emphasizing impactful core maltiness and barrel notes, with ripe red fruit and the beachside smoothness of the coconut. This lands like toasted marshmallow at times, or the top of crème brulee. Layers of coconut and caramelized malts throughout.
A subtle but zesty underpinning of carbonation gives Mash & Coconut lots of vibrancy from the first pour, bringing out so much of the core fruits and deep amber maltiness that serve to steer this beer's profile. Rich coconut, brown sugar, and toffee serve as some of the leading notes, with the complex sweetnesses tempered by its touches of vinous, berry-tinged alcohol and oak tannins from the barrel time. This is well structured and well cellared at this point, such that it feels like there's a lot of room to explore this beer. And there's a ton going on: intensely developed caramelization, ripe cherries, lots of coconut-tinged core warmth, and warming edges from the bourbon barrels' influence. A long-lasting finish leaves continued toasted coconut and dark maltiness, along with hints of oak and mineral bitterness. Beautiful, toasty ending. Our favorite sort of big beer: super generous, perfectly textured, lots of depth.
We're really enjoying where this beer is currently, but Mash & Coconut is more than robust enough for some additional cellar time. This will need appropriately robust fare for pairings: spicy braised short ribs, or (for dessert) chocolate brownies or salted-caramel crème brulee.
What The Bruery has done for beer in Orange County, California, while impressive, is just a part of their contribution to the greater brewing landscape. Once just a confusingly named, obscure little brewery from a curiously named little Southern California town, The Bruery is now known to the majority of beer geeks across the country and beyond. They've continued to develop their extensive barrel-aging program, launched the Bruery Terreux line, opened The Tasting Room at Bruery Terreux in Anaheim, and ultimately become one of the most respected breweries in the nation. They've even recently added a third Bruery location: The Bruery Store at Union Market in Washington, DC, establishing a wee East Coast outpost.
As a result of their unbridled creativity and skilled brewing practices, The Bruery's beers are still some of the most highly coveted out there, period. It was back in 2009 that they released the beer that took the brewing community by storm: Black Tuesday, a massive imperial stout (clocking in around 20% ABV) aged in bourbon barrels for well beyond a year. Hugely oaky, rich, velvety smooth, and borderline nourishing, it caused both a stir and an annual tradition. The demand for this stout led people to drive and/or fly from hundreds (or even thousands) of miles away. A handful of breweries have managed to take the "limited-release" concept as far as The Bruery has done with their beers, with annual vintages that sell out in a single day. Some folks have even gone one step further, creating the release equivalent of a serial novel, as The Bruery did with its recently completed 12 Days of Christmas series of annual beers.
This month, we've excited to feature a vintage selection from The Bruery's archives that we think has developed beautifully over these past few years: the 2017 vintage of the brewery's Mash & Coconut. This is a satisfying imperial brown ale at the core, aged in bourbon barrels and brewed with around 400 pounds of toasted coconut per batch. This beer is reaching its prime right now, with that toasted coconut addition working beautifully alongside the natural coconut-like elements derived from this beer's extensive aging period inside bourbon barrels. It was a tasty beer upon first release—now it's an ideal showcase for how these higher-ABV Bruery beers can continue to develop and improve with a bit of cellaring time behind them.
Should you be traveling to SoCal or DC, definitely swing by one of The Bruery's locations to check out what they're currently working on. We've been following the path of this brewery basically since they first opened (we featured their 2 Turtle Doves way, way back…), and the continued energy and innovation coming from these folks is inspiring. For more information on The Bruery, visit their website at thebruery.com, or give them a call at (714) 996-MALT.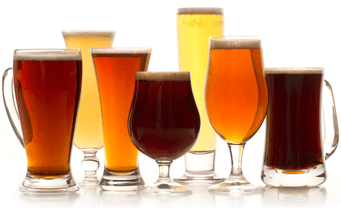 Unmatched Variety by style, brewery & country
Choose from Five different Beer Clubs offering unmatched variety by brewery,
country of origin, and beer style to suit your specific tastes.
DISCOVER OUR FIVE CLUBS